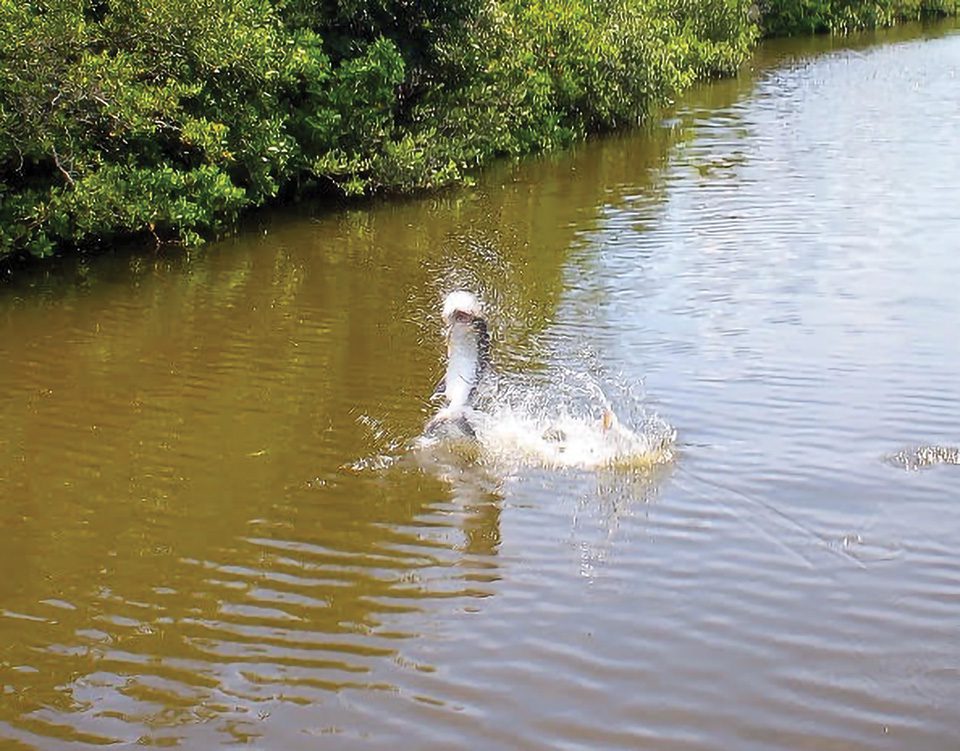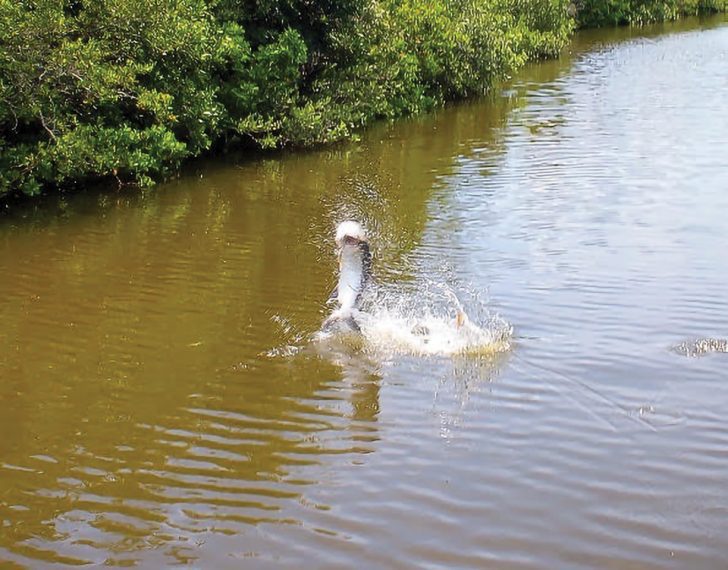 With warm months approaching, this month I want to share with you some tips on how to catch, and land, juvenile tarpon. Tarpon are, by far, my favorite fish to catch! They are on the top of the list when it comes to sport fish. Tarpon, also known as the "Silver King," are majestic, yet ferocious creatures. Their acrobatic skills are like no other fish in the water and their fight and determination draws anglers to our waters from all over the world.
Here is what you'll need to be successful:
Rod and Reel: For juvenile tarpon up to 20 pounds, a light tackle set up is the way to go. I prefer a 3000 series reel spooled with 10 lb. braided line with a 15-20 lb. fluorocarbon leader on a 7-7.5 ft. medium rod. This combination will give you plenty of power and backbone to fight the fish and will also increase the thrill of the catch because you are using such light equipment.
Lures: When targeting juvenile tarpon, I prefer to use soft plastics. There is a huge variety from which to choose. D.O.A. lures are my "go to," and have never let me or my clients down. D.O.A. makes some of the best soft plastics on the market, available at all bait and tackle shops, and flat out catch fish. For juvenile tarpon I prefer the D.O.A. C.A.L. Shad Tail rigged weedless with an Owner 3/0 1/8th oz. Twist Lock Hook, a D.O.A. TerrorEyz and the D.O.A. Shrimp. As far as color choice is concerned, natural, white and dark colors work best in our Space Coast waters.
Now that we are ready to go, let's talk about landing these incredible fish. In the summer months, water temperatures rise and, as a result, there is less dissolved oxygen in the water. Because of this, tarpon will "roll," where their backs, dorsal fin and tail come out of the water to take in fresh air. This rolling action is what I look for on the flats in pursuit of tarpon. Once located, cast out in front of the tarpon and begin working your lure. Tarpon are the most aggressive, lazy fish I have ever seen. Here's what I mean. In order to trigger a bite, you must put your lure in front of the tarpon. They need to see the lure move and it must be right in front of their face. Lazy. But when they eat the lure, pure aggression comes out. It is beyond exciting, but don't get too excited just yet. Once a tarpon eats a lure and feels the tension of a set hook, they will propel themselves out of the water, shaking their head back and forth violently. This is when you will want to implement a tarpon fishing technique called "Bow to the King," which simply means pointing your rod tip at the jumping fish. When you bow, or point your rod, you are allowing slack to form in the line and this is important because when a tarpon is airborne, shaking its head, tension in the line will cause the hook to become dislodged and you will lose your fish. That is known as jumping a tarpon. "Bowing to the King" takes some time to perfect, but will greatly increase your hook-to-catch ratio.
A few things to remember:
1. Tarpon are catch and release only "with the exception of the harvest or possession of a single tarpon when in pursuit of an IGFA record and in conjunction with a tarpon tag" per FWC.
2. Tarpon may be taken out of the water for photographs as long as they are no longer than 40 inches.
3. Please be sure to handle, revive and release tarpon—and ALL fish—with respect and care.
Capt. Jonathan Moss
Go Castaway Fishing Charters
www.gocastaway.com
(407) 760-8593