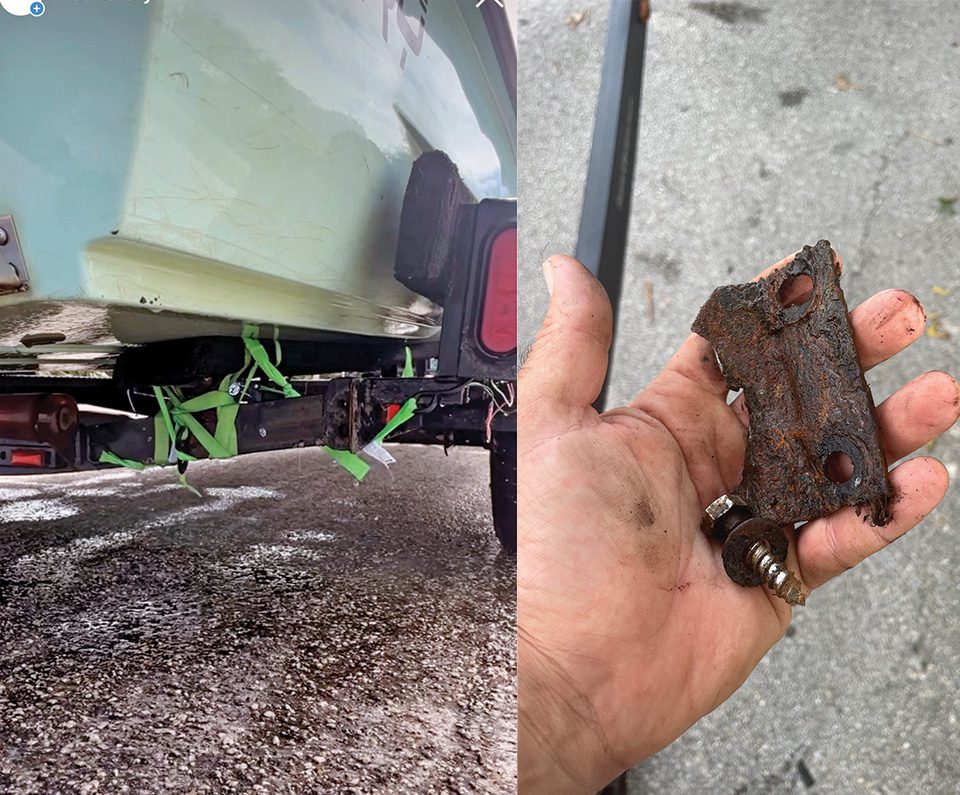 I am actually a little embarrassed with myself   and the topic of this month's Pro Tip. My goal is to always educate anglers on best fishing tactics and practices as well as provide tips to avoid fishing related disasters. Normally I practice what I preach, but here we are with this month's tip which came from a hard lesson I had to learn firsthand.
After a recent charter, like any normal day, I trailered my boat and began securing it for my ride home. It was then that I noticed my boat sitting uneven on my trailer. A quick look underneath made it very clear what the problem was—and I was in a pickle. You see, the brackets that attach my trailer bunks to my trailer had broken. The rust that had developed from years of being used in the saltwater had finally given way.
Now, I will say that after every trip, without fail, I not only flush my motor in freshwater but also dunk my trailer in freshwater as well as rinse the trailer at the carwash. I've done this for years and, as a result, I'd become complacent about checking the brackets. I've written about the "Five P's" before (Proper Preparation Prevents Poor Performance) and this was one of those situations that I could have prevented, but failed. These little steel "L" brackets are a vital part of boat trailers, and I am willing to bet that most people don't think twice about them; I know I didn't.
Despite the position I was in, I was pretty lucky. Only two of the three brackets broke. This caused the bunk to roll towards the middle of the trailer and lay vertically instead of horizontally, so when I pulled my boat out of the water, the boat was resting on the bunks and the hull was not being damaged by the trailer.
So how do we prevent this from happening again? I'm pretty big on maintaining my tools and checking my hubs, lug nuts and trailer lights. Now  I will make it a priority to periodically check the brackets that support my bunks. Check to see if you have a lot of rust or if the metal is getting thin. If it looks bad or close to failure, swap them out! I would much rather fix something when I plan to over when I have too. You may also consider switching from steel to aluminum brackets, but if you plan to stick with the steel, give it a good coat of rustoleum paint to deter rust from developing.
Additionally, make sure you carry a tool kit and ratchet straps with you and whatever else you deem important to have. I know that if I didn't have any tools with me, I wouldn't have been able to fix my trailer well enough to get me home safely and without damaging my boat.
Lastly, it might be a good idea to keep a couple extra brackets with you as well. I now have an extra set.
Even when following the "Five P's" things do happen, and it is better to be prepared!
Tight lines and Happy Boating!
Capt. Jonathan Moss
Go Castaway Fishing Charters
www.gocastaway.com
(407) 760-8593