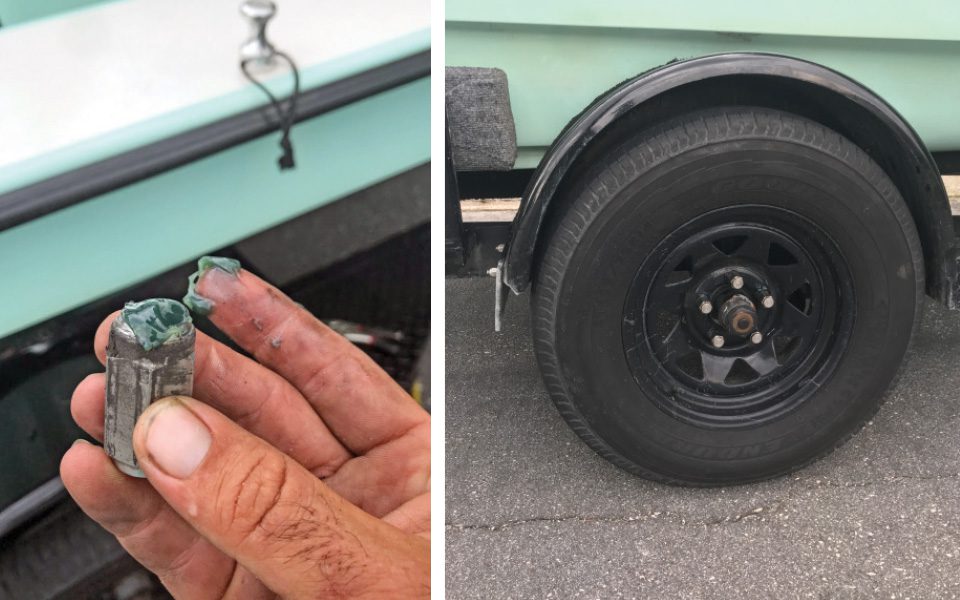 Proper Preparation Prevents Poor Performance! The 5 P's of success! Hi there, this is Capt. Jonathan Moss of Go Castaway Fishing Charters and host of The Captain's Log TV, with another edition of Brevard's Coastal Angler Magazine Pro Tips!
My father is notorious for taking care of his tools and equipment. When I was a kid he would often say to me, "Son, if you take care of your tools, they'll take care of you!" Specifically, this month, I want to share with you a tip about your lug nuts. I'm sure you're reading this and thinking I'm the nut, but truly, when was the last time you turned the lug nuts on your boat trailer? I'd venture to say it was the last time you changed a tire.
As owners of boats and trailers, lug nuts are the last thing we think about—except when we have a flat tire or a blown hub. As a full time fishing guide, my trailer is constantly being put in saltwater. Saltwater corrodes trailers, trailer parts and lug nuts. Corrosion can make a normal situation like changing a tire on the side of the road incredibly difficult if you can't take the lug nuts off. So how do we combat this issue? A simple product called grease. As a prudent boat owner and one who takes the 5 P's of success to heart, regular boat maintenance is already something that is done consistently. But let's add this easy tip to the list to prevent corroded lug nuts.
Here are the steps:
First, collect the needed supplies. For this job all that is needed is a lug nut wrench and your favorite marine grade grease. I specially use John Deere's Corn Head Grease.
Next, simply remove, grease and replace one lug nut at a time. By removing one lug nut at a time, you avoid the need for a jack. I liberally apply grease to the inside of the lug nut and on the wheel hub bolt. In this case, too much grease is a good thing.
Lastly, replace the lug nut and tighten. Repeat these steps till you have finished all the lug nuts on the trailer. If there is a spare tire attached to the trailer, repeat the process on the spare.
Taking 15 minutes, once a quarter or even every six months to grease trailer lug nuts will prevent corrosion and allow for an easier time of changing tires.
If you enjoyed this Pro Tip, come back each month for more and be sure to check out my show, The Captain's Log, for free on Waypoint TV, for exciting fishing action and more helpful fishing tips!
Tight lines and Happy Boating!
Capt. Jonathan Moss
Go Castaway Fishing Charters
www.gocastaway.com
(407) 760-8593