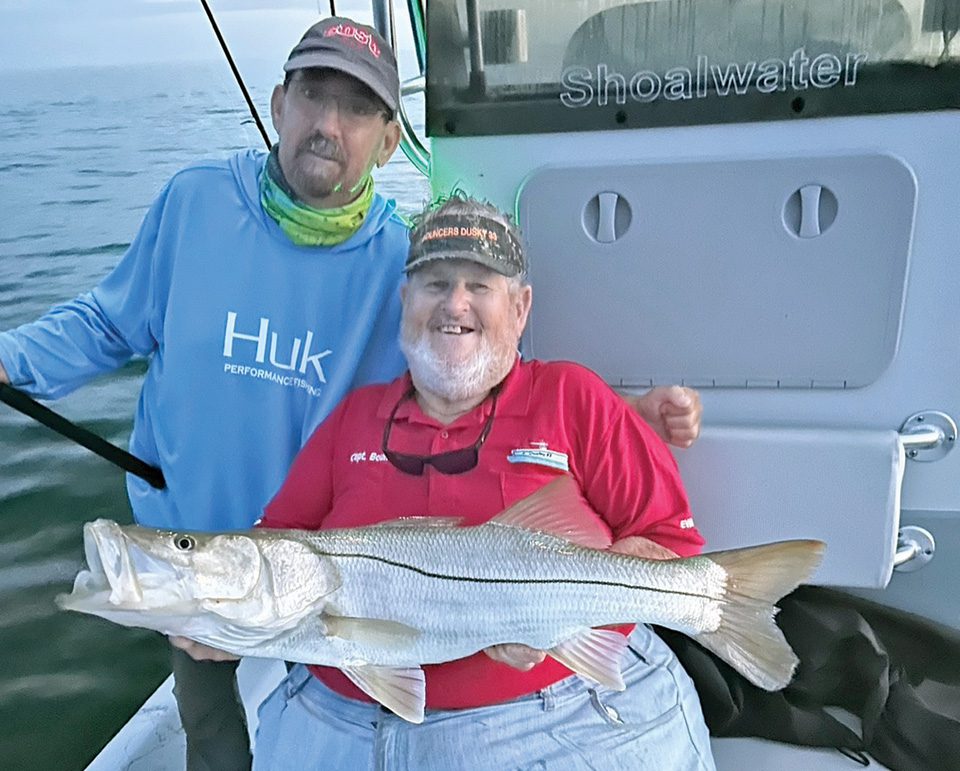 September is the start of the fall mullet run which we all look forward to, and it should be a pretty good one after some lackluster runs the last 5-7 years. There has been more mullet around this year than we have had the last several combined. September is also one of my favorite months to fish from Melbourne to Sebastian as the bait is plentiful—and the tarpon, sharks, snook, trout and redfish are as well.
Along with the mullet run, snook season opens September 1. Anglers will be out in droves trying to get their keeper fish. While most will target Sebastian Inlet, you can beat the crowds and up your odds by fishing docks and mangrove shorelines in the Indian River Lagoon from Melbourne to Sebastian, and focus on the many creeks as well as long as the water cleans up from the summer rains we've had and the temperature becomes more bearable. Live bait or artificials will work well early in the morning and late evening, and live baits are preferable during the day. Pigfish, pinfish, mullet, greenies and croakers will all serve you well when targeting the snook, redfish and trout. Anglers using artificial lures should start with Rapala Skitterwalk topwater lures early and switch their Twitchin' Mullet or Minnow as the sun comes up. If you like soft plastics, use the D.O.A. paddletails or jerk baits. I like to put Pro-Cure on my lures when fishing inshore to add some scent and help the bite. While snook will be the primary target inshore, you can expect to get some of your biggest trout and a bunch of redfish this time of year on artificial baits as well when working the bait schools and mangrove shorelines.
When the mullet run gets into full swing late in September, the tarpon, snook, sharks, jack crevalle,  and kingfish will be following the schools of bait on the beaches along the entire coast of Florida looking for that easy meal. Best bet is to use some of that live bait and fish the outer edges of the bait pods. The Rapala X-Rap Long Cast in size 14 will be an excellent hard bait to use when targeting the bait pods. I also like to use D.O.A. Baitbusters during the mullet run along the beaches. All of the above lures use single hooks instead of trebles, which are better for the fish that you have to release and safer for the angler.
Capt. Glyn Austin
Going Coastal Charters
www.goingcoastalcharters.com
321-863-8085
Capt. Glyn Austin is a lifelong Brevard County Resident and full time inshore/nearshore fishing guide. Glyn runs a 23' Shoalwater tunnel boat which is comfortable for up to 4 anglers and will let us get shallower than most flats boats for inshore fishing and offers a smooth dry ride when fishing the Inlet and nearshore waters of Brevard County.