Capt. Doug Kaska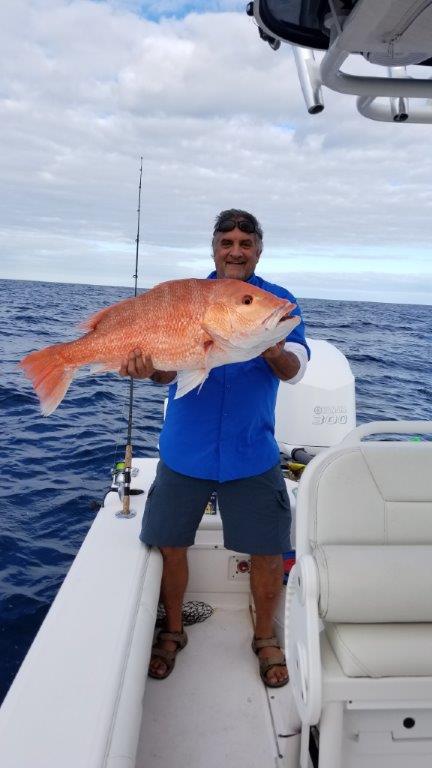 The month of November was just plain terrible for fishing offshore. The wind was crazy the seas were rough and the water was just dirty. If you did venture out you had to go to deep water to find anything.
I hope you were able to get out during the RED SNAPPER MINI Season. I was able to get out only one day, because the wind and waves were bad.
The mullet run is just about done but a few schools are around. This is the time of year when we will be looking to bottom fish for the last few fish that are still legal to keep, don't get me wrong we can still get in some great fishing and rod bending fun. If you do go out start looking for fish around the 60-120ft depth.
This is good for the person who wants to use live bait and slow troll or bottom fish. If you are going to bottom fish you will have to run out to these depths. The grouper will hit the mullet but you will have better success with live pinfish or grunts.
Dolphin and Sailfish are a hit or miss at this time, look for rips edges and weed lines for your best action. Slow trolling live mullet or ballyhoo is the best to target these fish. Kingfish are staying near shore also. Slow trolling with live bait and using downriggers should produce some action.
I hope December brings better weather for us so we can make offshore fishing fun again. The Spanish Mackerel will be her for the winter months; this fish is always a fun addition to your fishing trip. If you don't want to venture offshore you can fish near the shoreline for that ever wonderful tasting pompano. Tarpon are still swimming around the surf but are getting harder to catch as they also make their way to warmer waters. I hope you have enjoyed reading this. I want to wish everyone Happy Holidays.
I want to thank Black Dog Bait and Tackle for the continued support they give to me and the community. Stop by and tell them some good fish stories.
Capt. Doug Kaska runs a 21' Shoalwater cat style hull that will handle up to 4 people with ease and comfort with a smooth dry ride. If you are looking to fish the flats or go offshore this boat will do it. He runs the Evinrude 150 E-Tec which is quiet and very fuel efficient.
Capt. Doug Kaska
Fishing Charters
www.sebastianfishingcharters.com
321-368-9444