Capt. Doug Kaska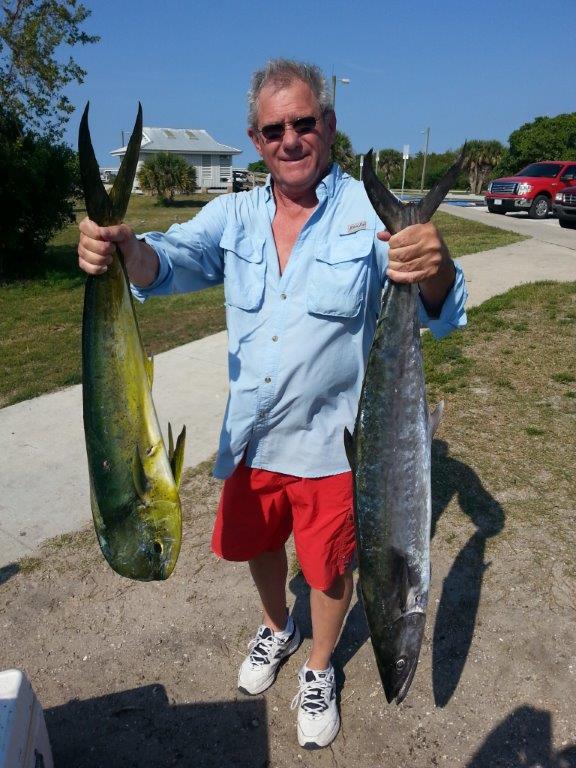 Well lets hope that the winds start moving away so we can take advantage of the great fishing are waters have to offer.
The bottom fishing has been producing great numbers of sea bass and other species. Triggerfish and Snapper have been plentiful.
The Grouper season will reopen May1 so be ready to work the muscles hard. You will need to go deep to get them look around the 110-200ft areas to get the bigger size.
With the Grouper season open that means that we will have to get our bottom gear serviced or replaced. I would recommend replacing your line if you didn't do so last year. You don't want to have your line break on that one big fish.
The Mahi Mahi bite has been slow so for this year, not seeing the numbers as before but larger fish are being caught. I can't stress enough to watch the waters as you head out to deep water, I have heard and seen Mahi Mahi being caught in 100-300ft. of water, remember the waters have been going through so many changes. I have been trolling big ballyhoo to get them to bite.
Kingfish have been hitting everything you show them. They are being taken in the 20-120ft range averaging 10lbs but bigger ones have been caught.
In closing I want to stress to everyone when they get on the water to be very cautious. The turtles are showing up and ready to come ashore and lay their eggs.
Capt. Doug Kaska runs a 21' Shoalwater cat style hull that will handle up to 4 people with ease and comfort with a smooth dry ride. If you are looking to fish the flats or go offshore this boat will do it. He runs the Evinrude 150 E-Tec which is quiet and very fuel efficient.
Capt. Doug Kaska
Fishing Charters
www.sebastianfishingcharters.com
321-368-9444