Capt. Doug Kaska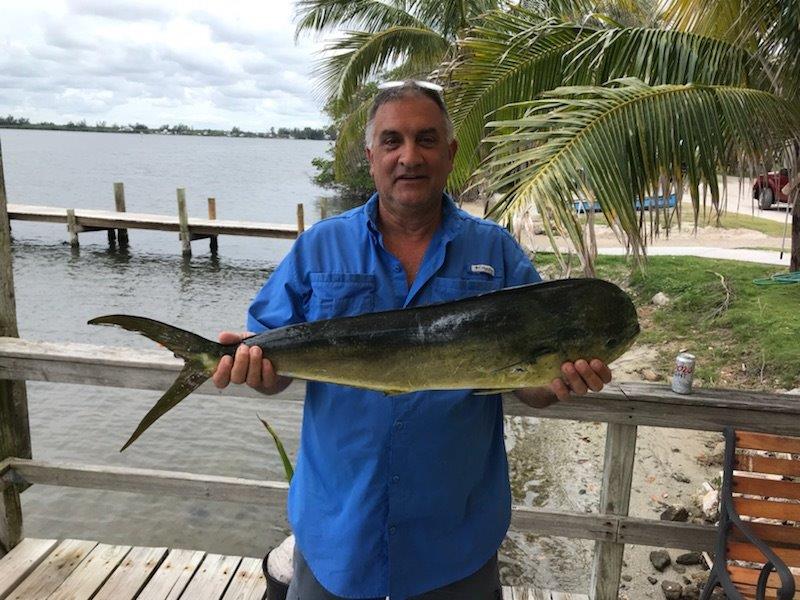 Well let's see, Grouper sandwich check, Mahi Mahi blackened on the grill check, that's about it, its SUMMER TIME and the fish are very active. The seas are calming down and the weather is getting warmer. As I am writing this the reports are coming in from the last tournament Big Mahi were caught in the 40+lb range.
As we move into the warmer months the water temperatures will be rising and some of the bottom fishing will be moving into deeper waters while other fish will be moving in toward shore.
The Mahi Mahi bite has been hit or miss so far because of the rough seas but the bigger ones are being caught in the deeper waters. With the waters getting better look for the Mahi Mahi to be moving closer towards shore, start trolling in the 150ft depth and move out toward the cleaner blue waters. The weed lines and patches will be holding good numbers and a field day if you run into a school of peanuts. I have been catching larger Mahi in the deeper waters running skirted ballyhoo and naked also in the 190-240ft. of water.
If your looking for fun then rig up for some kings, follow the bait pods and other fish breaking the surface when that strike happens it will be game on, so far this past month big kings are being caught and a lot are breaking free. Make sure when rigging for Kings that your hooks are sharp.
Well that's all I am going to write as I need to get back on the water and have some fun.
Capt. Doug Kaska runs a 21' Shoalwater cat style hull that will handle up to 4 people with ease and comfort with a smooth dry ride. If you are looking to fish the flats or go offshore this boat will do it. He runs the Evinrude 150 E-Tec which is quiet and very fuel efficient.
Capt. Doug Kaska
Fishing Charters
www.sebastianfishingcharters.com
321-368-9444