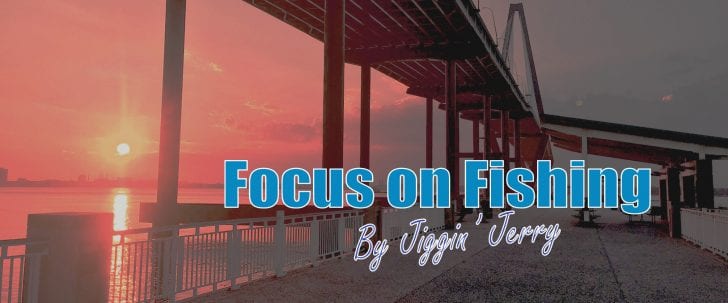 November is a month in the Lowcountry when our coastal waters start to become clearer with almost a tea color to them, especially in the Charleston Harbor, the Cooper River and the Wando River.
The Ashley River seems to maintain its chocolate, dirty-water appearance through most of the year, but in some locations on the Ashley, the water will be clearer than usual.  This allows anglers to sight fish.  Redfish on the move become easier to spot in the shallows.
Sheepshead, with their jailbird appearance, stand out easily.  Spotted Seatrout with their fast, darting maneuvers become flashier and easier to identify as they get closer to the surface.  In past articles, I have discussed everything from fishing techniques to rods and reels, what types of lures to use, live bait, and articles that express why we like to fish, etc.
In this article, I would like to explain something rarely discussed, part of a fisherman's gear that is seldom thought about, and that would be a fisherman's attire—their pants, shirts, and shoes.  Now when sportsmen shop for their clothing, they like to think of how does it fit?  How does it feel?  Is it a name brand?  Do I look good?  We all do this when we shop for our clothing.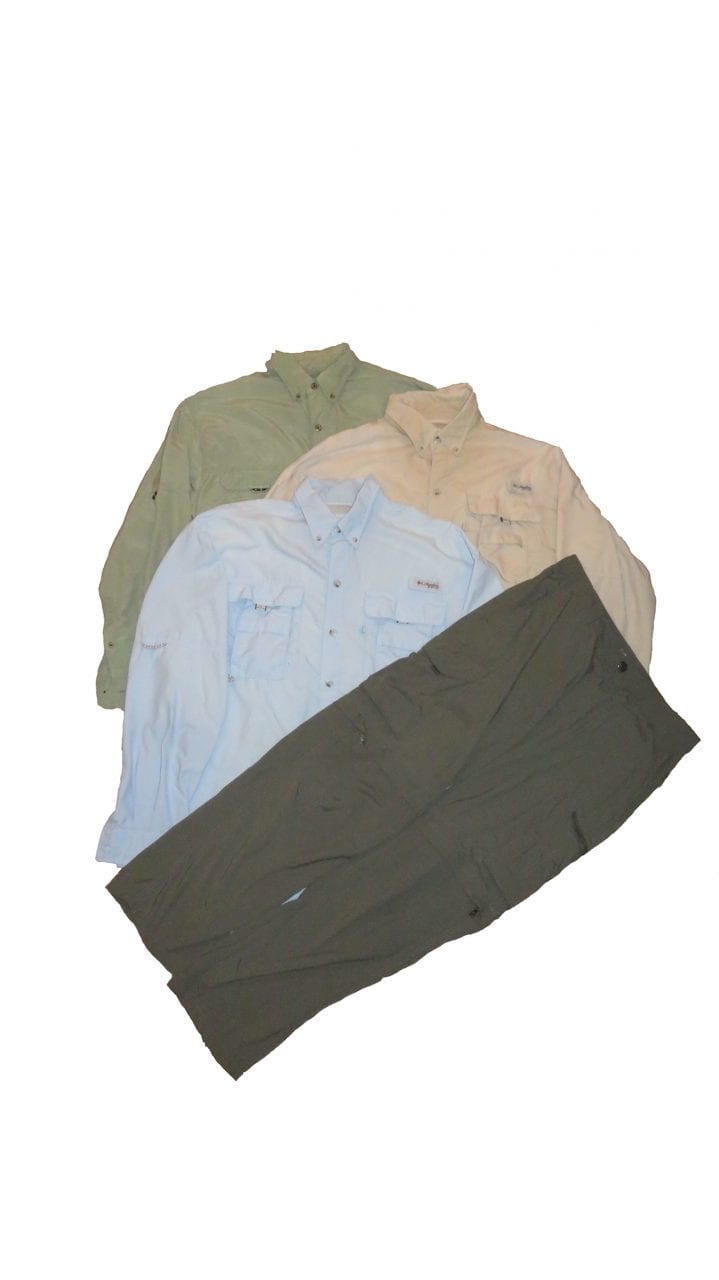 Personally, I have been approached numerous times while fishing and have had fans ask me a simple but good question.  They say, "Jerry, why do you wear so many outfits that are either all green or blue or khaki most of the time?"  I've answered their question, and I'm going to share the answer with you.
"One of the first things the fish will see is the sky, and in most cases, it's going to be in shades of blue"
This day and age, there's a lot of manufacturers of sports clothing, fishing pants, shirts, shoes, etc., that have started using brilliant colors like hot pinks, yellows, chartreuse, and bright reds.  Don't get me wrong, these colors paired with matching sporting shoes, sneakers, boots, flip flops, shorts and pants is pretty modern and can look great.
But going back to my discussion above about the clearer water will become interesting because the clearer water that allows you to see the fish in close vicinity also allows for the fish to see you!  This can become a problem.
Fishing off of piers that are close to the water or off the bow of a boat or stalking a school of Reds in a kayak or wading in the shallows off the side of a saltwater creek, if the fish can see you, you will be considered a predator or a threat.
In a lot of cases, this will cause the inshore game fish, like Sheepshead, Red Drum, Spotted Seatrout and Flounder, to panic and dart away or just make them nervous and shut them down from striking anything at all.  Here's where thinking like a fish comes in handy.
One, the fish has better eyesight than you think, and when looking out of clearer water, one of the first things the fish will see is the sky, and in most cases, it's going to be in shades of blue.
Since a lot of these main species wander on grass lines and in creeks and rivers along structure, they see trees in tones of brown, green leaves and green marsh grass, khaki tones, like in the Fall on the grass lines when the grass starts to die back.  These colors become non-threatening, they are an everyday occurrence.
So when leaning over these fish in clothing that are tones of blue, green and brown, you could say that you are wearing your camouflage like on a Turkey hunt.  When the fish looks up and sees that tone of blue with a blue-sky background, they will not panic and they will not scatter.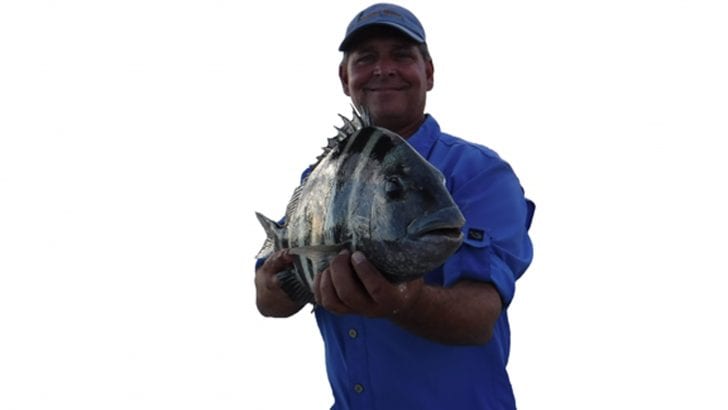 The same effect can be seen with tones of green, khaki and brown.  This will aid when you are sight fishing and targeting these inshore game species in clearer water, but don't take my word for it, try it yourself and you will see a difference.
But just one extra word of advice—remember not to make loud noises or sudden fast movements because that will catch the fish's attention and alert them to your presence.  The same thing would go for a Turkey hunter in full camo.
If he jumped up and down and started tap dancing, don't expect the Turkey to hang around.  A little stealth, combined with these natural colors, can go a long way.  So, the next time you find yourself out on the water and the water looks clear and the day is beautiful, remember you want to see them and not be seen by them.
I hope this helps with your next fishing adventure, and like I always say, until next time, good luck out there and have fun fishing!  To view some fishing adventures, go to my "Fishing with Jiggin' Jerry" Channel on YouTube or go to www.jigginjerry.net.