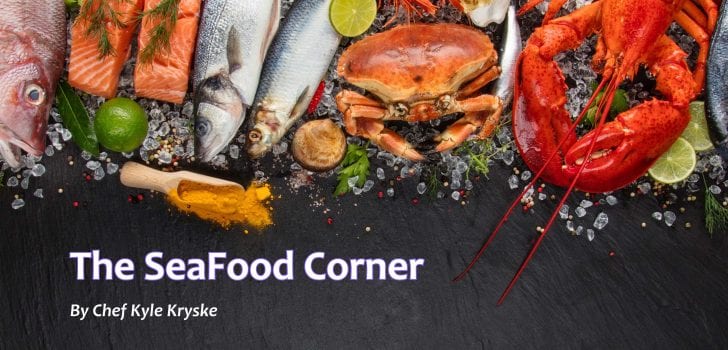 This month I am writing about one of my favorite types of seafood, shrimp. During these few months the local shrimp season is in full force. Hopefully everyone who goes out has a freezer full already.
However, if you haven't caught your own shrimp, your local seafood purveyor or grocery store should have local shrimp in abundance.
I have worked in the food and beverage industry for almost 20 years now and this recipe for shrimp ceviche is my favorite hands down.
It is easy to make and delicious. The ingredients you will need are 2 lbs shrimp that are peeled and deveined, 1 head of garlic, 1 avocado, 5 limes, 3 jalapenos, ½ a red onion, 1 large ripe tomato, ½ bunch cilantro, ¾ cup tomato juice, ¾ cup ketchup, 1-5oz bottle of green Tobasco, 1-5oz bottle Cholula, S&P, and a bag of tortilla chips.
To start get about 8 cloves of chopped garlic and add it to a boiling pot of water. Get a pot that is big enough for just the shrimp. Then add 2 tablespoons of salt to it.
The next part can be done 2 ways. The first is to add your shrimp to the boiling water and cook it until it is cooked through. You would do this if you're trying to eat it that particular day.
The next way would be to add the shrimp to the water and lightly cook the shrimp and pull out while still undercooked. It takes about a minute.
You would do it this way so that acid in the lime and tomato juice would cook the shrimp through in a day or so.
Traditional ceviche uses all sorts of seafood but most don't blanch the shrimp.
I do it mainly for a texture preference. If the shrimp are added raw to the juices it can be gummy in texture and it takes a few days to cook.
Once the shrimp are cooked through or lightly blanched either spoon out or strain and put in the fridge on a baking pan.
Now that the shrimp is cooked or blanched and chilled, it's time for the other ingredients. Get a bowl and juice 5 limes, small dice a large ripe tomato, small dice half a red onion, small dice 3 jalapenos with no seeds added (if you like spicy food add them), and chop a ½ bunch of cilantro.
Then add the ketchup, tomato juice, ½ bottle of Cholula, ½ bottle of green Tobasco, and S&P to taste. Mix all the ingredients well and set aside.
Take the chilled shrimp and rough chop the shrimp into large pieces and add to the bowl. Mix well and serve if you cooked it or leave it in the fridge for a day if you blanched the shrimp.
It holds f
or about 5 days in the fridge. Serve it with tortilla chips and fresh avocado. Enjoy!
Feel free to add or take out ingredients to your liking. For the full recipe see below!
– Chef Kyle Kryske is a native of Pascagoula, MS. He is a graduate of Johnson & Wales University & has resided in Charleston for 15 years. He has been cooking in restaurants for 18 years. working in MS, AK, NC, and SC. and is Chef de Cuisine at The Royal Tern Restaurant on Johns Island, SC.
Shrimp Ceviche
Ingredients:
2# shrimp- Peeled and deveined
8 cloves garlic- minced
5 limes- juiced
3 jalapenos- seeds removed and small dice
½ red onion- small dice
1 large ripe red tomato- small dice
½ bunch cilantro- chopped
¾ cup tomato juice
¾ cup ketchup
½ bottle Green Tobasco
½ bottle Cholula hot sauce
S & P to taste
1 avocado
1 bg tortilla chips
Method of Preparation for the shrimp:
1.  Get a pot of water and bring to a boil.
2. Add the garlic to the pot with a little S & P
3.  Add the shrimp and either cook it slightly or cook through as discussed in the article
4.  Cool shrimp and rough chop into large pieces
Method of Preparation for the other ingredients:
1.  Get a bowl and add the lime juice, jalapeno, red onion, tomato, cilantro, tomato juice, ketchup, Green Tobasco, Cholula, and S & P.  Mix well
2.  Add the chopped shrimp and mix again
3.  Refrigerate again for about an hour, longer if you only slightly cooked the shrimp
4.  Serve with fresh avocado and tortilla chips.