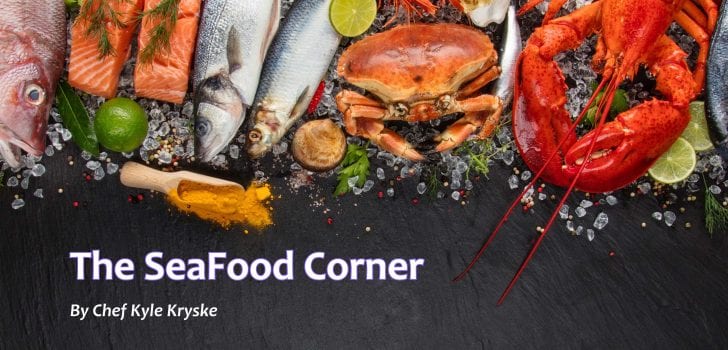 With winter here and spring right around the corner there are still many options if you go fishing this time of the year. Bottom fishing will still bring many desirable fish if trolling for Wahoo is not in the cards.
One of the more popular and easy to catch bottom fish is Vermillion Snapper, they can be readily caught year round.
We are going to make a simple but delicious ceviche with the snapper fillets
In previous articles I thoroughly explained the process of filleting whole fish so refer back to that if needed. We are going to make a simple but delicious ceviche with the snapper fillets.
Ceviche is found all over but mainly in areas like the Caribbean and Latin America. Ceviche is raw fish that is marinated in fresh citrus juices which in turn cooks the fish.
There are many different recipes for ceviche but today I am going to make an easy one that anyone can execute. For your ingredients you are going to need about 8 limes, 6 lemons, 2 oranges, 1 jalapeno, honey, 1 small red onion, 1 bunch scallions, 1 head romaine, 1 bunch cilantro, and a bag of tortilla chips. For this recipe get a bowl and put a fine strainer over it. Juice all the citrus over the strainer and into the bowl.
We are doing this so there are no seeds in the marinade. Then add 1 small diced jalapeno, honey, and salt and pepper. Mix well. For the fish make sure there are no bones or scales on the flesh. You can slice or dice the fish.
I prefer to slice it thin because it cooks faster but that's up to you. Add your fish to the citrus marinade and stir it gently and then lightly press down until the fish is completely submerged in the marinade. Cover and refrigerate for about 6-8 hours. You can go longer if you like. You can eat this fish raw so don't be scared if it isn't completely cooked all the way through.
Now that the fish is ready it's time for plating it up. Get a serving bowl and add shredded lettuce to the bottom.
  Take you marinated fish from the fridge and add thinly sliced red onion, sliced scallions, a few cilantro leaves, and salt and pepper if you feel it needs more seasoning and mix well.
Now, spoon out the majority of the fish and place on top of the lettuce. Pour a little marinade on top of that, you don't want it swimming. Drizzle a little olive oil on top and serve with chips. Feel free to add or take out ingredients if you desire.
If you're feeling adventurous try the delicious remaining marinade also known as Leche de Tigre (Tiger's milk). It is often served as a beverage, Enjoy!  The full recipe is down below.
– Chef Kyle Kryske is a native of Pascagoula, MS. Kyle has resided in Charleston for 15 years & has been cooking in restaurants for 18 years. He has worked in MS, AK, NC, and SC. and is Chef de Cuisine at Coast Restaurant in Charleston. Kyle is a graduate of Johnson & Wales University. When he is not working he is either inshore or offshore fishing.
Snapper Ceviche
Ingredients:
¾ cup Fresh Squeezed Orange Juice
1 cup Fresh Squeezed Lemon Juice
1 cup Fresh Squeezed Lime Juice
1 Jalapeno with seeds- minced
2 T Honey
1 Red onion- sliced thin
1 Bunch Scallions- sliced thin
1 Head Romaine- sliced thin
Cilantro- a few sprigs
Olive oil- to taste
1 bag tortilla chips
1- 2-4# vermillion snapper or 2 smaller ones
Salt and Pepper- to taste
Method of Preparation:
1.  Juice lemon, lime, and orange juice over a strainer into a bowl- no seeds
2.  Add honey, jalapeno, salt and pepper to juices- stir well
3.  For the fish get the freshest ones available- clear eyes, bright red gills, no fishy smell at all.  Take your boneless and skinless fillet and cut it down the middle lengthwise.  At a slight angle begin slicing your fish as thin as possible with the sharpest knife you have.  Once you have this done add the fish to your marinade.  Stir well and make sure fish is submerged.  Cover and refrigerate for 4-6 hours depending on how thin you sliced your fish
4.  Now that your fish is cooked, pour off the majority of the juice into a separate bowl.
5.  Add sliced red onion, scallions, cilantro, and more salt and pepper if needed.  Stir carefully not to beat up the fish
6.  Get a nice serving dish and put the sliced lettuce in the bottom.  Add your ceviche on top.  Lightly drizzle with olive oil.  Serve with chips
7.  With the left over juice also known as Leche de Tigre, you can drink it as a shot if you desire. Enjoy!
8.  Feel free to add or subtract ingredients of your liking
You may also enjoy reading about preparing a delicious Flounder recipe!