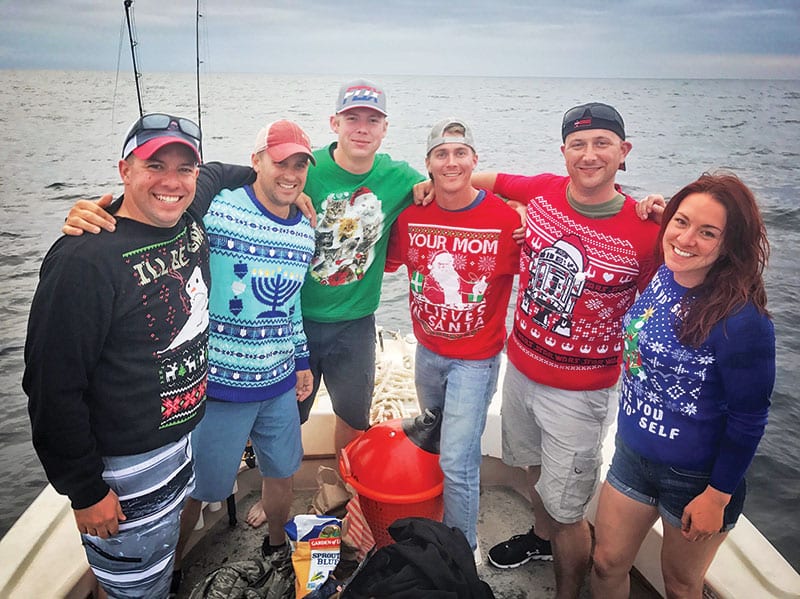 Diving in the winter can be challenging. The cold water and air can make it challenging to find a place to get warm if you don't have a plot house or cabin on your boat. I made a small one-man tent on the bow of my boat with a small heater in it. You can also use an old water fire extinguisher full of hot water. Use a bicycle pump or a tube attachment from your low-pressure inflator hose to pressurize the extinguisher. After that just stick the hose in the top of your wetsuit and squeeze the handle and enjoy the warmth. I also use lots of hand warmers. You have to be creative, but all that's to use after your dive and is part of your preplanning.
The weather can be good in January. The seas are usually calm, visibility is normally about 30'- 50' or more, and the water temp can be in the low 60s to 50s with air temps somewhere in the 40s-60s. Wetsuits, hoods, gloves, and good boots are the name of the game for this kind of diving.
FWC harvest rules are hard to predict but, red grouper, flounder, and all the snappers (expect for red snapper) should be in play. This time of year is great for flounder around the near-shore wrecks. They stack up so thick in some spots you can get 3 to 5 in just one stab, so be careful you don't go over your bag limit. There's no need to get an early start to the day because most fisherman and divers don't like the cold weather, so most spots are wide open. Less fishing pressure means bigger fish on the wrecks so this is the time to stock your freezer with fish.
Cold water is hard on your body and can make decompression sickness more likely if you don't strictly abide by the rules. Add 10 feet to your actual depth, slow your ascents, and always do your safety stop. Cold makes your body work harder just to stay warm, and with that it burns more calories and oxygen, so eat more food during your surface intervals.
This is also a great time to get your gear serviced and replace older parts. Many dive shops are going to run specials around the holidays. It's also a good time to take some specialty courses or even upgrade your certification. The more you know about diving, the more fun you will have, plus it will make you a safer diver.
As always PLAN YOUR DIVE AND DIVE YOUR PLAN.
Thanks for reading.
CAPT. JAMES TEW
Kitchen Pass Dive & Fishing Charters
850-896-6476