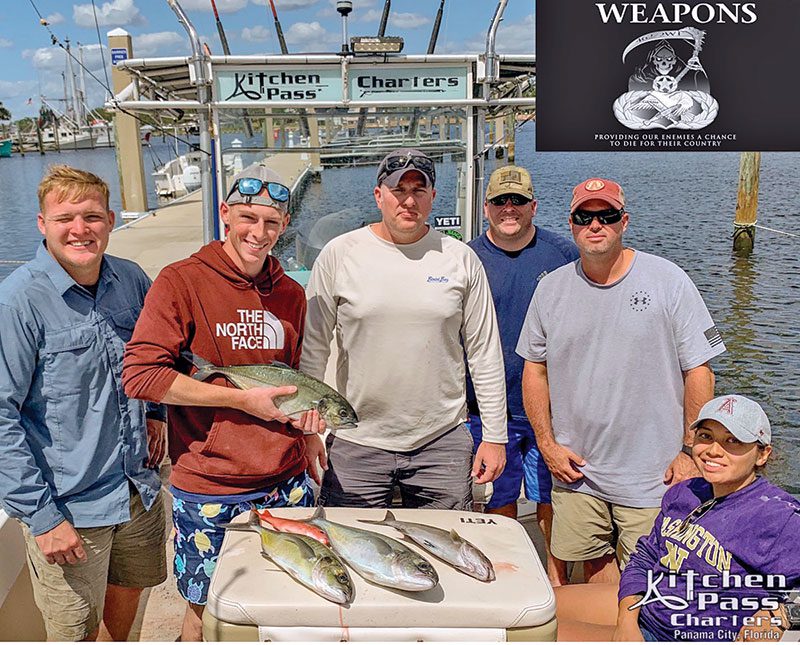 With fall upon us and winter just around the corner, the water is cooling down. There are not many people on the water this time of year so you won't need to search too much for an open dive site. The water temperature is still in the upper 70s. Most of the popular fish like red snapper, trigger, and amberjacks are all out of season. Now is the time to sharpen your spearfishing skills by working on controlling your breathing, moving and making turns without using your hands so you are as stealthy as possible. You may also want to target practice using porgies (white snapper,) they don't move much and they are smaller and very tasty! The best thing about them there isn't a size limit in the Gulf and the bag limit is 100 lbs. per person. Grouper are still in the area so while you target practice, keep an eye out for them. Remember to look up from time to time because you never know what may be lurking just above you like wahoo and tuna.
Safety Tip: By now you should be wearing a wetsuit. This typically adds about 4 lbs. of buoyancy, depending on the thickness. The thicker the suit the more buoyant you will be, so you will need to add weight to compensate for this added buoyancy. Also remember if you don't dive in cooler waters much, it may be a good idea to add 10 feet to your actual depth calculation that you are going to dive. This will keep you safer as your body is working harder than you realize just to keep you warm. Use this time to read all the notes on your decompression tables.
As always, PLAN YOUR DIVE AND DIVE YOUR PLAN.
Thanks for reading…
CAPT. JAMES TEW
Kitchen Pass Dive & Fishing Charters
850-896-6476