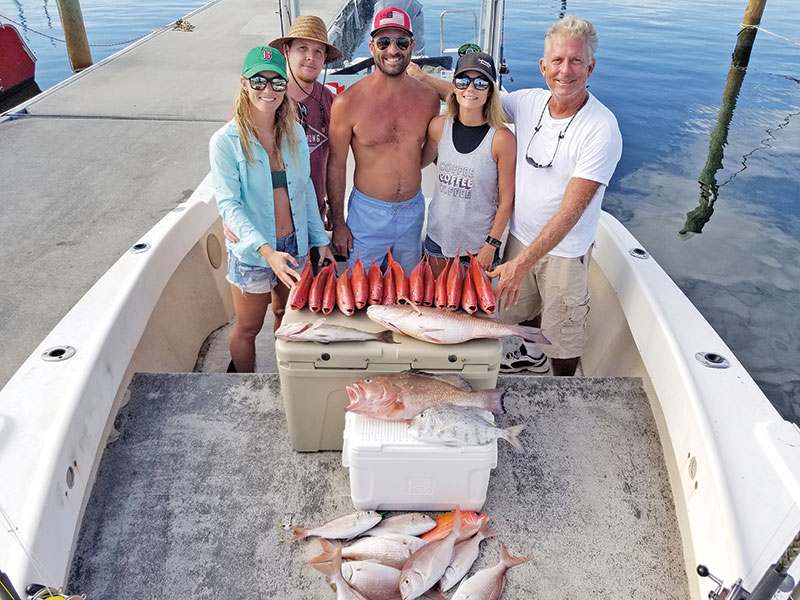 The water is still in the mid-80s with a thermocline at about 50 feet. Now it's time to go out and find all the other fish we have been skipping and give the endangered red snapper and triggerfish a break. You can find black snapper under most wrecks and around hard bottom ledges. If you stay quiet and stealthy, they may even come out into the open to play. Do this by controlling your breathing, slowing down, and don't look directly at the fish you want to shoot, especially barracuda, grouper and black snapper. Due to all the rain we've been getting, it seems the water clarity is better on the west side of the Panama City pass, with vis being about 30- to 50-feet. To the east, it's about 15- to 20-feet. Most of the fish near shore are still on the small side, so be careful on what you shoot; you don't want to kill something you can't legally keep. Hopefully, you have some "out of the way" places close in that haven't been fished out, so you can get some big ones. If not, you may need to go out to deeper waters.
Deep Dives Safety Tip: With all the talk of having to go deeper for the bigger fish, you still need to dive with-in your certification. If you find yourself needing to dive deeper and deeper to get what you want, then go take the deep dive specialty class; don't be stupid up and deep dive anyway. You don't want to hurt yourself for a fish. Any of the dive shops in town would be happy to teach you the next level of diving.
Always PLAN YOUR DIVE AND DIVE YOUR PLAN.
Thanks for reading…
CAPT. JAMES TEW
Kitchen Pass Dive & Fishing Charters
850-896-6476