John Detmer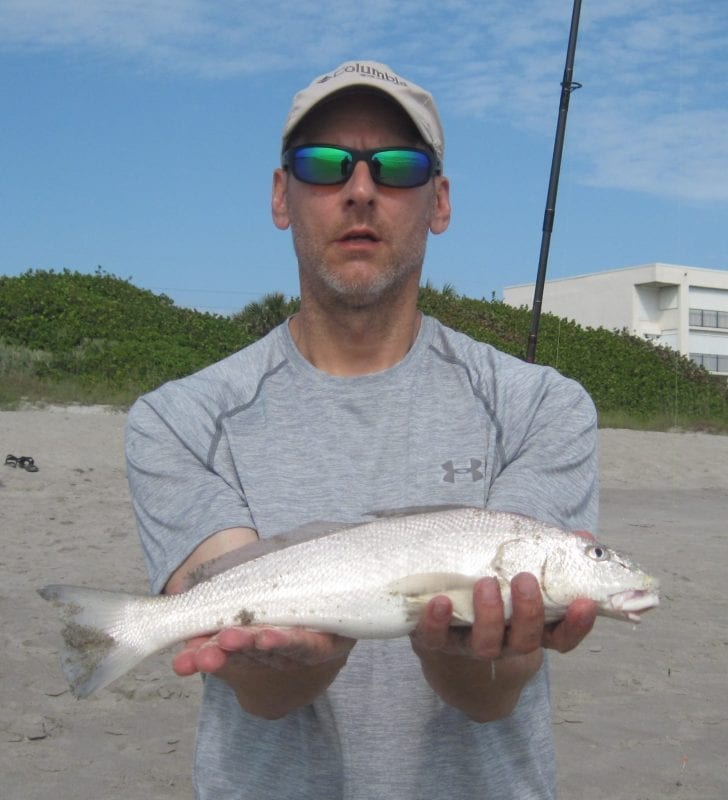 May was a good month with whiting, pompano, sheepshead and small bonnethead sharks caught in the surf from PAFB to Sebastian Inlet. Reports from surf anglers ranged from several fish a day to "we hammered them".
Junes' tactic is to fish beaches with clean water on a raising tide. These beaches can hold fish in good numbers for the early morning angler. I suggest baiting with Fishbites, shrimp and/or clams for the best results and to go home with fish for dinner.
The bait fish are in the wash right now and catching them will become easier and easier as we progress thru the summer months. So start bringing your cast net and a 7/8 foot rod on your surf fishing outings. Catch your live bait and your good to go. My 7/8 foot rods are medium to heavy action with a smaller surf reels spooled with 20 lb test mono fishing line. I make the rigs as follows: Slide onto the running line a 3/4 to 1½ oz barrel sinker (ocean conditions) which is followed by an 8 mm bead and then tied to a swivel. To the other side of the swivel I tie 15-18 inches of 30/40 lb test mono and end it with a 1/0 to 3/0 circle hook. Hook your live bait thru the mouth then cast it into the trough and wait for the bite. Might catch a snook, redfish or shark, you can never tell and that is why summer surf fishing is so much fun.
Do not presume that surf fishing shuts down during the summer months. That is far from the case on our Brevard County Beaches. I have heard individuals say that they only fish in the winter months because that's when they catch fish. I think what they really are saying is that they don't catch pompano and some other species they like during the summer months. So therefore, surf fishing is no good during the summer. I am here to say that some of the best fishing days are ahead of us. Fishing on the beaches and in the lagoon is excellent this time of year. Adam and I have had 100 fish days in the river and great mornings and evenings in the surf. Change your times, baits, tactics, the way you hold your mouth and go fishing.
See You on The Beach.
John Detmer
Owner/Operator of J&H Surf Fishing the Space Coast
321-777-5554 or email
jandhsurffishing1@att.net
www.jandhsurffishing.com