John Detmer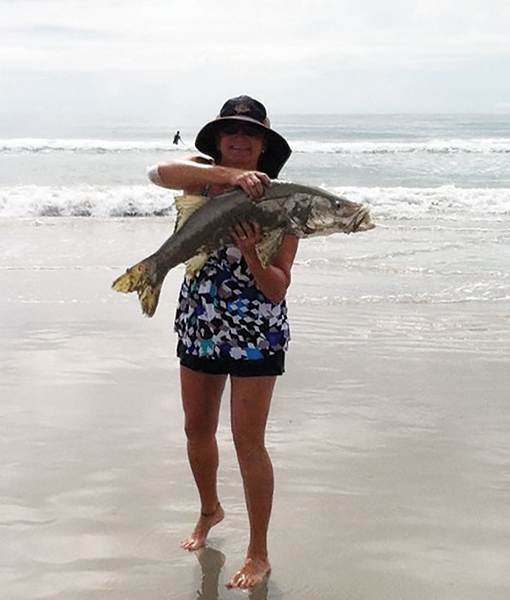 The summer is here with calm winds and a daily flat ocean. All in all just another day in paradise.
Drum, sharks and whiting are in the surf and the early angler on a rising tide has the best opportunity for catching dinner but, wait there is more…
The challenge for the surf angler at this time of the year comes from crabs. If you have ever surf fished during the hot summer months you may have noticed that many times you reel in to check you bait only to find it's gone. Well my friends you have got the crabs. Those little guys will eat the bait off your hooks so gently that you won't see the rod tip move. Without the wave action and other factors that force the crabs to stay out of sight during the fall/ winter months the crabs have free run of the ocean floor during the summer.
To combat these little bait thieves, I use a product called Fishbites. The Fishbites I use comes in a package with two 12 inch strips so one can cut off as much or as little as required. The product comes in several different scents, clam, shrimp, sand flea and in colors that include red, yellow and pink. Another plus for Fishbites is that it needs no refrigeration and can stay in you tackle bucket until needed. Finally, "Fishbites" continues to get outstanding reviews from the local surf anglers because the baits work when others won't. The baits stay on the hooks longer and do a good job of catching whiting, sheepshead, pompano and drum. Fishbites is also used extensively by river fisherman to tip their trout touts, gigs and lures.
John Detmer
Owner/Operator of J&H Surf Fishing the Space Coast
321-777-5554 or email
jandhsurffishing1@att.net
www.jandhsurffishing.com