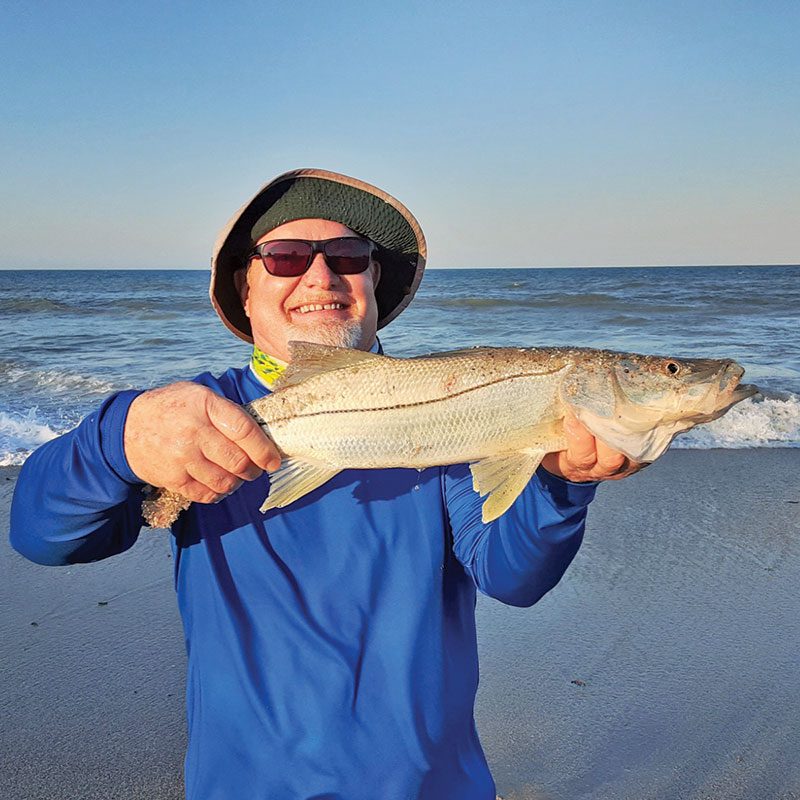 Beaches are open, the sun is shining and people are smiling. This is what we are supposed to be doing this time of year. Families and individuals alike enjoying the beach and the things to do outside. With that being said, we had a great month of surf fishing in June here in Central Florida and are looking forward to that consistency carrying into July. A smattering of species will be caught off Brevard County beaches with a wide array of tactics and strategies being employed.
Multiple reports out of some of the rockier coastline areas including southern Patrick Air Force Base down to north Indialantic have indicated great catches of sheepshead and snook. Believe it or not, multiple snook have been landed on fresh sand fleas, which is not the typical bait for that target species. In regards to that, I would draw the conclusion that their feeding patterns are adjusting to the lack of baitfish compared to late summer and fall when they mainly focus on live bait. Right now they're heating up and being opportunistic feeders, including any crustacean that crosses the wrong path. So don't be surprised if your pompano rods go off with a nice snook. Im expecting baitfish to become more prevalent with July setting in and the pogies begin to migrate along the beaches.
The sheepshead bite has proved best on either side of the high tide for the month of June and that also will continue into the sweltering summer days of July. Get out early and fish the tide changes on beaches with structure. Be sure to cast smaller hooks with small baits near the structure to increase your opportunities. How to Catch Sheepsheads: Use small hooks size 1/0-2/0, and make sure they're very sharp. Bait Choices: Sand fleas, clam or shrimp; use small pieces the size of your fingernail, get tension immediately when they begin to bite. Sheepsheads have hard small mouths perfect for bait stealing, so be ready to set the hook.
Surf fishing around Sebastian Inlet will be up and down depending on the time of day and tide. Fishing around a high tide recently has proved better with fish chewing in the stages of the tide change. Don't count out an outgoing tide completely though. Just with recent catches, more water seems to be key. Look for cleaner water clarity with the greens and blue tints north or south of Sebastian Inlet to be the best grounds. A handful of nice sized resident pompano should continue to swing through and provide that excitement only that they can. Whiting will generally be caught in larger numbers closer to the shore near outflows and rip currents. Fish bites and sand fleas continue to be the successful baits of choice, with fresh shrimp having a nice catch ratio as well.
Capt. Lukas Brickweg
Cocoa Beach Surf Fishing Charters
cocoabeachsurffishingcharters@gmail.com
www.cocoabeachsurffishingcharters.com
(321) 205-4672