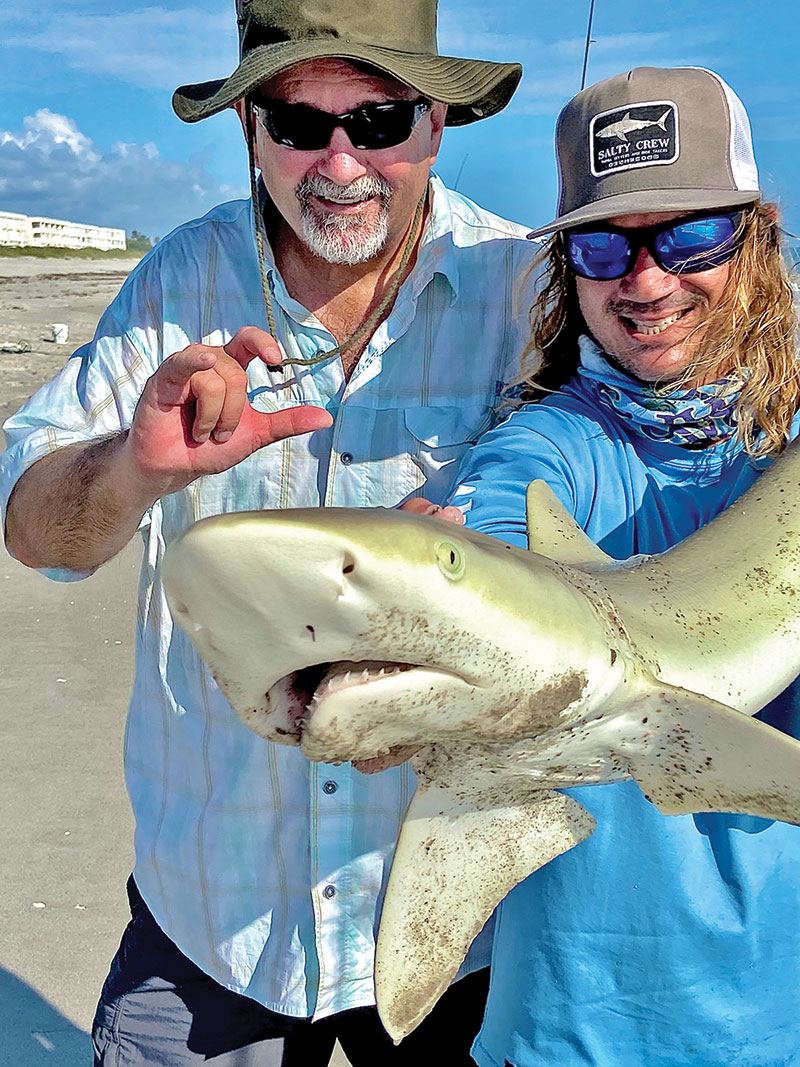 Surf fishing Brevard County beaches delivered mixed results this week. The biggest factors affecting catches were contributed to water clarity and seaweed. The first half of the week seemed to provide more challenging conditions than the last few days with a favorable forecast continuing into next week. Multiple species ranging from sharks, snook, pompano, bluefish, catfish, whiting, ladyfish, mackerel, jack crevalle and tarpon. It really has been variable day to day with what species are available and roaming on our coasts.
Shark fishing charters delivered stellar results the past few weeks with large concentrations of baitfish and predatory fish on the hunt. Beach fishing for sharks with live bait and dead chunk baits have been the key to success. Shark fishing Port Canaveral to the south of Sebastian Inlet has been red hot. Make sure to come prepared for battle with beefed up tackle that can hold up to the pressure of these predators of the sea. Surf fishing equipment for sharks include braided line in the 40-80 lb. range with large capacity spinning reels or conventional open-face tackle. Implementing wire leaders and strong circle hooks for hook set placement and survival rates upon release are a must. Ensure you handle sharks cautiously and safely for a healthy return to the sea.
Pompano fishing is soon to heat way up for our Central East Coast beaches. Keep an eye on that water temp for the big schools to show. This week our beach fishing charters caught tons of undersized pompano with 10-20% of those catches being over the legal limit in the 12-15 inch class fish. As difficult as it was to land keeper size fish, a percentage of those catches were attacked on the way in by bluefish and sharks. It's absolutely a predatory world out there right now with an eat or be eaten mentality.
While the main topics of discussion are shark fishing and pompano, there is plenty of rod-bending action to keep you busy in the surf. The whiting bite hasn't disappointed with a consistency that keeps the white meat hitting the coolers. Along with the prominent table fare species, the frequency of bluefish, jack crevalle, ladyfish and mackerel have kept the action nonstop.
Snook fishing took a slight dip this week from previous weeks but that shouldn't be a pattern that holds steadily as we continue with our fall mullet run. Pulses come and go and with these major migrations it's up to the angler to keep a beat on when the waves of bait are rolling through. These mullet are easily attainable with a cast net and have resulted in the vast majority of snook, tarpon and flounder catches in the surf. Preferably fishing around a tide change at the end of high and beginning of low seems to provide the best results. Make a game plan to get out and participate in this rich seasonal fishery!
Capt. Lukas Brickweg
Cocoa Beach Surf Fishing Charters
cocoabeachsurffishingcharters@gmail.com
www.cocoabeachsurffishingcharters.com
(321) 205-4672