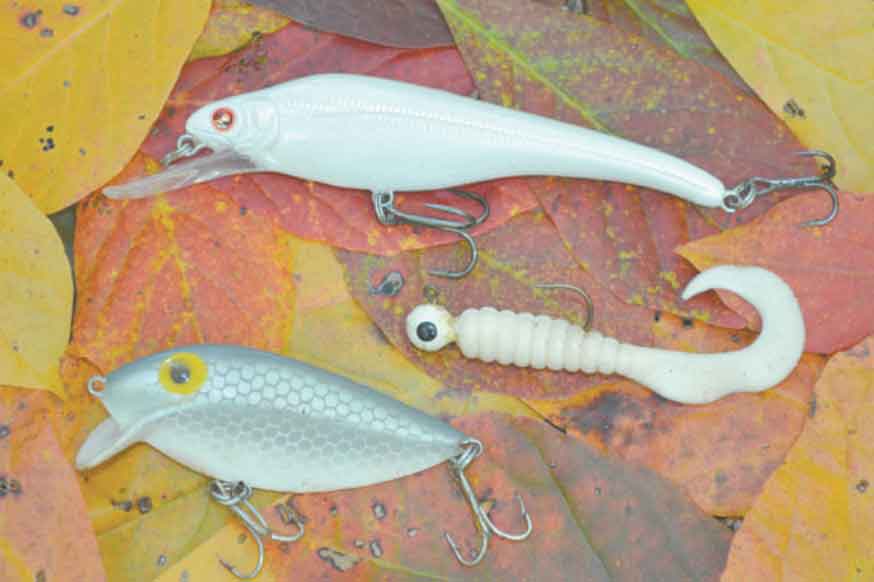 It may seem hard to believe, but Lake Ronkonkoma received its first stocking of walleye over 17 years ago in a test program started in 1994. At the time, it was hoped these ravenous predators would establish themselves and help bring the lake's stunted population of overabundant white perch, which had decimated Ronkonkoma's largemouth bass population back into check. To date, the program seems to have worked out pretty well. There now appear to be fewer and somewhat larger white perch in the big lake, largemouth bass numbers seem to be on the rise, and smallmouth bass fishing has picked up significantly in the past few years.
How much of Lake Ronkonkoma's rebound in recent years is due the walleye influence and how much is due to other factors like reduction of road run-off may be hard to quantify but one thing is for sure: the perch-pike, as walleyes are called in some parts of the country, have established a solid population and they can be quite aggressive from mid-September right through Thanksgiving. If you have given them a try as yet, it might be worth a day of breaking away from the briny for a few casts on the sweeter side.
DIG DEEP DURING FALL
I'm no walleye expert, but I have had good fall success targeting them both here and at Fort Pond in Montauk by simply keeping things simple. Although some of these fish may top six pounds, most measure 14 to 20 inches and the vast majority are caught in open water. These two traits make Ronkonkoma's walleye perfect for battling with four- to eight-pound test spinning outfits, crank baits, plugs, in-line spinners and small jigs or grubs.
Undoubtedly, the top lure for Ronkonkoma walleye to date has been a one-quarter-ounce silver Bill Lewis Rattletrap. Silver Rapala Shad Raps, Storm ThinFin Shads and Sebile's Koolie Minnnow 90 SL and Acast Minnow 95 SL have also worked well. Cast or troll any of these lures over eight- to 12-foot depths in open water and your odds of connecting should be fairly good. Figure the action to be a little more reliable off the rocky slopes on the east and west sides of the lake as opposed to the shallower, north and south ends. When the plugs and crank baits fail to produce, switching to a white or chartreuse four-inch curly-tail grub on a small lead head jig and probing the bottom can get the job done, especially if you tip the jig with a small worm or white perch strip bait. As October and November approach, you might also score in the upper strata of the water column using Panther Martin Rooster Tail, Mepps or Blue Fox in-line spinners.
Interestingly, I have yet to hear of anyone using a spinner blade and night crawler harness set-up to catch walleyes here on Long Island. This is a traditional approach to catching walleyes across the country. It would have been difficult to use when the white perch were plentiful as the stunted fish would have pecked the slow-trolled worms to bits within seconds. Now, however, with the white perch under control, it might be a viable option. Live-lining small white perch – if you can find any now – might be another trick worth trying. Most of the perch in the lake these days seem to be running between five and eight inches in length which is about double their size when the walleye stockings first began.
In terms of where to try your luck at Ronkonkoma, the top walleye spots include the northwest corner of the lake off the long shuttered Bavarian Inn Restaurant, the waters directly in front of the DEC Victory Drive Ramp, and six- to 12-foot depths directly in front of the Islip and Brookhaven Town beaches. Consider these just starting points, however, for walleye are prone to roam and can be anywhere in the lake on any particular day.
A TASTY TREAT?
Generally, I push hard for releasing freshwater fish caught locally, but Ronkonkoma's walleye are an exception. They carry a three fish bag limit and minimum size of 18 inches with an open season running from the first Saturday in May through March 15. While I've yet to take home any stockies myself, I have eaten walleye from upstate waters and found them to be simply the best freshwater fish I have ever sampled. I've eaten them pan-fried in butter with cHarissa spice, but many people love to deep-fry, grill and even steam the firm, pinkish-white fillets. Currently, there are no special advisories against eating walleye caught in Lake Ronkonkoma (or Fort Pond in Montauk) so you might want to give them a try. Removing a few will only make room for additional stockies to grow.
To date, the biggest Lake Ronkonkoma walleye I've heard of was a fish taken a few years ago that checked in at just shy of eight pounds, so there is little doubt ten- pounders now prowl these depths. There's no time better than between now and Thanksgiving to connect with a lunker here so head out and make your move. Who knows, maybe you'll land Long Island's first double-digit monster walleye.