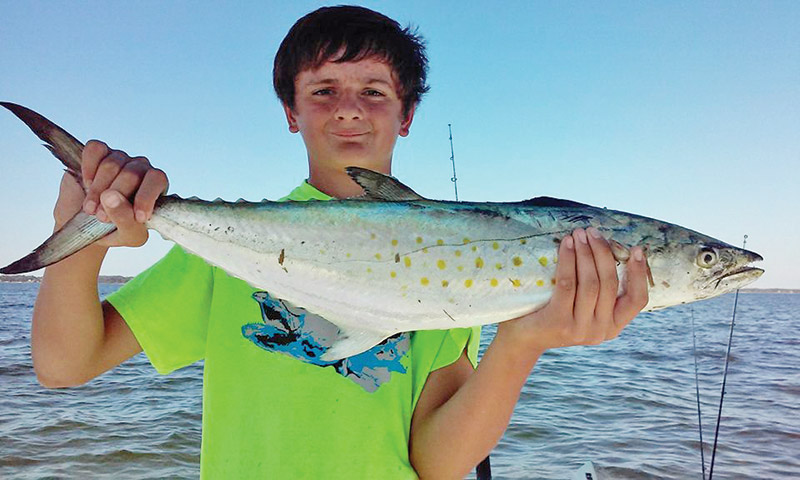 Hello anglers! April is always an exciting month here on the Panhandle. Spanish mackerel will be everywhere, the flats fishing will be lighting up, and cobia will be running the beaches. If you don't have plans to go fishing, make some! Waters are warming up fast and lots of big changes are expected this month.
The trout fishing should explode this month! The big mama trout will be moving and much more aggressive through April and May. Don't be afraid to fish big. I like to toss 5-8 inch finger mullet on the shallow flats and creek mouths for gator trout. Specific locations won't matter so much; concentrate on habitat. If it looks fishy, I fish it! The key factors I look for are quiet remote areas, grass flats with pot holes, or bayou/creek mouths. Move into these area as quietly as possible; I use a push pole or drift in. If I choose live bait, I anchor the boat and cast four baits as far as possible from the boat: two on a free-line and two on a slip sinker. Sometimes big trout prefer a finger mullet pinned down. If I choose artificial baits, I prefer to drift and toss a variation of top water plugs and soft plastics. Try to tip every rig with 15-20 pound fluorocarbon leaders. You just might get into some big redfish as well!
Open bay fishing will be great. Spanish mackerel will be thick. Look for birds bombing or just troll tree rigs tipped with a spoon at 5 mph down the drop offs in 10-18 feet deep and you can't lose. I often choose to do this down the beach and look for cobia that will
be cruising up and down our beaches this month. Keep a duster jig, eel imitation, or live bait ready. I recommend at least a 60-80 pound leader for cobia, and a medium to heavy spinning rod with 30-50 lb. test braided line. Last year, just west of Panama City, I tossed a duster in front of a 60 lb. cobia riding the back of a big ray in 12' of water and landed it.
The bottom fishing will be getting better as the water warms, but still not many species to keep inshore. Amberjacks are a lot of fun and will be a nice challenge to get a keeper inshore. If you can find some live blue runners, you are in business.
The pompano should be picking up for surf anglers as well. Sand fleas, shrimp, and small jigs will be the perfect application from the beach.
Thanks for reading and fish on!
CAPT. JASON SHINGLER
Adrenaline On H20
Panama City, FL
(850) 348-2282