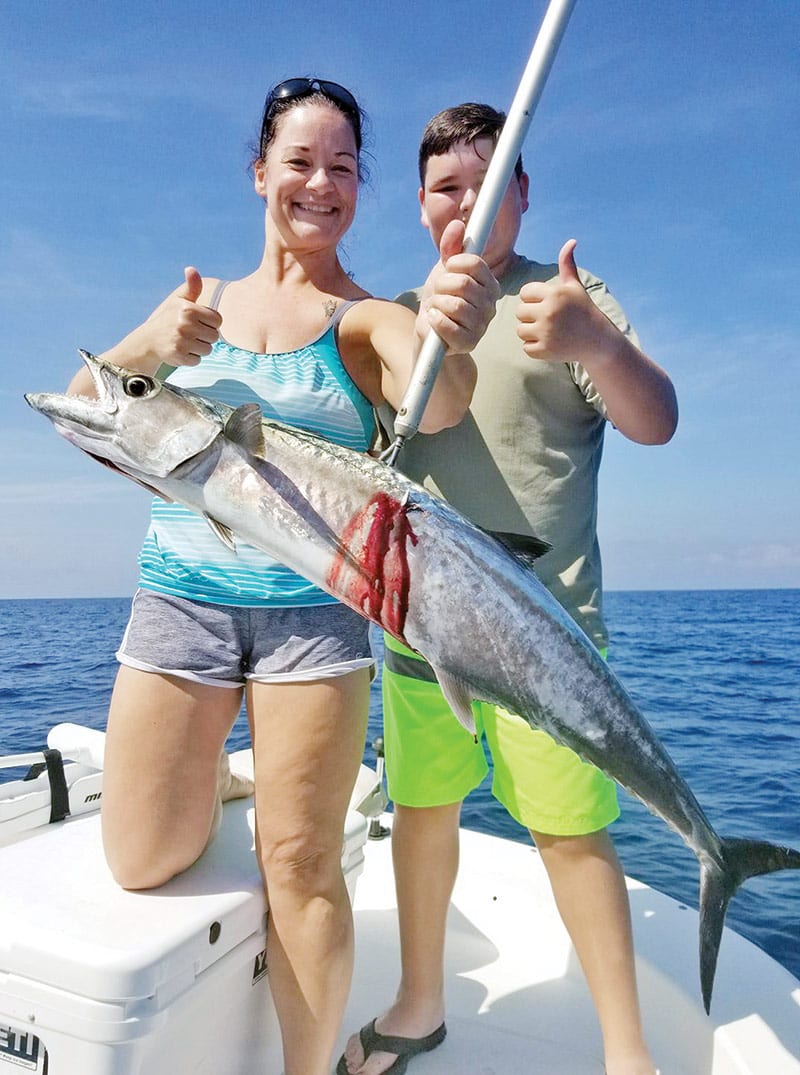 Hello anglers!  June is upon us and if you don't have plans to get a line wet, you should! It is one of the best months to fish our waters with virtually all of our migratory fish on the prowl, as well as some stellar bottom fishing for our resident species. As most of you know, red snapper season will open on June 11th for recreational harvest. There will be a lot of folks targeting them. I suggest preparing the night before. I check the weather, rig all of my rods, and have everything in place before I hit the hay the night before. When I get up to head out, I make sure everything is in place so I don't slow traffic down at the boat launch. Lots of fish will be caught this month.
BAY: Trout and redfish will be cruising the shallow grass flats. Toss top-water plugs early and late, and go to live bait or sinking/suspending baits while the sun is up. Watch the tides as well. If you get lucky enough to be off work during an incoming or outgoing tide at dusk or dawn, you have a great chance to make some memories! Again, study the conditions the night before, plan and rig accordingly, and it will pay off.
GULF: King mackerel will be on fire! Make sure you have some trolling rods tied up with diving plugs and skirts for cigars minnows. Mahi are showing up early this year and even some black fin tuna as well. Be sure to vary your trolling speeds if the bite is slow; sometimes the fish just like a certain speed. As for bottom fishing, drop some big rigs and some small over those reefs to broaden your potential species. Keep your bait size relative to your hook size. If I have 4 people dropping baits, I drop 2 or 3 different style rigs; this helps ensure we cover all the bases. I also recommend keeping a stinger rig with a treble hook on a short piece of 40 pound wire with a cigar minnow. Small blue runners work well too. If the dolphins show up, move to the next spot!
SURF: Keep those pompano rigs tied up with sand fleas and shrimp. Toss spoons, gotchas and jigs for Spanish mackerel, ladyfish, and blue fish. Kings will also move close this month. I would keep a surf rod with long casting range rigged with a light wire leader and a cigar minnow. Sharks will be cruising up and down the beach and fresh dead or cut baits will produce when fished on the bottom. Be sure to have a heavy leader and lots of line for that 1st run.
Thanks for reading and Fish On!
CAPT. JASON SHINGLER
Adrenaline On H20
Panama City, FL
(850) 348-2282