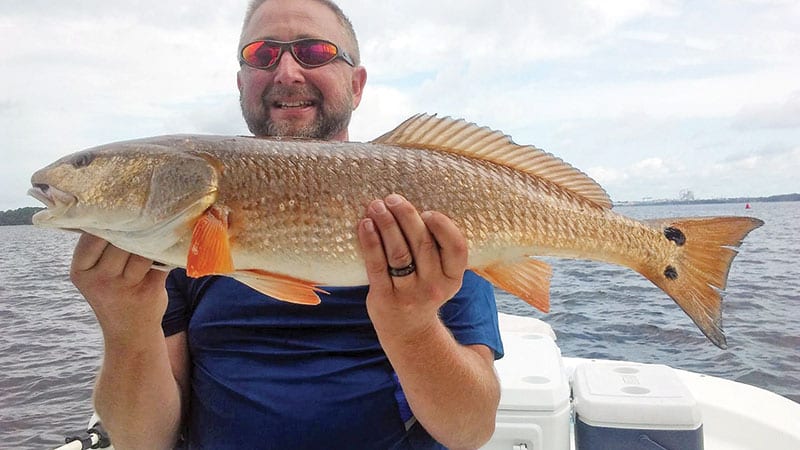 Hello Anglers!
March is the most exciting month of the year for me. The water temperatures will be on the rise and more fishing opportunities will surface. It's been a cold winter for the panhandle area and we're hoping things warm up fast. I personally recorded water temperatures this winter as low as 48 degrees in our bay system. The cold fronts that moved through our area this year were profound. Recent trends in February indicate a hastened warming period so things should be on schedule soon. Rainfall and water salinity will play a part in our inshore waters as some fish migrate to desired water conditions.
BAY:
After almost 30 years of fishing St. Andrews Bay, the species that come to mind in March are Spanish mackerel, sheepshead, and redfish. The Spanish mackerel will tell on themselves as soon as they arrive. For the most part they are surface or near surface feeders and will be attacking schools of baitfish; look for those birds bombing the water. If I don't see any activity on the surface, I will troll the drop offs in the bay with spoons and straw rigs until I find fish. Keep those trolling speeds between 4 and 6 MPH. Vary speeds and rigs until you have success. For sheepshead and redfish, fish docks, rocks and bridges with live shrimp or fiddler crabs on light gear. Slip sinker rigs with 1/2-1ounce weights (depending on current), a 20 lb. fluorocarbon leader, and a short shank #1- to #1/0 live bait hook. Work the bottom near structure.
GULF:
Spanish mackerel just might be cruising our beaches too; I recommend trolling depths in 10- to 20-ft. If the water warms fast, don't rule out a cobia sighting so keep a jig tied up just in case. The close structures will be holding a multitude of fish. I like to drop a variety of baits on multiple rigs this time of year. The learning experience and species variation can be fantastic!
SURF:
We should see a showing of pompano by the end of the month, but for now redfish, sand perch, whiting, and a few others will be cruising the beaches.
Thanks for reading and fish on!
CAPT. JASON SHINGLER
Adrenaline On H20
Panama City, FL
(850) 348-2282