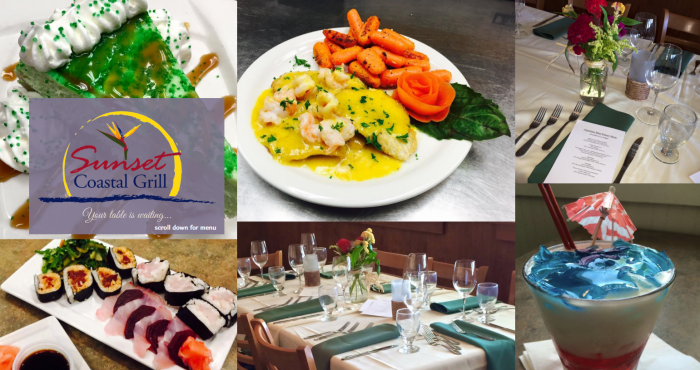 Hey guys, do you want to score big points with your wife or girlfriend? Take her to the Sunset Coastal Grill for dinner in Port St. Joe. The drive out along the coast through Mexico Beach is beautiful and it's only about a 45 minute drive from Panama City.
Bring the family, make a day of it! St. Joe has that "small-town" charm and the folks are so friendly; they truly are happy to see you. You'll feel like you've traveled back in time as you walk the streets and visit the many unique shops. Oh and be sure to visit the Blue Water Outriggers store. They've got a huge selection of fishing and hunting gear, marine accessories, apparel and more. I'm like a kid in a candy store in that place!
But when it's time to eat, you won't find any better than the Sunset Coastal Grill! I've eaten there several times and every time it's been amazing! The menu is full of fresh steaks and unique seafood dishes. My favorite dishes are the fried oysters or the shrimp-n-grits and I'm usually torn to decide. These are the best fried oysters I've ever had, and dipping them in their home-made remoulade just takes it to the next level. For desert I suggest the key lime pie, it's so good and big enough for two. Everything they offer is great, but check out their menu at www.sunsetcoastalgrill.com
Any time you go the view is fantastic, but if you time your visit to this restaurant right, you will get to watch the sun set into St. Joe Bay. Your wife and family will surely enjoy a visit to Port St. Joe. Take in the sights and the flavors of old Florida and you'll want to come back.