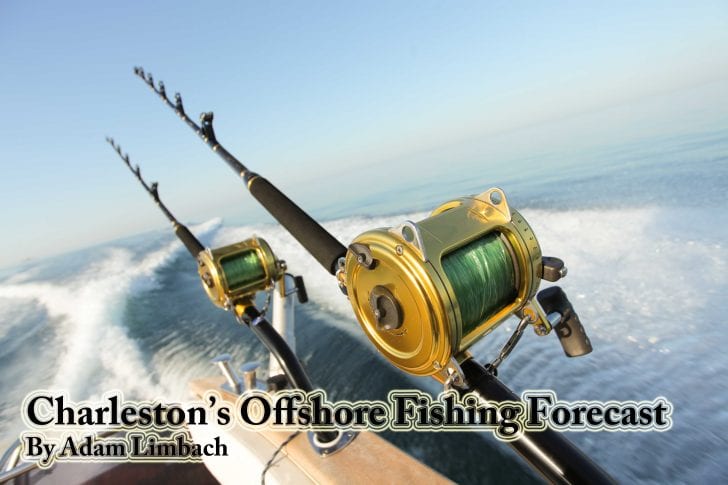 April is the month that most of us anticipate all winter! To stay successful you need to be able to adapt to the chance in the weather, and more importantly water temperature.
Typically I start April trolling on top of structure and looking for bait. If you can find a temperature break on top of structure even better.
When I'm looking for tuna I run either seawitches with small Ballyhoo, or a cedar plug. I run direct rigs making my leaders 45 feet long out of 50 or 60 pound fluorocarbon.
If I'm seeing tuna busting on the surface and I'm not getting bites I will drop back my long riggers. There are times my baits are half a spool back. If that doesn't work I'll go down in leader size.
If I'm fishing for Wahoo I use #8 or #10 piano wire rigged with a medium to large ballyhoo. In front of my bait l like a seawitch or bullet head style lure.
For the last couple years I've been having great success running lures from a local Charleston based company, Stryke Lures. They swim great, they are reasonably priced, and they are made out of quality hair that stays soft and won't knot up.
They just got a line of high speed lures that I haven't gotten to try yet.
I get most of my Wahoo bites getting my baits below the surface
I get most of my Wahoo bites getting my baits below the surface. You can do this using trolling leads, down riggers, or a planer. Many times I will get my first strike on one of the down rods, then hook a second wahoo on one of the long riggers.
In my opinion one of the biggest mistake people make after they are hooked up to a wahoo is stopping forward momentum.
Keep the boat moving forward by bumping the motors in and out of gear; but do not stop. By keeping the boat moving forward you will have more control of the fish and you will land more wahoo.
Once you have a hold of the leader, push the fish off to the side of the boat; never try and gaff a fish in the prop wash.
When the fish is boat side, at the moment just before the gaff man goes in for his shot put the boat in neutral and the water will clear up making it a little easier to see the fish.
It's been an abnormally cold winter this year so the Dolphin might show up a little late; but in years past they start to show up by the end of April.
Temperature breaks are where I find most of my bait and fish
When this happens I spend a lot of time studying temperature charts looking for edges and eddys.
Temperature breaks are where I find most of my bait and fish. I catch most of my fish on the offshore side, but there are days I have done better on the inshore side.
This is the time of year to cover ground and do some hunting. If I'm having a slow day I'll put out the marlin plugs and speed up to 8 or 9 knots.
When I get back into the Mahi I'll slow down and put the ballyhoo back in the water.
Go make memories!!!
Capt. Adam Limbach / Therapy Fishing Charters
therapyfishing.com
843.872.8020
You may also enjoy reading Charleston Offshore Fishing Forecast – March