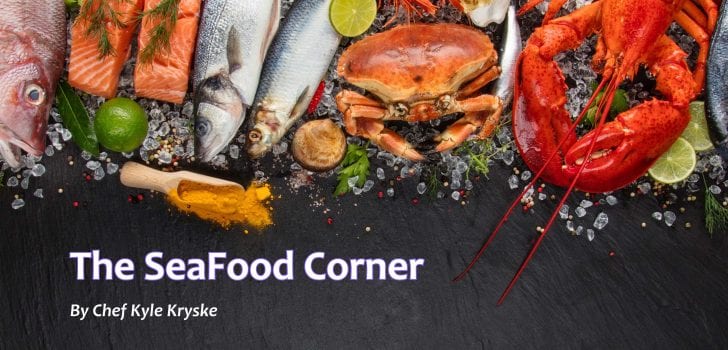 November is the time where it starts to cool off and people start to have house parties. A nice fire is rolling outside and you need a crowd pleaser to supplement their appetite.
This month I am making a simple crab dip that can be served hot or cold for any occasion.
Lets get started with the ingredients. You will need 1# cream cheese, 1# crab meat, 2 lemons, Worcestershire, Franks Red Hot Sauce, Old Bay, Honey, Crab Base, Butter, Horseradish, Sherry, crackers or fancy bread, and 1 bunch chives.
If you catch and pick your own blue crabs go for it
Start by getting a mixing bowl and add 1# softened cream cheese and 4 oz softened unsalted butter. You will want to leave the cream cheese and butter out for a few hours until it is soft to the touch.
As far as the crab meat goes if you catch and pick your own blue crabs go for it, otherwise a 1# can from the grocery store will do fine. There are many different varieties but claw meat is the cheapest.
If you want you could go high end and get lump or jumbo lump. It really depends on whatever you feel comfortable with.
Now, take your crab meat and squeeze the excess juice out and also pick out any noticeable shells.
Then add your lemon juice, 1.5 tsp Worcestershire, 1.5 tsp Franks Red Hot or whatever hot sauce you prefer, 2 tsp honey, ¼ cup Crab Base (if you cant find crab base a seafood base or shrimp base will do).
Then follow by adding 1.5 T horseradish and 1.5 T Sherry. Feel free to use a mixer or just mix it all up with your hands.  Get a double boiler set up and add your mixture to it.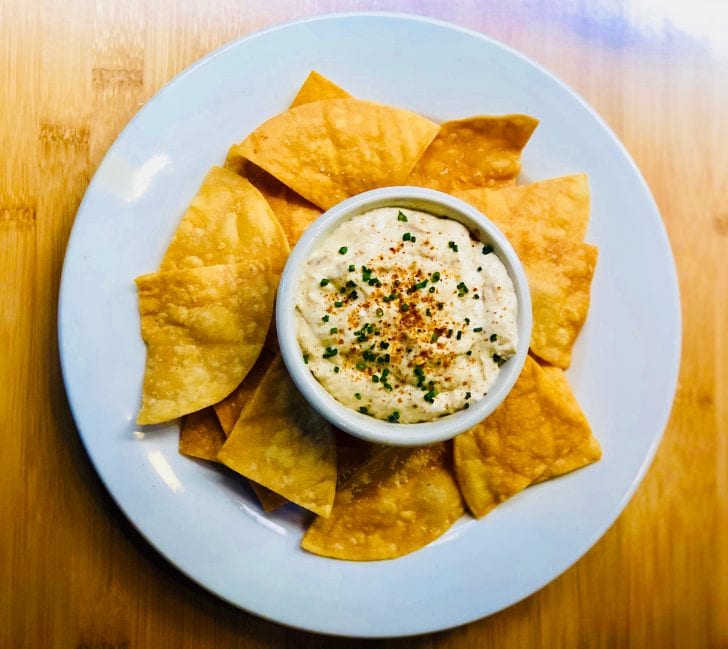 Stir until it is hot throughout. If you want you could serve it chilled as well. Whenever it is hot or chilled put it in a serving bowl or cup and sprinkle with old bay and fresh cut chives. Serve it with chips, crackers, or fancy bread.
Feel free to add or take out ingredients to your liking. For the full recipe see below!
– Chef Kyle Kryske is a native of Pascagoula, MS. He is a graduate of Johnson & Wales University & has resided in Charleston for 15 years. He has been cooking in restaurants for 18 years. working in MS, AK, NC, and SC. and is Chef de Cuisine at The Royal Tern Restaurant on Johns Island, SC.
Crab Dip
Ingredients:
1# Cream Cheese
1# Crab meat
Juice of 2 lemons
1.5 tsp Worcestershire
1.5 tsp Franks Red hot
2 tsp Honey
2 oz Crab Base
4 oz Unsalted Butter
1.5 T Horseradish
1.5 T Sherry
1 Bu Chives
Old Bay to Garnish
Crackers, Chips, or Bread
Method of Preparation:
1.  Start by letting you butter and cream cheese sit out for a few hours room temp
2.  In a bowl or a mixing bowl add the softened butter, cream cheese, juice of 2 lemons(no seeds), Worcestershire, Franks Red Hot, honey, crab base, horseradish, and sherry.  Mix well
3.  Get your crab meat and squeeze any juices out by hand (we do this so it doesn't make your dip runny).  Comb through it and pick out any noticeable shell pieces.  Add the crab meat to the mixer
4.  If you are serving it chilled just transfer to a serving bowl and put in the fridge.  If you are serving it hot add to a double boiler and heat until hot.
5.  To finish just garnish with fresh cut chives and Old Bay
6.  Serve with chips, crackers or bread.  This dip is great served in a boule of bread. Enjoy!