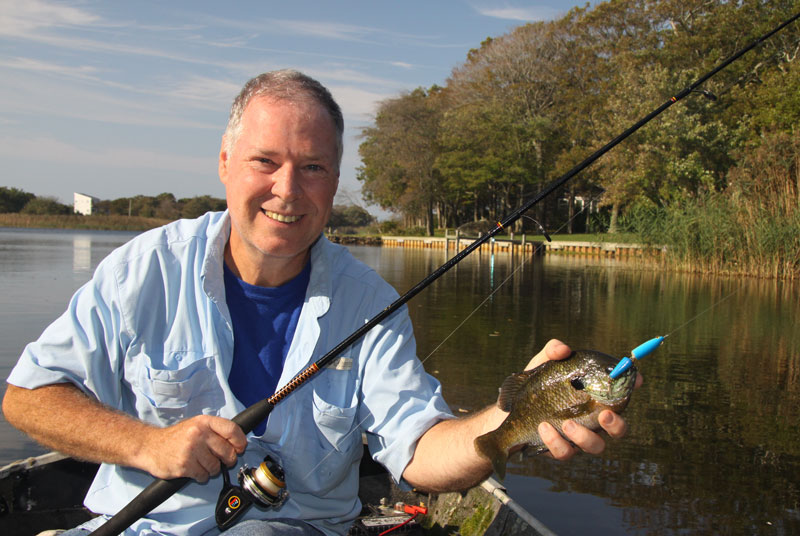 By Tom Schlichter
It was one of those mornings when nothing was going right. I was late getting up, the sun was already intense and I had left a bagful of new jigs I wanted to try sitting on a stump next to my driveway. Worst of all, the Lake Ronkonkoma largemouth bass population was on yet another hunger strike.
By 9:00 a.m. I was on a second pass through my tackle box, working lures that had already proved worthless over favorite fishing holes that had already proved empty. It's amazing, I began to think, how helpless you feel when your top producers don't get the job done. My favorite spinnerbait, plug, plastic worm, popper, twitch bait and crank bait had all drawn blanks. What to do?
Looking down at the messy trays, it struck me that this would be a good time to cull out some old stuff and make room for new. I decided to try out some lures that I had never given much chance. If they failed – as I was sure they would – each would be given away, discarded or regulated to a drawer in the tackle cabinet in my garage in the hopes of one day in the future being considered "vintage" collectables. In just about any case, most would at least be removed from my primary box.
Scanning across the tangled mess in the lower tray, I reached for hideous-looking crank bait. It was fat, brown, yellow and very ugly. It had a big lip and had yet to see the water for the several years I had carried it along.
Designed to dig deep, it was probably too heavy for the light spinning gear I had brought along – so I tied it on anyway and heaved it out toward the center of the lake. As I began cranking away the lure dug in and sent a wiggling, thumping sensation up the line. On the second, and what should have been the final cast for this lure, it was smashed by a 19-inch bucketmouth! A pair of 15-inch fish later and I was hooked. The lure, a Fred Arbogast Mud Bug, would remain in the box but it would attain a more prominent position on the top tray. Right next to it would be added two more. So much for making room.
REVERSE DRAFT PICKS
Just about every fisherman I know carries an assortment of lures to match virtually any combination of fishing variables that could ever exist. Most, however, use only a handful of these lures on a regular basis. I have dozens of lures that never or rarely see the end of a line, much less the inside of a fish's jaw. But, thanks to instances like the one above, I've been "discovering" new and effective lures on a more regular basis. In fact, I now actually plan a little time into most trips to test a few in the hopes of uncovering another gem. It's a point to keep in mind as you clean out and reload your tackle box for the quickly approaching season ahead. Often, you can find these old relics at fishing tackle flea markets or on-line.
Usually, I start my test by working backwards through my tackle box. On those days when the fish aren't in a particularly cooperative mood and I've exhausted all the standard game plans, or if I simply feel like trying something new, I reach for what I consider to be the least likely item to succeed and give it a try. If that doesn't' work, I reach for the next least likely offering, etc. "Bass Ackwards" fishing, I call it, and you'd be surprised at how many "new" lures you can discover this way.
Two winters ago, for example, I uncovered a couple of ancient Jim Bagley Salty Dog pink shrimp in a long-forgotten fishing pouch that had slipped behind a shelf in my basement. I dropped them into one of my nice, new Plano Boxes which contained a variety of the latest soft plastics for weakfish and fluke.
There they sat until one day in August when my usual flatfish offerings were drawing blanks. I'm guessing it had been 15 or maybe 20 years since I'd thrown a Salty Dog. Even though it was in mint condition, this one looked old and faded, tired actually, compared to brightly colored, curly tail, paddle tail and split tail soft baits I favor these days. I tied it on and fifteen minutes later had the first keeper of the day on ice. I took two more keeper fluke – one a nice 4-pounder – in the next hour to salvage what was looking like a shutout.
It turned out that, on this trip at least, the Long Island Sound summer flatties wanted a slow moving lure with minimum action and the boring looking Salty Dog proved it could be as effective as ever. Within a few weeks, I had tried my Salty Dogs on Peconic Bay school weaks and had a blast hooking 2- to 3-pounders with ease at the end of an outgoing tide. Needless to say, I've since rounded up a small supply of these early saltwater soft plastics. I can't wait to break them out again this spring.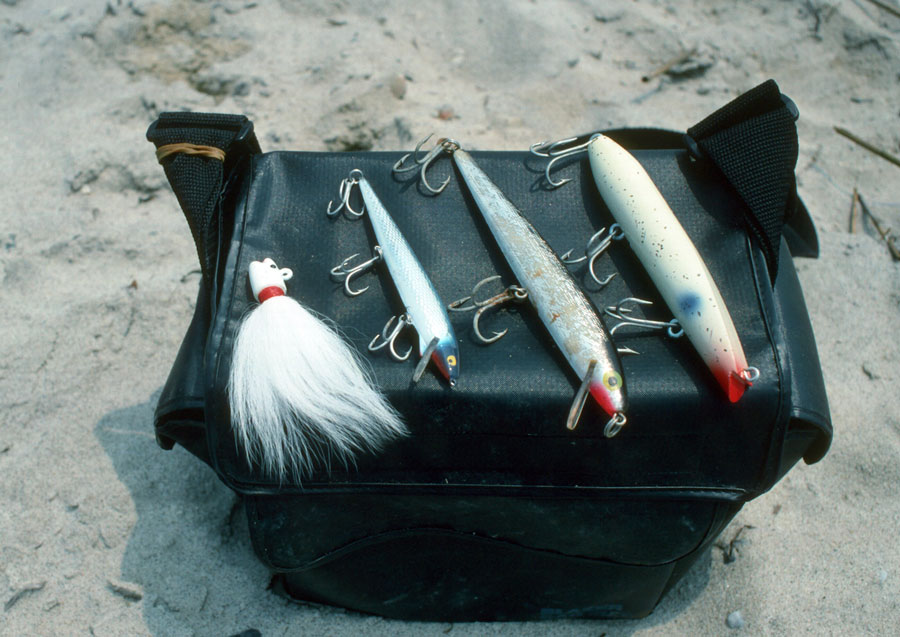 MORE OLD FAVORITES
The same bass ackwards approach led me to rediscover one of my favorite surf lures for stripers several years ago. I was getting noting more than an occasional light nudge on my favorite needlefish and bucktails while working the graveyard shift off Long Island's North Fork. A search through my plug bag revealed an old forgotten favorite hiding behind a large bottle plug – a 7-inch sinking Rebel in black over silver. This one had a crushed belly hook and its color was nearly worn off from hot action more than a decade ago. It remained in my bag as more of a good luck charm than anything else and I hesitated before tying it on.
It took a couple of casts to get the feel and retrieve speed just right but once I did, it was lock and load with husky schoolies in the 6- to 12-pound class until the dropping tide reached its mid-point. It was then that the bluefish moved in and a 10-pounder crushed my plug.
Fortunately, the bruiser was hooked in the corner of its toothy jaw and I got the Rebel back. I retired it forever that night but picked up a few more while rummaging through the "Sale" bins winter shows to spread amongst my various plug bags. I'm now set for a couple of years.
This past fall I dug up another oldie but goodie: a 3-1/2-inch blue over white jointed Rapala Floater that simply destroys largemouth bass, bronzebacks, pickerel, perch and sunfish in clear water on bright days. I was fishing with my buddy Mike Welsh – who usually gets the best of me – but the action had been minimal on Fort Pond as we worked jig & pig combos across a mid-lake ridge before moving up onto the flats. Mike chuckled when he saw me tie on the small, worn and somewhat fragile stick bait but I got the last laugh as it dug up more than a half-dozen bass over the next two hours.
"That lure is getting it done," Mike finally relented as the afternoon grew late.
"I know," I replied. "I can't believe it was still in my tackle box. I haven't thrown it in years. Too bad I only have one."
Next time we head out, I'll have to make sure to bring along at least two.
And, maybe, another one for Mike.
By Tom Schlichter