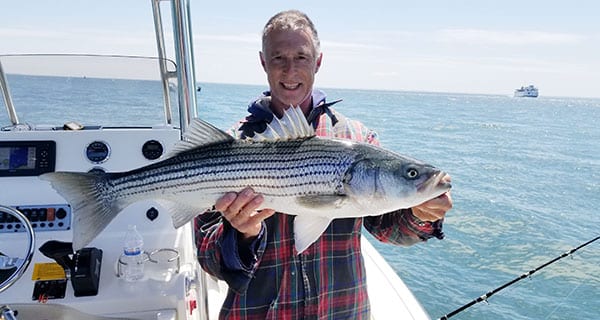 By Tom Schlichter
Stripers, false albacore and gorilla blues are all key players in October's magical fall run. All are serious predators and drawn to departing baitfish schools exiting harbors, bays, tidal creeks and river mouths in what amounts to a giant chum slick spilling out into the waters of the Long Island, Fishers Island and Block Island sounds. Positioned perfectly to take advantage of this predatory rush is Freedom Boat Club in Mystic, CT. Tucked up inside Mystic Harbor it provides a straight run out to some of the fishiest waters on the Northeast Coast.
"If you're a fisherman," says Frank Zodl, 65, of Orange, CT, "you've got to love this place. Once you break free of the 5-mph zone on the Mystic River and enter open water, it's just a 15-minute run to Fishers Island where fluke, blues and stripers can be found all season long. Five minutes more aboard one of Freedom's center consoles gets you to The Race for bruiser blues and stripers. If you want to head to Montauk for fluke or serious stripers, that's just 35 minutes away. You can even hit Block Island in less than an hour in calm seas."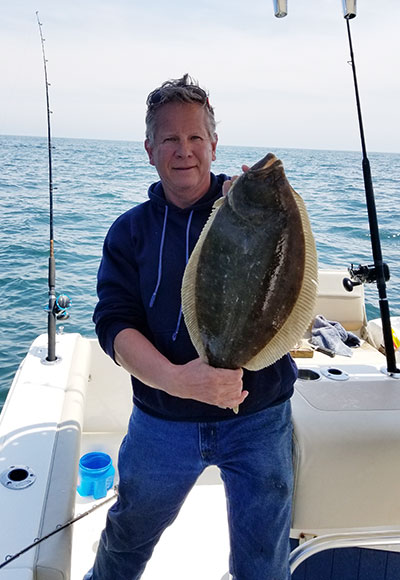 A serious fluke and striper fan, Zodl takes advantage of all these options, but that's only the tip of the iceberg, he explains. "Because I'm a Freedom Club boat member," he says, "I can actually take a boat out of any of their locations. That means I can follow the fish wherever the action is best, I think that's my favorite part of the Freedom Boat deal. In the spring you'll find me running out the Stratford, CT location to fish bass in the Housatonic River. In summer, Mystic is my favorite spot because I can target fluke off Isabella Beach at Fishers Island or run as far as the windmills of Block Island. That was the hot spot for big fluke this past year. Early in the fall, I'm hitting The Race to jig stripers or blues and to cast for speedy false albacore. Later in October, you'll find me sailing from Westbrook, CT for 'tog. It's all good."
With late summer and fall bluefish or stripers in The Race, Zodl likes to jig and bucktail. With the diamonds, he'll match the weight to the water depth and current strength, generally settling on an 8-ounce option. These he'll drop to the bottom, crank up 10 to 20 turns, then free-spool back down. The strikes on the retrieve are usually very solid, he notes, but a lot of fish hit on the drop as well. Those hits are more subtle, so you've got to stay focused at all times.
When it comes to bucktailing, Zodl, prefers using a three-way rig with a 1- to 2-ounce Spro tipped with a Fat Cow or Otter Tail trailer. You'll need 8- to 12-ounces of lead to stay in contact with the bottom using this rig, he notes. Drop it down, then crank up five turns so that you aren't dragging your sinker through the rocks where it is likely to get stuck. Swing hard any time you feel a tap.
"I really like the flexibility to go where the fish are biting best," says Zodl. "I used to have a boat I trailered around. When it came time to shop for a new, bigger vessel, I figured I'd dock it in Milford, CT. With the flexibility to sail out of so many places, however, I've been covering a lot more water this way. Heck, I've been to Montauk/Block Island eight times already this year! Up in western Long Island Sound the bass never really settled in on the bunker last spring and the fluke fishing was disappointing overall. Having the ability to fish further east really saved my season."
Indeed, it's just that flexibility that many Freedom Boat members tout as being one of the major reasons they've joined the club. The organization has 165 locations across North America, and 115 boats between Long Island, CT and RI alone. They also have new locations coming in France. There are currently 6 different boats in Mystic, with more planned for next year to accommodate membership growth.
Of course, a no-hassle policy also helps seal the deal. "I just show up at the dock, pick up the keys, and head on out," says Zodl, who often fishes with his brother, Eric and buddy, Glen Lagoy. "Most of the time, I choose the 239fs Key West center console with a 225 h.p. outboard. That will get me anywhere I need to go. But it's nice to be able to take out a pontoon boat, dual console or cruise-style vessel if I just want to bring family or friends out for a ride or some touring. No matter which boat I choose, at the end of the day I pull up to the dock, drop off the keys and tip the deckhand. That's it; time to go home with no serious cleaning or maintenance issues."
Getting back to fishing, Zodl is hoping the fall action will break loose early in October. He notes that in addition to bass, blues and Fat Alberts, the fall season also sees spectacular action with scup and sea bass in the Mystic area. These, he says, can be found on just about any local mussel bed or hump from depths of 30 feet or more on out to 100-foot drops as the season grows late.
As for the blackfish, he'll probably head back to Westbrook and target them close to home. "The waters there are gentle," he said, "so it's easy to anchor up on the good spots. I'll use green crabs on standard bottom rigs or blackfish jigs for that fishing. Hopefully, it's pretty solid. Otherwise, I guess, I'll just head back out to Mystic. There's plenty of rock-strewn bottom to investigate there, and some of the blackfish in that area push into the double digits. Come to think of it, I might have to give it a shot there either way."