BY ELLIOT G. THOMAS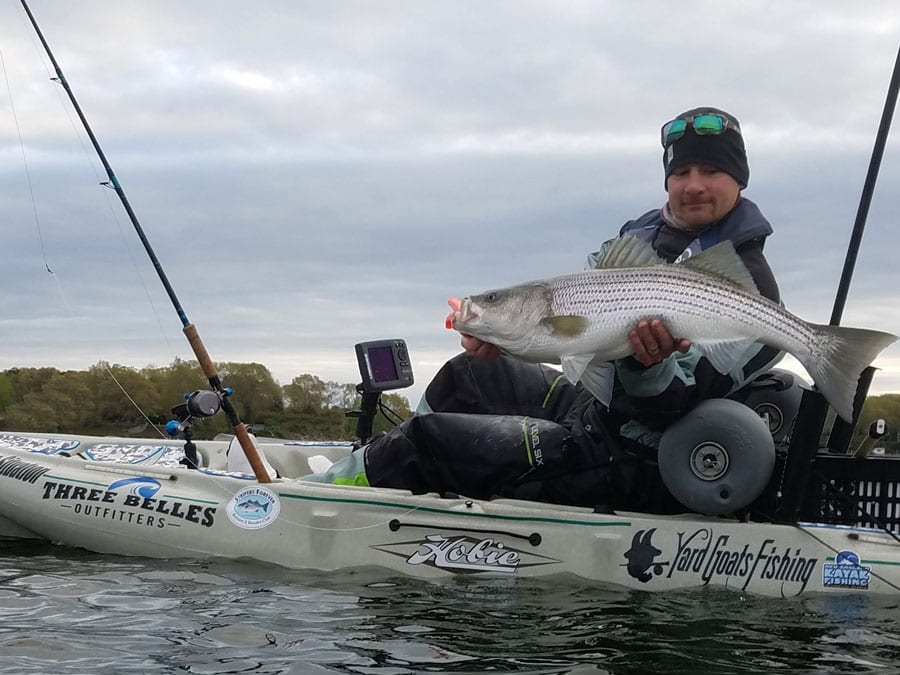 The winter "off-season" hits hardest right at the beginning of the cold weather. As the fall run dwindles and the thermometer drops, most of us get the same little rise in anxiety. The sun rises later in the morning, the dark falls earlier in the evening, and none of us get out on the water as much as we would like to. But just because we're not fishing as often as we prefer, doesn't mean we can't fish at all!
With the cold water and cold weather, most of the average anglers are completely off the water. Boats are getting winterize and wrapped and kayaks are stored in the garage for the winter. This leaves plenty of water for the rest of us more "determined" (and often slightly unbalanced) fishermen. Some anglers put their open water gear into long-term storage and dig out the tip-ups and ice cleats. For me and some of my kayak fishing buddies, there's always open water somewhere!
Last winter in New England was a relatively mild one, with very little ice on the typical "hot spots" and open water nearly everywhere. In a winter like we had a year ago, the ice fishermen were a little jittery all the way through April. At the same time, most of my Free Belles Out Fitters teammates kept our kayaks loaded and ready straight through the New Year without missing a beat. That said, winter time fishing in New England comes with both risks and rewards.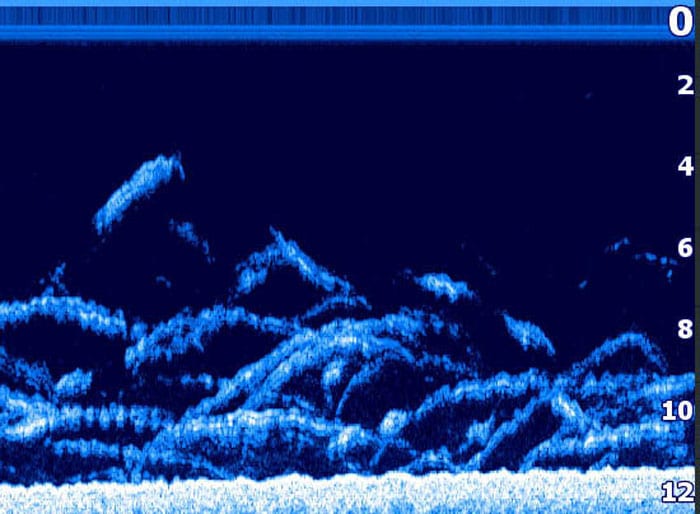 Certain waterways in the north eastern states are renowned for their winter populations of striped bass. Referred to as "holdovers", these are stripers that for one reason or another choose not to migrate south with the majority of their species. These holdover stripers are often thought to be just small, schoolie-size bass, but I can assure you that is not always the case. While the 16"-22" fish might be the most common caught during the winter holdover, striped bass as large as 40+" can be caught in amongst those schools of smaller fish.
During the cold of winter, these fish have a slowed metabolism and group together in quite massive schools. When you find a good, thick school of bass, your sonar will almost look like a digital rendition of lasagna dinner. While these holdovers can go long stretches of cold weather without feeding a single bite, a good active day on the water can mean a hundred fish or more for a determined and lucky angler.
Venturing out on a cold day for this species can come down to the seemingly simple task of finding the fish. Unlike searching for striped bass during the warmer months, these fish are not moving very far at any given time. Look for river bends, steep drop offs, and areas where tributaries converge. These locales tend to have slightly warmer and more oxygenated water and often concentrate the fish to a smaller area. Once you narrow down the water to a few high-probability areas, fish finder sonar units can mean the difference between hours of uneventful casting and retrieving, or hours of fish filled action! Lowrance units allow easy navigation for depth, contours, structure, water temperature, 2D sonar, and sidescan. Without my Lowrance Elite TI 7, I'd have a very difficult time finding fish unless I was out there every single day and covered lots and lots of water.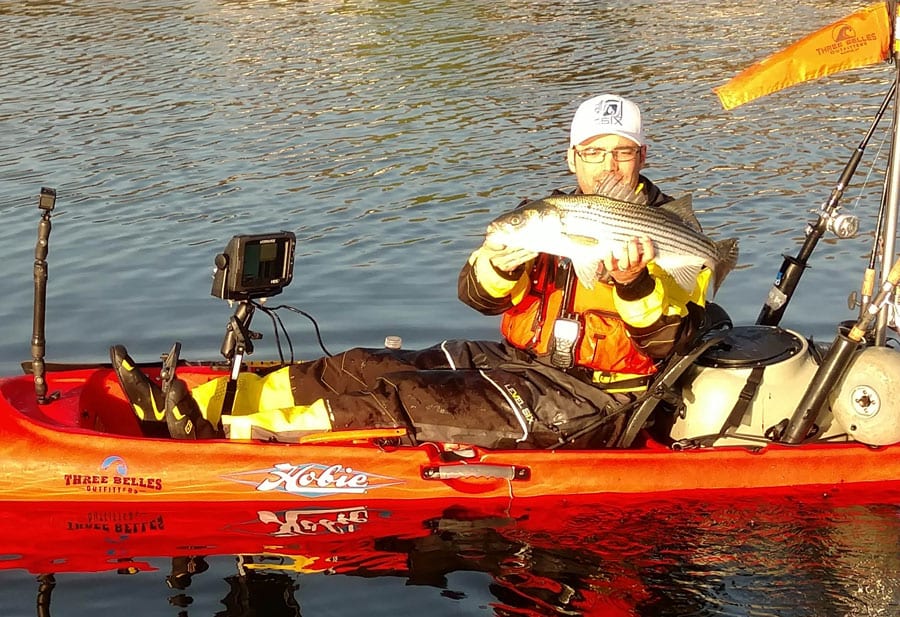 An often overlooked "secret" to a successful winter day fishing for stripers is exploring more uncharted waters. Many tributary systems, rivers, and back bays have at least some population of these cold-water resident fish. A few of these river systems are heavily pressured by anglers, while others go relatively untouched. Heavily pressured fish tend to keep their heads down and are far more difficult to convince to take a lure. If you are looking to get out this winter for some holdovers, consider looking for new waters and new spots.
When targeting these winter holdover striped bass, two words often dictate my fishing tactics more than anything else: low and slow. These winter bass are patient opportunistic feeders. They lie in wait until a slightly warmer day (or night) when their hunger gets the best of them. I typically try to convince them to take a bite by fishing something down deep where they are holding, and working it slowly to give them a chance to strike. Two of the most popular ways to convince them to take a bite are soft plastics and Alabama rigs.
In the world of soft plastics, Connecticut-made Sad Shads are a local favorite. Available in a variety of sizes and colors, Sad Shads can be fished without added weight near the water's surface, or with a jig head to get right down to where the fish are holding. Additionally, the Sad Shads are made from a biodegradable and very durable plastic, so if you're lucky enough to get into one of those 100+ fish days a single bait might last you all day! Alabama rigs (like a small umbrella rig) can also be extremely effective during this cold water fishing. Sold in a range of sizes, colors, and shapes, most Alabama rigs are designed to simply cast out, let sink, and retrieve. From a boat or Hobie kayak they can easily be trolled, although trolling a line is (in my opinion) even more boring than watching a bobber in a farm pond.
If you are lucky enough to catch an unseasonably warm stretch in the middle of winter, these holdover striped bass may start feeding like someone lit a fire under their tails. A couple of warmer days in a row can result in absolutely lights-out fishing action both on topwater and below! If fish are feeding more actively than the typical winter holdover slumber, a variety of lures can get the job done nicely. For some topwater action, a spook-style plug like the 247 Lures Mully or Flipping Mullet works like a charm. These handmade wooden plugs can be shed slowly-and-gently or fast-and-loud when you really want to make some commotion. If they aren't quite hitting topwater, the Sad Shad still works wonders fished without a jighead, or the old standby SP Minnow will usually do the trick.
Fishing for and catching these winter holdover stripers requires a little extra care and attention to ensure the health and survival of your catch. These fish have a drastically reduced metabolism, nearly to the point of a hibernating bear. Being fought and landed can be a major shock to their system, and they should be released carefully and quickly. Most anglers and scientists agree that these winter holdover fish are nearly as susceptible to injury as they would be in the absolute heat of summer.
Fishermen on the water during this winter season also need to take extra care for their own safety. As a Hobie kayak fisherman, I won't even think about hitting the cooler water without a quality drysuit and a life jacket. In water 32-40° the average person will be unconscious in 15 minutes or less. Most of my fellow Free Belles Outfitters team members own and use the same drysuit that I wear, the Level 6 Emperor. There are a variety of other manufacturers and brands on the market, but the Level 6 brand is one of the toughest, highest quality, and comfortable drysuits.
Should I find myself in the water, neoprene gaskets around my neck and wrists help keep water away from my body. Additionally there should be enough warm air trapped inside the drysuit to give me a little added buoyancy along with my pfd. Should I turn over my kayak and fall in, the drysuit cannot guarantee unscathed survival during the cold winter water, but it will at least provide a fighting chance. A friend and fishing colleague of mine had an unfortunate incident of flipping his kayak and falling in the water right in the heart of the January cold water fishing season. He firmly believes that his Level Six drysuit saved his life.
Alternatively, if you happen to be a little better adjusted than I am, winter is an excellent time to catch up on all that gear maintenance you've been neglecting all season. All of your rods deserve a good wipe down, especially if you like to fish with bait like bunker and eels. Most quality tackle shops have reel service programs, which I take advantage of nearly every winter. Swapping out rusty/damaged split rings and hooks is also an easy way to refresh the quality of your lures & plugs. As the weather warms, such a simple maintenance item can mean the difference between the fish of a lifetime or utter heartbreak.
BY ELLIOT G. THOMAS