by Karen Westerberg
Here Come the Stripers and Blues, and the Tournaments Too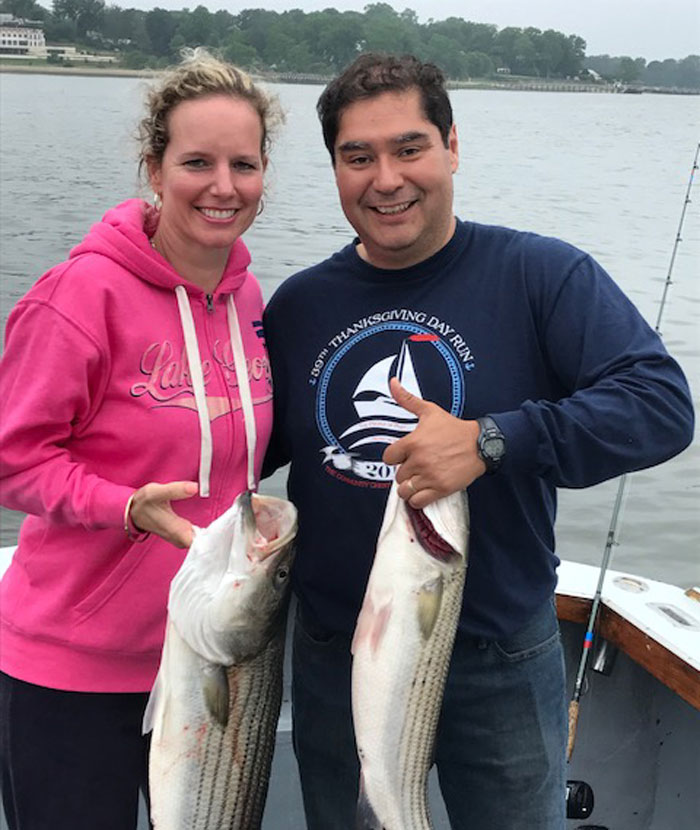 August promises to be a great month for anglers. Schools of bunker are still roaming the Sound being chased by both striped bass and bluefish. Locally, there is lots of news of striped bass being caught at the Race, Watch Hill, and Block Island as well as in the Thames River. Bunker chunks, three-waying eels, tube and worm, and bucktails are favorite angler techniques used to catch them.
Bigger Blues start to invade Long Island Sound and the Thames River during this month. Snapper blues have also shown up in the Thames pleasing both young and old. Small snappers also make great fluke bait! Remember you are only allowed ten blues per day regardless if they are 2 inches or 20 pounds.
There is plenty of good fishing for bottom fishing enthusiasts. Anglers are not having any problem landing keeper sea bass and porgies with a few nice fluke. Porgy fishing continues to be outstanding on every local rock pile. Good reports of nice size fish being caught from shore at the Fort Trumbull Fishing Pier, New London City Pier, Pleasure Beach, Avery Point as well as from Bluff Point.
August is also great month for off-shore fishing. Various size tuna are being caught just south of Block Island with larger tuna being caught the further you go to the canyons. Yellowfin, bluefin, longfin albacore, white marlin and even a few swordfish can be caught during this time. Trolling past high flyers produces many mahi this time of year.
Makos and threshers along with other varieties continue to please the hearty shark anglers. Lots of chum seems to be the ticket.
Lastly, anglers can register at AW to participate in WICC 600 Greatest Bluefish Tournament on Earth tournament which takes place August 26 and 27. First place grand prize is $25,000 for the heaviest fish. Last year's winning fish was caught from a shore point. For more information call 203.366.BLUE.
Our own Rootin' Tootin' Fluke'n Showdown ends August 27. It is a fun 14 week summer contest with weekly prizes and a $500 prize for the angler who lands the heaviest fish during the tournament. Fish are constantly being weighed in so we won't know until the last day who will be the lucky winner.
We wish all the anglers much success and remember we weigh anything at the shop. We carry a full line of fresh and saltwater bait, tackle and are here to meet your fishing needs. Give us a call!
Tight Lines,
Karen Westerberg
AW Marina
178 Pequot Avenue
New London, CT
860.443.6076