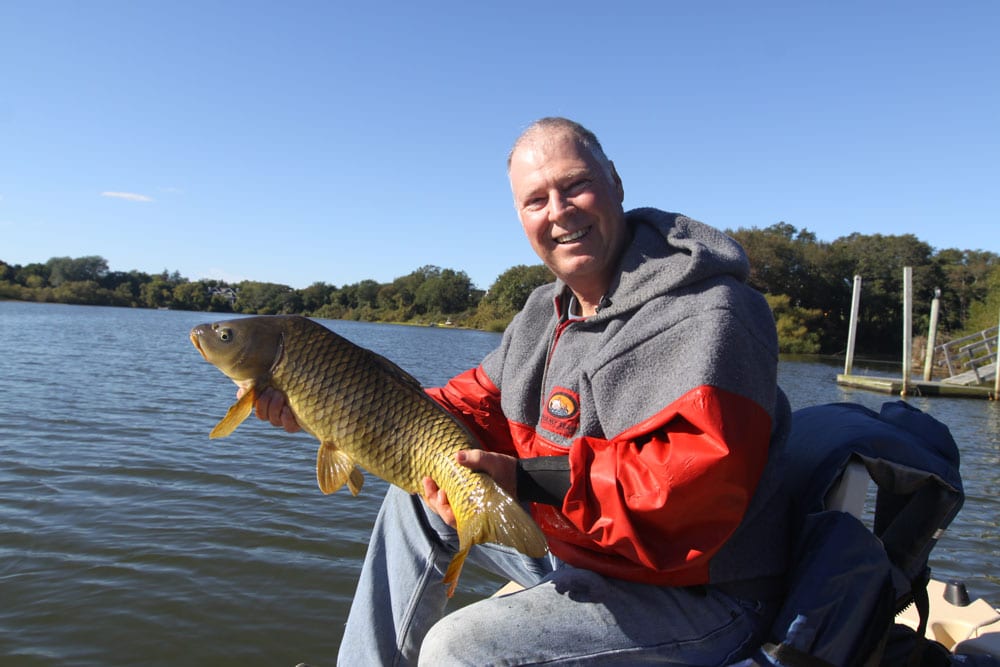 By Tom Schlichter
A chill in the air had me questioning my sanity before ever making a cast. With the wind pushing at 15 mph from the northeast and a heavy sky moving in, it was likely I'd be both wet and cold before the morning was over. Those are conditions I usually prefer in my tree stand during bow season.
Just as my mind began to conjure up images of big bucks skirting the edge of my favorite briar patch a twitch in my line snapped me back to full attention. A second light twitch proved a subtle hint that a big, orange torpedo was indeed interested in my dough-ball bait. I crouched down next to my rod, flipped the bail closed and gently grasped the handle. Thirty seconds later, the line stretched tight and I set the hook hard. The huge boil left no doubt a double-digit carp was full engaged.
Without hesitation, the big bruiser barreled across the flat, doubling my rod and causing the wind to sing against the 12-pound test mono as he rolled up a wake that pushed clear across to the opposite shore. A 20-pounder easy, it would make three strong runs before grudgingly resisting the rest of the way to the bank.
That was the first of three carp I would catch and release that morning with a total weight topping 50 pounds – not bad for two hours of fishing before heading home for a round of morning chores.
While some look at these big scaled brutes with distain, I thoroughly enjoy the challenges presented by the common carp. These powerful members of the minnow family can stretch three feet in length, top 30 pounds in our waters and put up a beastly fight on medium- to light-heavy class spinning gear. They are slightly line shy, certainly noise shy and much smarter than their stereotype as big and dumb.
A fair number of local anglers target carp each spring but these fish go mostly ignored during the fall season. That means you can have them all to yourself if you find a few hot spots. As you scout, keep in mind that chilly weather carp show a marked preference for deeper pockets and, especially, slight depressions that border the edge of small-and medium-sized flats at this time of the year. They seem to be increasingly attracted to structure as the weeds retreat, often holding around the last remaining weed clumps where a flat slides off into deeper water, or even moving up the edge of submerged trees and brush. Unlike bass, which are likely to dig deep into such cover, large carp like to hang around the edges, just outside the tangles.
Baiting up is the easy part of carp fishing. Although there are plenty of recipes for making special cornmeal-based carp baits known as "boilies," all you really need are some bread balls or corn kernels.
Bread balls are nothing more than a piece of white bread, rolled into a tight ball about the size of a quarter. You can slide this onto a size 1 or 2 beak style bait-holder hook so the gap and shank are fully covered but the barb and point are slightly exposed. If using corn kernels, simply slide several over the point and up the shaft of the hook until all but the point and barb itself are covered.
In terms of rigging up, keep things simple. Start with a sturdy, 15- to 20-pound spinning setup and tie the hook directly to the main line. The corn kernels and bread (if packed tightly around the hook) will gently sink on their own and should be easy for your quarry to find.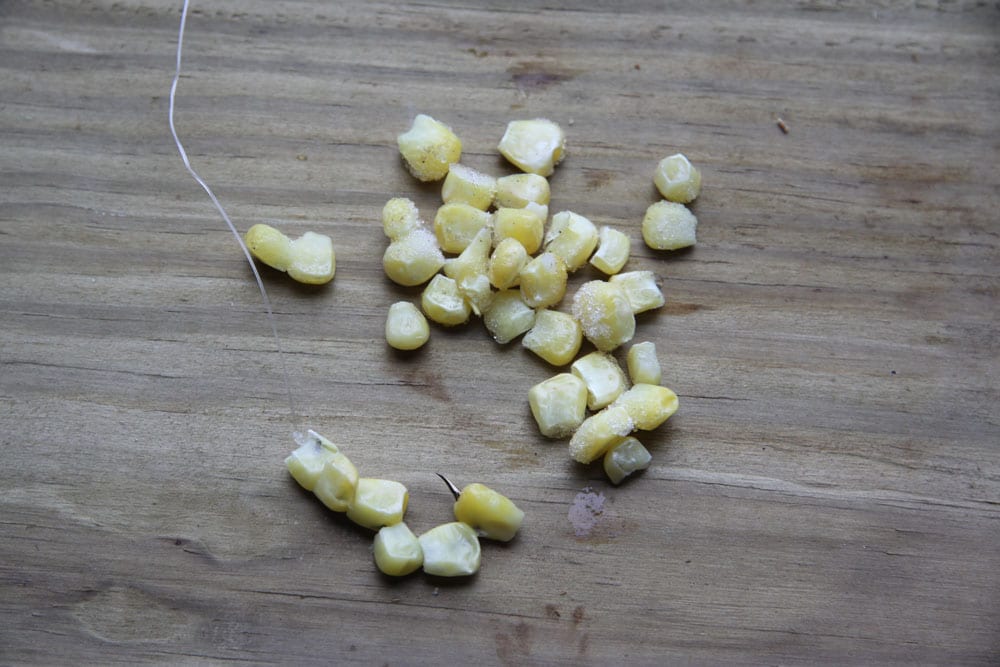 Most of the time, you'll fish blind for carp, casting to spots where you've caught or seen the fish before. Some days, however, even in late fall, these fish will break the surface with their backs and tails as they tip forward and downward to root around in the weeds. Watch these breaks carefully to discern which direction the fish are working and drop a cast ten or 15 yards ahead of the pack so the fish will cruise toward your bait without being spooked by the splash and you'll be ahead of the game.
One neat trick to get the carp feeding in a particular spot is to chum them up. You can do this from the shore by making several small dough balls and tossing them well off the bank. Using a jon boat or kayak provides an extra advantage. In this scenario, you can seed several spots with an ample supply of corn kernels. Set you chum out as several spots around the lake, then return to the initial site and start fishing. Keep moving from one spot to the next if you don't get any hits after half-an-hour. Before leaving, re-seed your spots if you plan to return the next day. Works like a charm.
There are days when carp could care less if you make your presence known, but fish them on a regular basis from the same spot and they figure things out pretty quickly. Thus, I like to attack from slightly different vantage points on the same water when I fish an area on back-to-back days or more than twice in a week. Even just casting from the next opening down the bank or anchoring my kayak so that I can work the same area from a different angle seems to make a positive difference. I also like to speak softly when pursuing these fish. Most of the time, a little chatter with a fishing partner does little to deter their feeding routine but, when under pressure or feeding in shallow waters, these fish can be as shy as lunker trout or bass.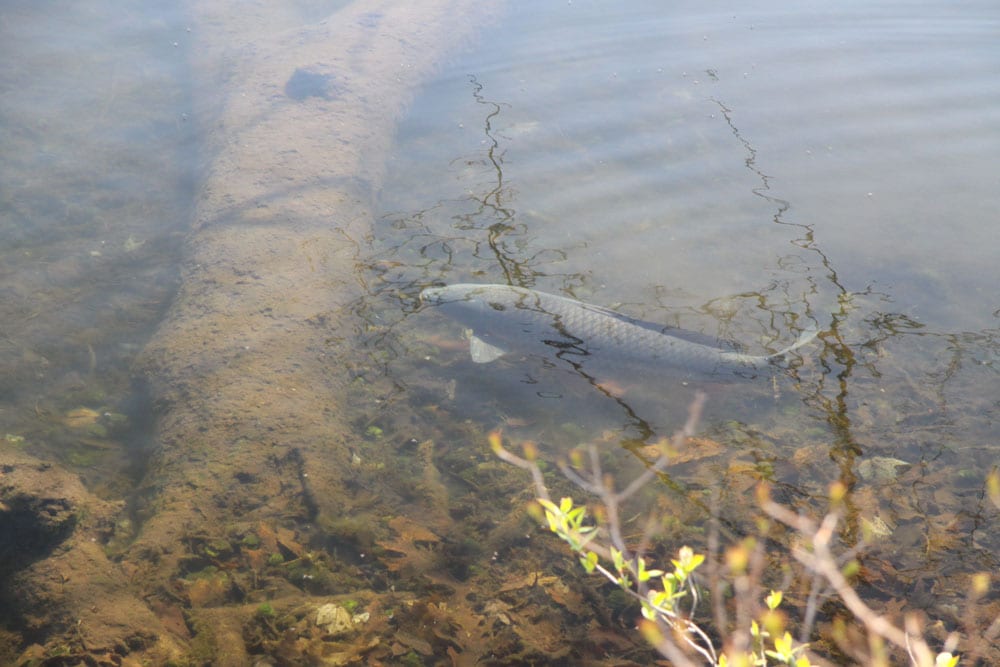 There are plenty of lakes and ponds across Long Island, Rhode Island and Connecticut that hold carp so finding some action shouldn't be that difficult. As the season takes on a chill, these big-bodied cruisers remain active well past Thanksgiving – which is long after most sweetwater fans have left the ball park – so make the effort and you'll probably fish alone. It's a ton of fun, and a good way to change things up during deer season.
By Tom Schlichter