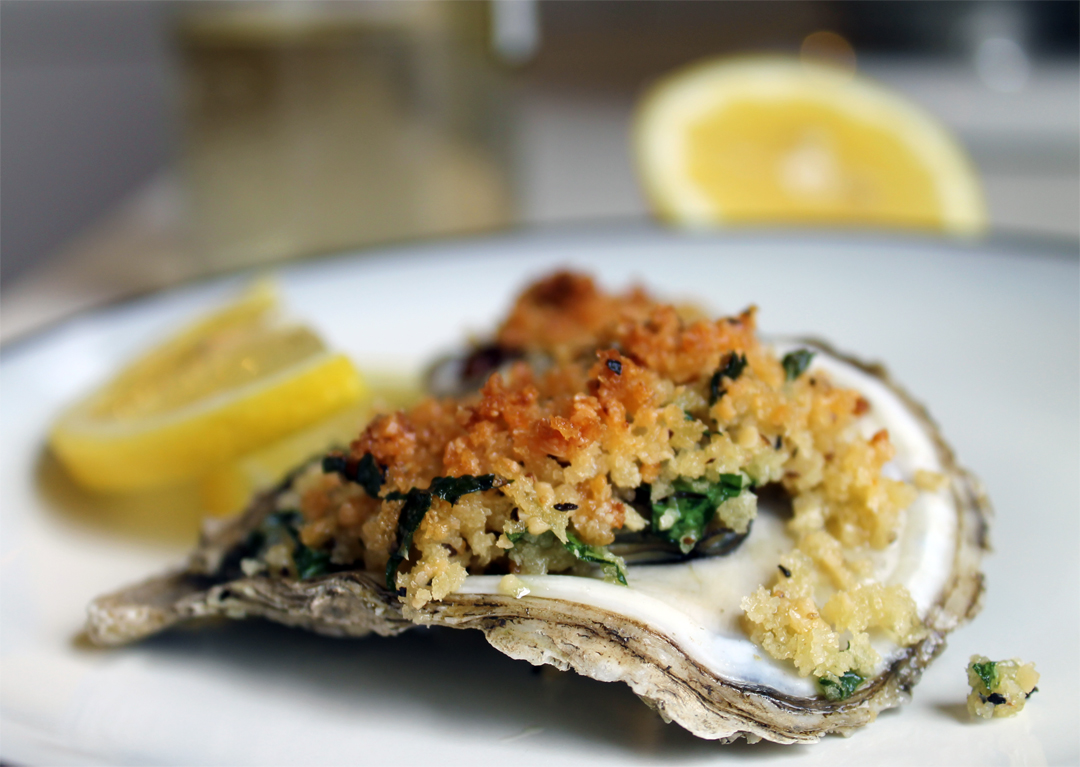 Months that end in "R", the holidays, ok, almost anytime. These are times when I think of oysters! Rhode Island is one of the country's major oyster producers and there is little that beats a Matunuck oyster, straight from its bed in Matunuck pond, shucked and served with a glass of Sauvignon Blanc – except maybe a Matunuck Oyster Bar Oyster Rockefeller!
The oyster's journey starts as a tiny seed, each a perfectly formed tiny oyster as seen under a microscope. Just as with land-based farming, oyster farmers buy and plant oyster seeds in their natural habitat of sea beds containing partial or remaining oyster shells, where the seeds attach and grow into tiny oysters. Before harvesting, farmers spend almost 2 years tending to the oysters, cleaning and thinning their rank, and transplanting them several times to other waters to keep them warm and well fed. As the oysters mature, they develop flavor, known as their "merroir," a distinct taste based on the unique environment of their growth, similar to a vineyard's "terroir" or earth that gives its grapes and resulting wine its own sense of place. Oysters' taste can be described as creamy, sweet, rich, or salty.
"The first flavor of a Rhode Island Oyster, for example, can be like sipping the ocean," says Sandy Ingber, Executive Chef of the legendary Oyster Bar in New York's Grand Central Terminal. "Salt pond oysters can have a sweeter after taste."
Perry Raso, owner of Matunuck Oyster Bar, suggests serving raw oysters with a French mignonette sauce–the classic mixture of wine vinegar, shallots, pepper and white wine–to enhance the brininess of the oyster. Raso is an expert on oysters: Matunuck Oyster Bar sits just outside of the Matunuck Oyster Farm where oysters are harvested direct from the nursery and brought to the
restaurant. His favorite way to eat and serve raw oysters is with a mignonette sauce that includes the added twist of Granny Smith apples: Crisp and clean, it is a perfect complement to fresh Matunuck oysters. Check out our website for that recipe!
If you prefer a heavier preparation for your oysters, such as the classic Christmas Eve Oyster Stew or a traditional Oysters Rockefeller, just be sure not to overpower the oyster's unique flavors. A light cream and a splash of liqueur can go a long way to tame a savory oyster into a sweet and salty treat without overwhelming its naturally delicious brininess or adding unnecessary calories
During these cold weather, a favorite at Matunuck Oyster Bar is Chef Perry's version of Oysters Rockefeller. Lighter than the traditional New Orleans dish, the flavor of the oyster comes through free and clear in this creamy treat, using Pernod and tarragon as the up 'till now secret ingredients.
Whichever oyster or oyster preparation is your favorite, one thing chefs agree on, hold the cocktail sauce. They will tell you that it was invented to mask the flavor of less-than-fresh seafood. While perhaps not such a threat today, just adding lemon, cilantro, or even a little jalapeno to oysters will make them sing.
John Callahan of Rhode Island's Bellevue Liquors suggests eating oysters along with a white or rose wine to bring out the best of their brininess. "For raw oysters, pair with a Champagne or sparkling wine, a Sauvignon Blanc, or the relatively unknown Dry Furmint," says Callahan. "Royal Tokaji produces one of the best Dry Furmints with the scent of grape flowers and flavors of lemon and key lime and a hint of nuttiness as well as a long crisp finish." For cooked oysters, John says to try a rose, either still or sparkling. (See John's recommendations below).
If you prefer a cold glass of beer with your oysters, be sure to stock up on Narragansett Beer's Porter brand. "Hands down our winter Porter seasonal makes an excellent pairing with Oysters Rockefeller" says Mark Hellendrung, President of Narragansett Beers. "The roasted notes of the roasted barley and hearty malts of our Porter blend beautifully with the mineral flavors of the oysters."
Whether eating raw, roasted, stewed or baked, Rhode Island oysters are the ultimate sea-to-table staple. Sustainable, locally grown and delicious, all you need to enjoy them is the courage to try your first one: You'll be hooked.
This story is excerpted from an earlier story where Perry shared his secret recipe for Oysters Rockefeller. To our knowledge his recipes are now State secrets so we wanted you to have a chance to share this recipe in the New Year!
Oyster Rockefeller Recipe from Matunuck Oyster House
– 2 tablespoons butter
– 2 teaspoons salt
– 1/2 cup Pernod
– 1/4 cup shallots, minced
– 4 quarts of heavy cream
– 1 bunch tarragon, chopped
– 1/4 cup of grated Parmesan
– 4 quarts fresh spinach, chopped, or two packages frozen spinach
– 2 dozed oysters on the half-shell, opened and rinsed
– 2 cups Ritz Crackers
– 4 tablespoons melted bacon fat
– 2 dozen fresh shucked oysters on the half-shell (medium sized)
Instructions:
Preheat oven to 450 degrees. Melt butter in medium saucepan and add shallots, cooking until translucent. Add Pernod and ignite to burn off alcohol. When flame starts to subside, add cream and bring to a boil. Immediately reduce heat and simmer until reduced by 1/3. Do not allow to brown. Half-way through the reduction, add tarragon. Stir in salt and Parmesan and remove from heat.
In a separate saucepan or glass bowl placed in a microwave, wilt the spinach by placing it in a little water and heating until water is evaporated and spinach is wilted. Set aside. Meanwhile, crush crackers and saute lightly in bacon fat.
To prepare the Oysters Rockefeller, place 1 tablespoon wilted spinach (3-4 leaves) on top of fresh oyster in the half-shell. Then place a generous amount (depending on oyster size) of the prepared sauce on each oyster. Sprinkle generous amount of cracker topping over oysters so that there is an even amount on each oyster.
Place oysters in a baking dish, surrounded by mounds of salt to steady them if necessary, and cook for 10 to 15 minutes until golden. Serve with Mignonette sauce (optional).