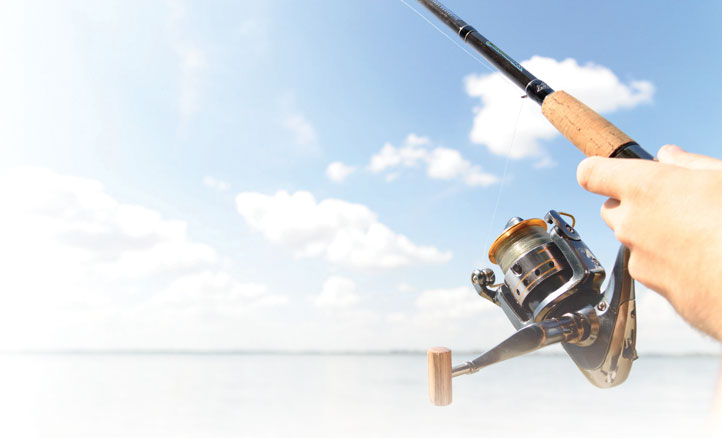 It's blowing a blizzard outside, a whiteout as I start writing today and fishing is the furthest thing from my mind. So I thought it would be fun to go in a different direction to keep you entertained and maybe bring some of your own memories to mind. Do you remember your first fishing pole?
I've been fishing for as long as I can remember; lucky enough to have a Mom & Dad that liked to fish and bring me along, my earliest fishing memories are hand lining Mackerel up in New Hampshire, where my parents would share a beach house with my aunts, uncles and cousins for a week or two during the summer. Getting to go on a party boat to fish was always the highlight of my summer, but my parents didn't trust me with a rod, only a hand line. I watched with envy everyone that held a rod and reel, pestering my parents to let me use one. Christmas morning my wish came true! My own fishing rod standing next to our Christmas tree; I was the happiest eight year old on the planet.
Over fifty years has passed, many rods have come and gone, but I always kept my first rod; never using it much after the age of twelve, it stood in my garage gathering dust. Recently I decided to learn how to build my own rods, something I'd always wanted to do, just never have gotten around to it. I bought a Power Wrapper and a basic package of rod building materials from the MUD HOLE Rod Building & Tackle Crafting Company (Mudhole.com) to start with; as soon as it came I set it up and figured it would be smart to repair some guides to familiarize myself with my new purchase until I figured out what type of rod I would build first.
Into my "fish room" (as my wife calls it) I went looking for rods to repair; I have accumulated at least a hundred rods over the years; Spinning, Plugging, Surfcasting, Conventional, Stand up, Trolling and Fly Rods. Heavy, light, short, long, cheap, expensive, some used a lot, others sporadically; rods for Cod, Tuna, Shark, Striped Bass, Fluke, Black Sea Bass, Blackfish, Blow fish, Kingfish, Bluefish, Mahi, Trigger, Pollock, Halibut, Salmon, Trout. Then my first rod caught my eye, standing in a corner, it looked in need of "TLC" and a perfect candidate with which to begin my new hobby.
Stripping off the old guides, I started remembering all the adventures this rod and I shared; learning how to fish, tying knots, rigging for different species, catching big fish, small ones, disappointments, triumphs, getting seasick, sunburned, being cold and wet. Those early days of fishing were great, going on my Dad's boat, a 27' Chris Craft Cabin Cruiser with him, my grandfather, brothers and assorted characters from our neighborhood in Queens. Most of my early fishing memories are Flounder fishing in the back bays of Long Island's south shore near Merrick. I remember the water being so clear that you could see the bottom; "Wasn't that a fish Dad"? It seemed like the bottom was paved with Flounder. Our rigs were simple, a sinker, one Chesterton hook baited with a blood worm, dropped to the bottom, bounced a few times, waiting for a nibble, the slow lift, hooking the Flounder and reeling it to the boat. Learning to unhook your fish (because Dad liked to fish too), making sure it was a keeper, a "big keeper" because there were so many and we were taught to only take what we needed for our dinner.
My rod was a five foot True Temper conventional boat rod matched to a small Penn reel, spooled with Ande monofilament. I loved that rod! It was perfect for the bay fishing that I was doing back then. We also used to catch a lot of Blowfish back then; I used to love tickling their bellies and watch them inflate themselves. They were also great to eat! My Dad taught me how to clean them; he'd cut them behind the head and I'd pull the skin off, rinse them in saltwater and ice them down. At home my Mom would bread them and pan fry them till they were a crispy golden brown. We would eat them with our hands like we would a chicken leg; I guess that's why many people called them "Chicken of the sea". We also went fishing for Fluke in Jones Inlet and I remember some doormats coming over the rail. My biggest Fluke was covered with seaweed so it wasn't as big as I thought. I remember going Black Fishing at the Rotor wreck, right off Tobay beach, but I don't remember being anything but a little seasick and playing with Green Crabs until one pinched me good.
My Mom liked to fish too, but preferred to drift in the bay on a friend's small aluminum skiff, catching Fluke, Blowfish and King Fish. My Dad would tease her, saying she bought the fish from the fish store, but Mom could hold her own fishing and always seemed to get the biggest fish by the end of the day. If I got bored or hot she'd drop me off on the flats so I could go clamming. My only equipment was a pail wrapped in a life preserver, tied to my waist with some rope. I'd wiggle my feet into the mud until feeling a clam I would reach down and grab it with my hands. It was a great way to stay cool on a hot summer day and if I got hungry I would just smash two together, cracking the shell, slurping them down; making sure there were a couple of dozen left for the rest of my family. Once home, they were shucked, eaten on the half shell or made into Baked Clams, or sautéed with garlic, olive oil, parsley and poured over linguine. I can still taste those sweet briny clams.
If you feel the need to get out fishing there's a pretty decent Cod bite off of Block Island. It's a short ride from Montauk to the fishing grounds on any of the Party or Charter boats. There are also boats leaving from Freeport, Point Lookout and Captree that are fishing offshore wrecks for Cod and Ling.
It looks like the 2017 Fluke regulations for New York will be three fish at 19 inches with a 128 day season. New Jersey and Connecticut will have the same regulations but Rhode Island fishermen will be able to take four fish at 19 inches and have a 245 day season. I don't understand why Rhode Island gets such a long season, especially after Massachusetts and Rhode Island voted to limit our season to less than Ninety-six days. This measure was voted down. I wish everyone could be on the same page; it's the same fish and virtually the same waters.
Captain Tommy Kampa holds a USCG 100 TON MASTER'S LICENSE; he runs a 29' Dyer custom bass boat, the MOONLIGHT LADY. We are booking Striped Bass Charters now for the season start on April 15. Captain Tommy can be reached at capttommykampa@gmail.com or 347 203 5087 to book a charter or express a comment or suggestion.
Like us on FACEBOOK at Coastal Angler Magazine Long Island and Moonlight Lady Fishing; I'll be posting trip reports and photos daily.
Catch 'em up!!!!