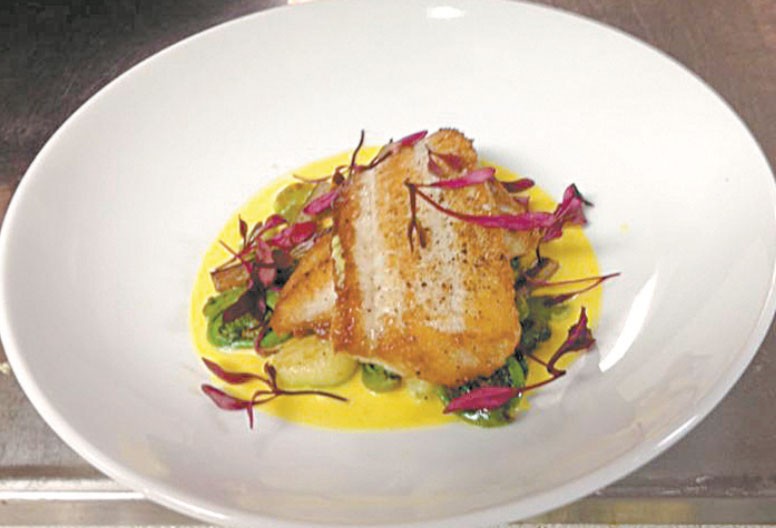 Fluke with Charred Yellow Tomato Vinaigrette Served with Ratatouille and Cous Cous
Serves 2
2 6-7oz Fluke Filets
Vinaigrette
2 medium Heirloom Yellow Tomatoes 1 Shallot
2 cloves Garlic
3⁄4 C Meyer Lemon Juice
1⁄4 C Red Wine Vinegar
1⁄2 C Extra Virgin Olive Oil
Ratatouille – each vegetable to be prepped to the same size – medium dice
1 Japanese Eggplant
1 Zucchini
1 Yellow Squash
1 cup Fava Beans, peeled and blanched Olive Oil or Butter
2 oz Red Tomato Sauce
1 oz Fresh Basil – chiffonade
Cous Cous
1 package Cous Cous – follow directions on package for preparation
Directions:
Char tomatoes on broiler or grill. Once cooled, peel tomatoes and add other vinaigrette ingredients except olive oil to blender and puree till smooth. Very slowly add 1⁄2 cup Extra Virgin Olive Oil. Set aside.
Once vegetables are diced, saute all together in olive oil or butter until tender. Add 2 oz Red Tomato Sauce and 1 oz of Basil. Set aside.
Pan Sear Flounder – 2 minutes each side or until desired doneness.
To serve the fish, Fluke places ratatouille on one side of plate, cous cous on another side of the plate and the vibrant charred yellow tomato vinaigrette in a pool to the side. Place sh on top of the three components and garnish with micro greens (optional). Enjoy!
Wine Pairings
John Callahan suggests a full-bodied Chardonnay with crisp acidity but not a lot of oak:
Domaine Le aive Macon Verze' 2010 – One of the most highly respected producers in the Macon Verze' region of Burgundy, Domaine Leflaive's Macon Verze' is 100% Chardonnay
The Gloria's "Old Vines" Chardonnay 2011 from 38 year old vines at Metler Ranch in Mendocino
Albert Bichot Macon Villages 2012
Estancia Pinnacles Vineyard Unoaked Chardonnay 2011
Side bar:
Come on over Long Island —
"FLUKE 'TIL YA PUKE 2015" FISHING TOURNAMENT – Quick Facts
What: 900+ Anglers Competed for Huge Cash Prizes
Where: Point View Marina, South Kingstown, Rhode Island
When: This year – Saturday, June 20, 2015
Who: Big Game Sport Fishing Charters – we love those guys!
For much more on uke see this magazine and check out our FaceBook page for highlights of this year's fishapalooza!
Check out www.biggamefishing.com for even more!