By Tom Schlichter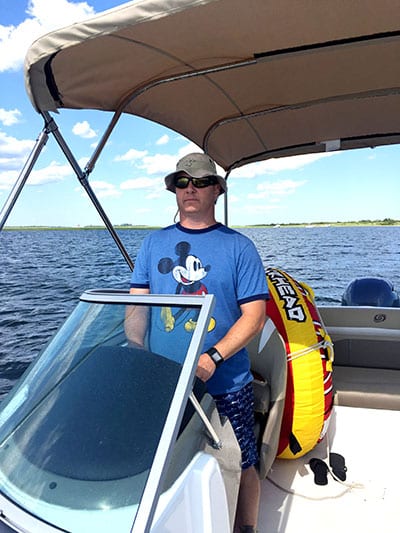 For Long Island anglers looking to score with a variety of tasty and combative fish while fishing in relatively tranquil waters close to home, Fire Island Inlet serves as one of the better starting points. From spring stripers, blues and weakfish to summer fluke, sea bass, porgy and triggerfish – plus all the fall run mayhem you can handle – it offers something for everyone from families and novice fishermen to sharp and experienced skippers.
"That's just one of the things I love about being a Freedom Boat Club member," says Kevin Garbe, a sales manager from Lindenhurst, NY who uses Freedom's Babylon location at the Long Island Yacht Club as his fishing and boating home base. "There's just so many options in this area. From our Babylon location it's only 15 minutes to the inlet and from there you can head just about anywhere to go fishing. Inside Great South Bay, I love the stretch from Fire Island Lighthouse to the Coast Guard Station. At the inlet itself you have tremendous structure in the form of Robert Moses Bridge, so you always have options."
Options indeed. The spring season here sees great fishing around the Robert Moses Bridge and at the mouths of local tidal creeks inside Great South Bay for school bass and gorilla blues that can push into the 'teens. These fish respond to live bunker, soft-plastic swim shads and surface poppers. From June through September, fluke become the primary target, with catches spread throughout the inlet and tucked inside Fire Island from Kismet to Democrat Point.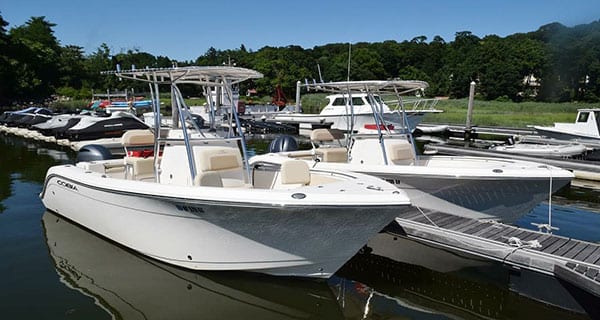 "I like fluke fishing the best," says Garbe. "It's especially enjoyable early in the summer when we can concentrate our efforts inside the bay. We'll make long, comfortable drifts from Ocean Beach to the Fire Island Lighthouse. There's plenty of unobstructed water here in the channel, which we drift with spearing and squid combos. There are also flats to the north around Captree Island if you want to try some shallow water bucktailing. A 1-ounce Spro Bucktail tipped with Gulp! Alive grubs in white works really well for the bay action."
Garbe will try for stripers, too, especially around the bridge where they'll respond to clam-chum or soft-plastic Bass Assassins impaled on a jig head. Last fall, however, he got hooked on blackfishing. He liked it so much that it's probably going to be his primary focus again this fall. For the tasty tautog, Garbe fishes green crabs right on the bottom. He'll drop anchor within casting distance of a bridge stanchion and flip his baits right up against the cement. His exact location along the bridge varies from week to week based on water temperature, wind direction and current strength, but both ends of the bridge can be productive from either the east or west side if you take the time to set up right.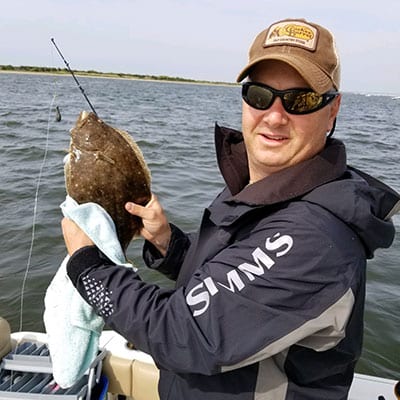 "The fishing possibilities were certainly a consideration when joining Freedom Boat Club," explains Garbe, "but there's so much more to this deal. For me, it really made a lot of sense. I had fished with my father as a kid but never really learned much about boating. With Freedom, you get all the training you'll need. You also get to choose from a variety of boat sizes and styles whenever you want to head out. I'm thinking about maybe buying a boat down the line so I'm using this opportunity to see what kind I like best. For fishing, I really enjoy the center consoles. When I'm out just cruising or having fun with my wife, Melanie, and our kids, we'll change it up from trip to trip."
If you aren't familiar with the Freedom Boat Club program, it is pretty neat. For a set fee each year, you simply show up, get on a boat and head out any day you choose. When you are done you pull up to the dock, step off and head home. There are six different boats to choose from at the Babylon location including a Hurricane Sundeck 2200, Key West 239FS Center Console, and a Cobia 220 DC Bowrider. All six are 2017 or 2018 models.
"It really is a hassle-free operation," says Garbe. You call up and tell the staff you are coming. Your boat is ready when you arrive and you step aboard and go have fun. You don't even have to wash down your vessel at the end of the day. It's all the benefits of boat ownership without the hassles."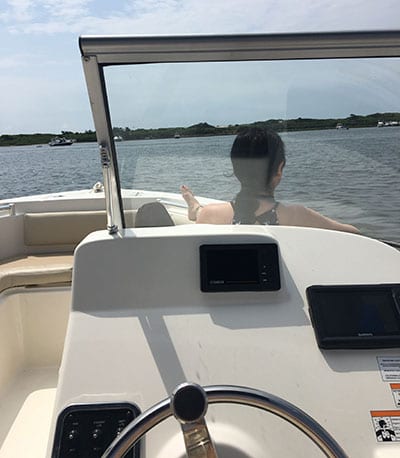 Another Freedom Boat Club benefit is that members at any club location can use the boats at any other Freedom Boat Club. That's quite a bargain when you consider Freedom has 165 locations across North America, and 115 boats between Long Island, CT and RI alone. They also have new locations coming in France.
In the case of the Babylon location, members also have access to the Long Island Yacht Club clubhouse, pool and other amenities on days for which they have a boating reservation.
"Like I said," summed up Garbe, "this really makes sense for me and my family. Melanie and our kids love being on the boat during the hot days of summer when we can go tubing, cruising or exploring. Often, we'll spend some time anchored up in nearby Hemlock Cove. In the early spring and later in the fall it's mostly me and some friends heading out to go fishing. So, we really get a lot out of our membership. For us, it's been a good investment."