by Chris Debeer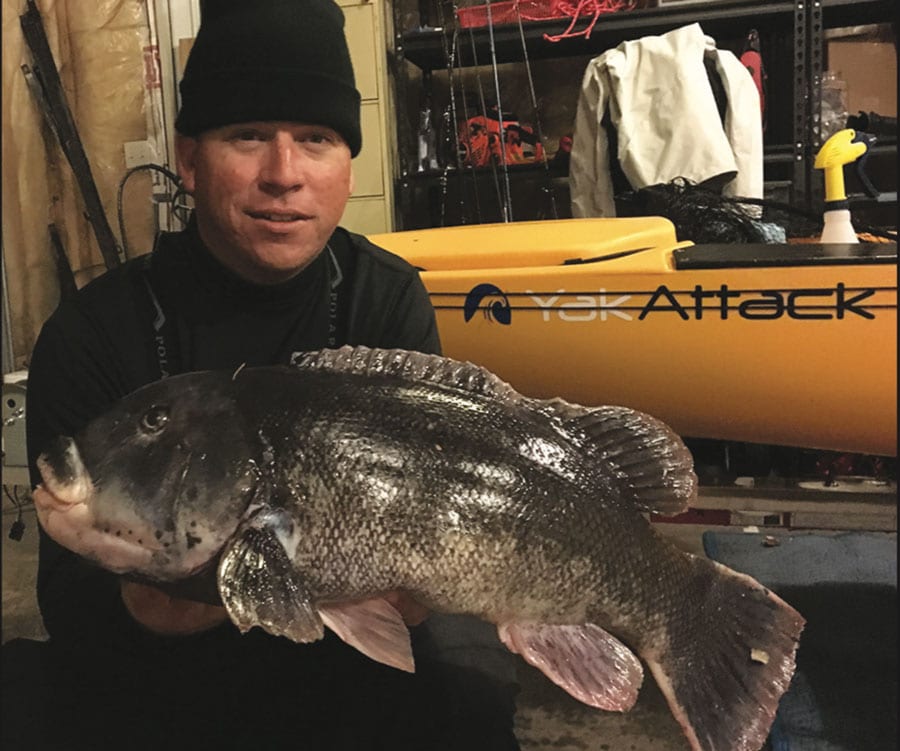 Late season fshing for Tautog from a kayak can be rewarding to say the least. A kayak allows fishermen to access rocky places they wouldn't necessarily want to be in a boat. Traditional boats have their place, but kayaks have some serious advantages in certain areas; especially when fishing for the stubborn and often elusive Blackfish. As with many other species, the sound of a boat motor is sometimes all it takes to keep hungry fish hidden away. Recent improvements in kayak technology have given kayaks many of the amenities enjoyed by boaters. Reverse drive capabilities, steering controls with rudders, onboard live bait-wells, and sophisticated electronic units are just a few advancements. The ability to have more control in tight places is where a fishing kayak really shines. It's not likely are you going to be able to slide in under a pier or squeeze between two bridge pilings in a 26-foot Grady White without worrying about your gelcoat (or worse) being destroyed in the process.
Favorite fishing spots are always guarded, and for good reason. Tog are known to come back to the same spots year after year and they are very a slow growing fish. Studies have shown that a fish weighing twenty pounds can be as old as thirty-five years. While fish around the ten- pound mark are anywhere between ten and fifteen years old. My advice is to focus on areas that are overlooked, particularly around and under piers, docks, and bridges. Often these places will yield the best numbers and size for these fish. When searching for the big ones (fish over 15lbs) consider remote places off the beaten path that may be hiding some sizeable fish.
Selecting the right bait really varies by location. Although 95 percent of a Tautog's diet consists of mussels, they aren't too fussy and will readily eat both Asian crabs and Green crabs when offered. Tog exceeding 14lbs seem to prefer half or quartered Blue crabs. The ideal approach is research the area where you are planning to fish. Flipping a couple rocks will tell you what types of crab are in your area so you're not trying to land fish with something they're not used to seeing.
Kayak fishing in the Northeast presents safety issues that should not be ignored. Your best option is to fish with a partner whenever possible. Kayak-related deaths in New England have been on the rise, and most victims were not wearing a lifejacket. But a life jacket alone may not save you during the late season cold snaps. If you plan on being out there during this time, consider more substantial protective outerwear like a dry suit. A full length dry suit keeps water out and traps your body heat in. It also offers some floatation properties as the air is trapped inside with rubber seals at your wrists, neck, and ankles. It's an investment that could literally could save your life. Also make sure your kayak has a safety flag with a light. Carry a VHF radio on your body (not in your hatch where you won't be able to get to it in an emergency). Also make sure your kayak is out fitted with a reflective Coast Guard sticker with your name, address and phone number. Fill it out and stick it somewhere obvious. It could aid in your quick recovery should you be separated from your kayak.
My personal choice of fishing kayak is the Hobie Pro Angler 14 with Mirage pedal-drive. Simply put, when you're paddling, you're not fishing. The PA-14 has proven to be incredibly stable, making it ideal for structure and tautog fishing. The reverse function is particularly handy when battling Blackfish. Their tendency to retreat into rock structure when hooked can cause line abrasion and result in breakage. Setting the hook and backing away from the structure by pedaling is a common technique for getting Tog out of the rocks. The stock Pro Angler 14 has H-Rails (long hex shaped rails on both sides) that allow for mounting accessories. The boat comes standard with the Vantage mesh seat and the one in this model is like sitting in your favorite comfy chair. It is also easily removable and doubles as a camp or beach chair. And there is plenty of storage space on board.
There is no shortage of accessories that can be added to customize your fishing kayak to suit your needs. For saltwater fishing from a kayak, an anchor/anchor trolley combo is a must have. The last thing I want to worry about is drifting away from my spot when the action heats up. The anchor trolley allows for nearly endless options when positioning your anchor. Think of it like a clothesline pulley system: you mount your anchor to the trolley, and then control bow/stern anchor placement by pulling the line forward. You'll spend time fishing instead of getting spun in circles.
Fish finders have made a huge difference in efficiency. I use a Lowrance Elite Ti 9, which allows me to view rock piles up to 150 feet to either side of my kayak. It also allows me to mark and save points on the fly so every time I go out I can focus on where the fish have been previously, along with the date, time of day, depth, and water temperature. I've changed the tackle in my arsenal a little bit for Tog and prefer a rod that is at least 7'6″ with a heavy action. I feel this allows me to get a better swing on the fish and get them away from the structure a little faster. A rod this length also allows you to pass the tip of the rod around the bow of a long kayak. The reel is spooled with 50lb braid. I start off with a top shot of 6 foot of 50lb fluorocarbon and then run that to a 55lb three-way swivel. Then I connect approximately 14″ of 50lb leader to one branch and a 14″ section of 25 lb. leader to the sinker side. I like to use the minimum amount of weight I can get away with while still holding the bottom. I then tie a 3/0 live bait hook to top the rig off. This smaller hook has provided me great success and the strength they offer is second to none when targeting big Tog.
Overall, kayak fishing for Tautog can be very rewarding and can consistently produce big fish. Their fight is like no other. A big Tog can really give you a run for your money whether in a boat or a kayak, and did I mention they are delicious? The kayak fishing community is rapidly expanding, and it's very easy to find someone to fish with once you're immersed in it. I fished a lot this season, with several Blackfish coming in over the ten-pound mark from waters which were less than eight feet deep. These spots are generally inaccessible from a boat. If you don't have a fishing kayak and you are curious about getting into one, consider visiting an experienced shop like Three Belles Outfitters in CT., where you have an opportunity to test drive a fishing-specific kayak (weather permitting) almost year-round. Niantic and the surrounding towns are also ground zero for some of the best saltwater fishing in the Northeast. Having a relationship with a shop that can direct you to some of the best spots gets you on fish a lot sooner. Best of luck and be safe out there!
Cris DeBeer is a career Navy man who has hunted and fished all over the world. He fishes for the Hobie Fishing Team, Three Belles Outfitters, Lowrance, J&B Tackle, Daiwa, and others. In 2017 Cris competed in the Hobie Worlds Qualifier held in Jamaica Bay NY. Cris caught the largest Striped Bass at 41.5", earning him a spot in the 2018 Hobie World Championships in Sweden.