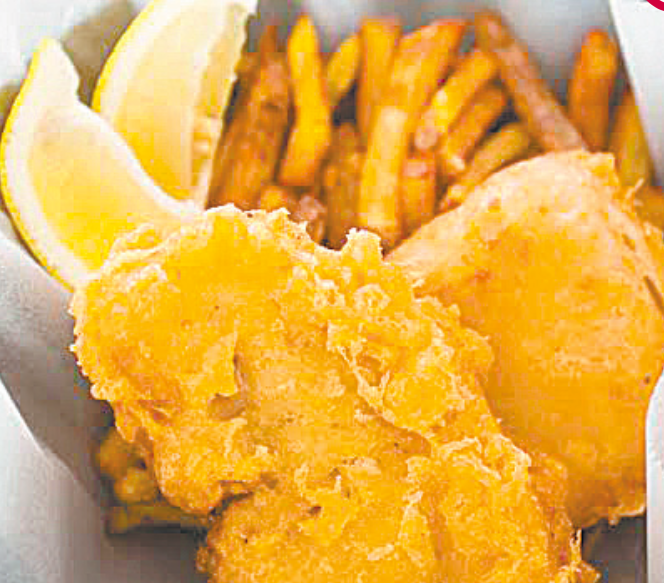 BEER-BATTERED FISH & CHIPS
Serves 4
Ingredients for the Potatoes:
4 starchy potatoes, like russet 12 cups vegetable oil for frying
Instructions:
Peel potatoes and hand-cut to desired thickness
Deep fry at 300% for five minutes
Remove and drain on parchment paper while preparing fish.
Raise oil heat to 350% and, after frying fish, crisp the potatoes by refrying them for 3 minutes at 350%.
Ingredients for the Fish:
Vegetable oil maintained at 350% for frying
4 cod (or haddock) fillets, about 8 oz each
2 cups all-purpose flour for batter plus 4 tbsp for dredging
2 teaspoons baking soda
2 tablespoons salt and pepper each–use one teaspoon each for dredging
1 teaspoon paprika 1 teaspoons Old Bay Seasoning
2 eggs
1 16-oz can Narragansett Lager, ice cold
Instructions:
1. After blanching potatoes, raise oil heat to 350% and maintain
2. Dredge filets in 4 tbsp flour seasoned with one teaspoon each salt and pepper
3. Make batter by mixing remaining flour, salt, pepper, baking soda, paprika and Old Bay
4. Make a well in the flour mixture and add eggs and cold beer; mix well but gently
5. Dip floured filets in the beer-batter and deep fry in oil for 6 to 8 minutes.
6. Serve with malt vinegar, lemon or tartar sauce.
Beer-Battered Fish & Chips Pairings:
Beers pairings:
• Blue Point's Toasted Lager, Patchogue, NY
• Oyster Bay's Amber Ale, Oyster Bay, NY
• Great South Bay's Massive India Pale Ale, Bay Shore, NY
Cider pairings:
• Wolffer Estate Dry White Cider, Sagaponack, NY
• Magners Irish Cider, County Tipperary
• Guzman Riestra Brut, champagne-like cider from the Asutrias, Spain
Wine pairings:
• Duckwalk Vineyard's Chardonnay Reserve, Southold and Water Mill, NY
• Duckwalk Vineyard's Windmill White blend, Southold and Water Mill, NY
• Wolffer Apple Wine, Sagaponack, NY
• Ulacia Txakolina, refreshing Spanish white wine from the basque region
Whiskey pairings:
• Fat Trout Blended Scotch from Speyside Region of Scotland