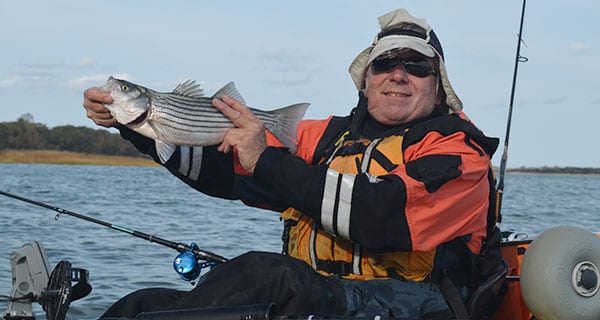 By Tom Schlichter
The marine section striper season (south of George Washington Bridge) officially opens on April 15 here in New York and for Long Island Sound anglers the date can't come fast enough. That's because the bass are usually here in substantial numbers by this point, especially if a slight warming trend precedes the season.
As a rule, Long Island Sound's April stripers congregate toward the west end, from City Island east to Hempstead Harbor. As the days pass, the action spreads east to Northport Bay, Hunting Harbor, Port Jefferson Harbor and Mount Sinai Harbor. The early action is typically an "inside" game, with the linesiders rooting around on shallow harbor flats in search of crabs, sea worms, mussels, clams and small baitfish. In addition to the good eats, the bass are drawn to the harbor shallows as these waters tend to warm quickly in early spring. It's not until May that catches begin to solidify out in the open waters of Long Island Sound, proper.
Typically, April bass are schoolies and you should expect to play catch and release most of the time – so break out your 12- to 14-pound test spinning gear, a seven- or eight-foot rod and have a blast. Although you'll hear of an occasional 10- to 20-pound fish caught, most of these fish fall in the 14- to 24-inch class with a few 6- or 8-pounders keeping anglers on their toes. Expect the bulk of the keepers to arrive right before Mother's Day.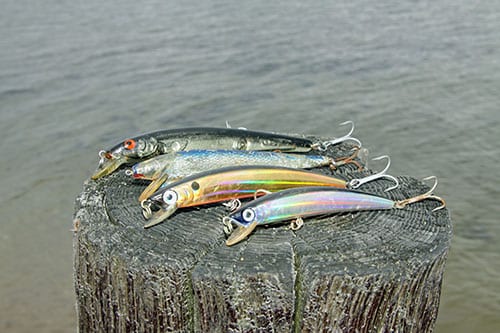 You can catch April stripers from shore or boat but either way you'll need to stay focused on fishing in very shallow water during daylight hours. Bloodworms, whole clam and plugs will all tempt these fish with the real bait having a slight edge as the season gets underway. Turtle Cove, East Chester Bay and Little Neck Bay near the Throgs Neck Bridge are good starting points, with the bass quickly spreading east to Oyster Bay, Manhasset Bay, Hempstead Harbor and Glen Cove Harbor. In any of these areas, the key is to ride a rising tide up onto the flats to target waters that are just two to six feet deep during day light hours. Give the water a little time to heat up before you head out as the early morning chill seems to diminish the appetite of these first pass bass. Consistent catches usually commence as water temperatures ease up into the mid-40-degree range. By 55 degrees, the action should be smoking.
Early-season school bass tend to be aggressive but they strongly favor smallish lures as things get started. Three- and four-inch soft plastic shads, curly-tailed grubs and Fin-S-Fish, Berkley Gulp Mullets or Bass Assassins impaled on a one-half to one-ounce jighead work well. For this spring, Panther Martin has a new lure out called the Big Fin (www.panthermartin.com). It's a weedless soft plastic that comes in both a 1-ounce, 5-inch size and a 2-ounce, 7-inch size. Yours truly helped design it and last year as a prototype it slayed spring bass. The smaller size – in white with red fin – is what you want for the early season harbor and tidal creek action. Switch to the larger profile once the bigger bass track down the bunker schools.
Throwing smallish crank baits, scaled-down poppers and hard-bodied minnow imitations along the lines of a Yo-Zuri Crystal Minnow, Bomber plug, Rapala suspending X-Rap or a silver-colored Rattletrap can also be a ton of fun. Tie a three-inch white, silver or blue/white teaser 20 inches above the main lure and retrieve your rig slowly. Some days it takes a little prospecting to find the fish but once you begin to turn them on the action can be red hot.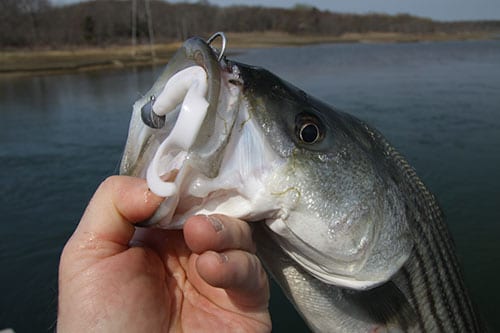 Trolling is yet one more way to connect with early spring bass, and it's perfect for those fishing from tin boats or kayaks. On clam days especially, you can troll the same plugs mentioned above, working slowly around the edges of flats or channel in shallow water. Kayakers really have an edge here as they can get way back into in water deep enough to hold bass but prohibitively shallow for most motor boaters. It's also possible to troll sandworms at this time of year with great success. Rig up with 17- to 20-pound test abrasion resistant line and troll just fast enough to keep your line off the bottom while probing structure-laden waters like the Elephant Herd rocks in Hempstead Harbor, near Harts Island or along the City Island docks. When setting up to troll worms, snell a 2/0 or 3/0 Gamakatsu or Mustad wide gap style hook directly to the line and set your bait out 35 to 40 yards off the stern. The idea is to tempt the fish to rise up from the bottom to strike the worm, so take up a few turns of the reel handle if you start to bump the sea floor.
With the fishing regulations seeing frequent changes in recent years, it's always a good idea to check in from time to time and make sure you know the current open season dates and legal sizes. As of press time, the season stretches from April 15 to December 15 with anglers allowed to keep one fish measuring at least 28 inches. You can check saltwater fishing regulations any time at the NYS DEC web site: http://www.dec.ny.gov/outdoor/7894.html.