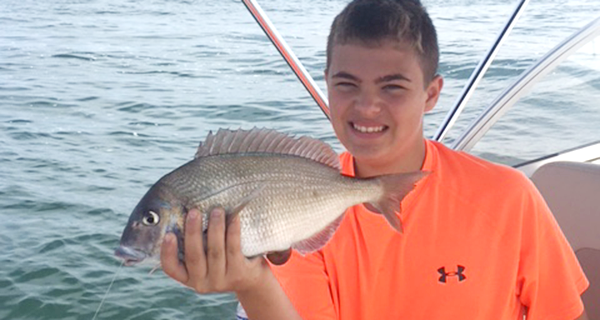 By Tom Schlichter
If you had the option to berth your boat at any port along the Long Island Sound, it would be hard to argue against Port Jefferson. Located at roughly the mid-point of the Island's North Shore, the waters here offer a great mix of fishing habitat and opportunity to tangle with everything from porgies, fluke and sea bass to stripers, blues, false albacore and blackfish.
Take a look at a chart of the harbor and you'll quickly see there are shallow mud flats and well-defined channels that funnel baitfish, stripers, blues and fluke to areas of easy access. The harbor mouth itself provides a shot of current that stimulates feeding activity with each tidal change, and Long Island Sound in this area runs deep, sports plenty of submerged ledges, boulders and similar fish-holding structure, plus an occasional sandy shoal. In short, Port Jefferson is set up perfectly for targeting both game fish and bottom feeders. All you have to do is head out prepared to take advantage of these options and you could find yourself having a banner trip.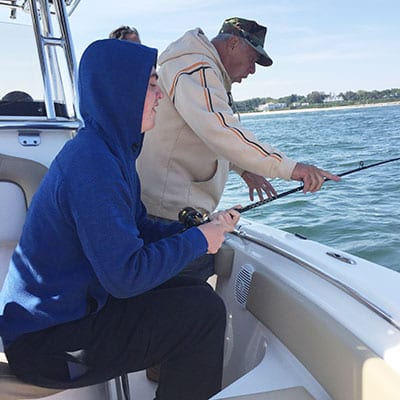 "Freedom Boat Club makes that easy to do," says Ed Gorski, who likes nothing more than getting into a boat and heading off to fish with no hassles. "This boat club is positioned perfectly for me. It's just a few minutes away from home, and it's within easy reach of any type of fishing I might want to try. For porgies, I take a short ride toward Crane's Neck. For fluke, I head straight out toward the Obstruction Buoy. If I want to try for stripers, the Middle Grounds are a short ride away."
Like Gorski, Joe Janiel considers himself a serious fisherman, and he, too, bases his operations out of Freedom Boat Club. "I like that I show up at the dock, step aboard and I'm on my way," he states. "When I'm done, I dock the boat, take my gear and go. There's no waiting, no fuss – and this place is situated within some of the best fishing in the entire Northeast. I had my own boat for years," he continues, "but by the time I was done paying for docking, maintenance, repairs etc., it cost me more per year than my membership does now. So, it's cheaper to be a club member and there's less hassle. What's not to like?"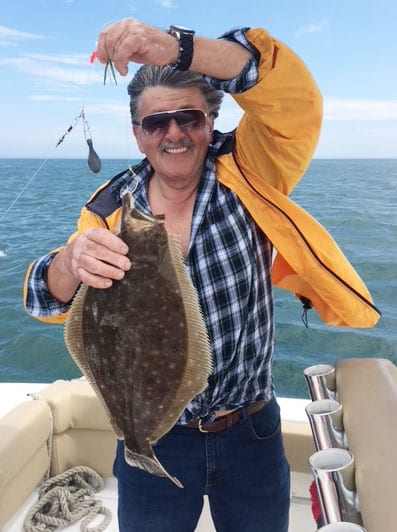 Fluke fishing is one the mainstays of the summer game in the Port Jeff area and you can be on the fishing grounds within 15 minutes of leaving the dock at Danford's Hotel and Marina. During July, most of the better scores are made directly in front of the harbor along the ledges at the Obstruction Buoy off Eatons Neck, or a bit to the east from Mt. Misery Point over to Miller Place Beach and Wading River. Look for solid action in 15- to 30-foot depths but expect to cull through a load of shorts for each keeper you put on ice.
Standard fluke rigs here feature a conventional outfit that can handle three- to five-ounce sinkers. Bait up with a strip of squid and tip the hook with a spearing and you're set to go. If you want to work bucktails, focus on the lighter tidal stages and rig up with a one-ounce white or chartreuse Spro and add a small white, pink or chartreuse teaser about 12 inches above. Tip both teaser and jig with a single spearing or a 4-inch Berkley Gulp! Swimming Mullet.
While there can be no denying that fluke are a major draw to the Port Jeff area, porgies have a dedicated following, too. In recent years, especially, the scup have run large around here with an honest 2-pound jumbo not an unusual occurrence and solid keepers the norm more than the exception.
The key to finding Port Jeff scup is to search for small humps or rock piles. These fish are structure lovers. The best areas seem to be where rocks are scattered over sandy bottom, or an isolated boulder or mussel bed is positioned just a bit from a generally rocky bottom area. You'll find the fish anywhere from 12 to 60 feet deep but the best of the action on most trips generally comes from 20 to 30 feet of water.
Standard porgy gear will do here. That equates to a 15- to 30-pound class conventional setups. In either case, rig up with a fish-finder rig or a standard high-low rig sporting size two or four beak style porgy hooks. Mono lines will work just fine, although there is a sensitivity edge with braids.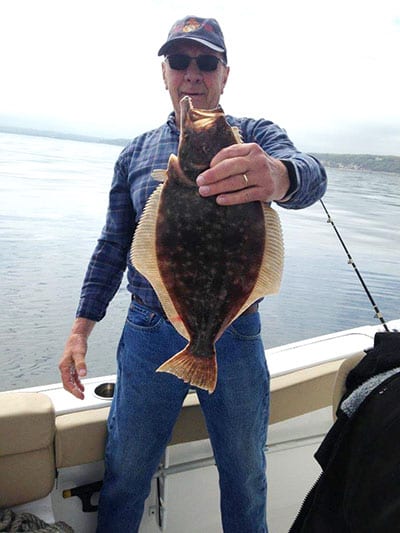 Fluke and porgies can be a lot of fun, but for some anglers nothing beats the adrenalin rush of a striper or slammer bluefish at the end of the line. If it's bass and 'gators you want Port Jeff can keep you smiling. Local sharpies generally chunk or diamond jig 30- to 60-foot depths over a ridge, boulder, mussel bed or some similar type of broken bottom.
The best approach is to arrive quietly and mark fish on your recorder – an accessory included on all Freedom Boat Club fishing vessels – then set up and chunk or drift over the fish with the jigs. Look for high profile mussel beds that jut out into sandy bottom or small ledges to be especially productive. Many times you'll find the bass and blues setting up on traditional porgy hot spots, frequently off of Oldfield. Thus, you can set up for porgies and chunk for bigger game at the same time. If the bass or choppers show up, put away the porgy gear and concentrate on bigger game.
"Like I said, there really are a ton of possibilities here," says Gorski, and Freedom Boat Club lets me get in on the fun with minimal effort. Plus, another good thing is that if you sign up with any Freedom Boat Club, you can take boats out of all the others. I go to Florida now and then, and I use my membership down there, too. I also use the boats for family fun, you know, tubing, rafting up, things like that. So, for me at least, the membership is for much more than fishing."
That is a bargain when you consider that Freedom Boats has 165 locations across North America, and 115 boats between Long Island, CT and RI. They also have new locations coming in France.
"There's one other thing I love about my Freedom Boat Club membership," says Janiel. "In addition to the ease of everything, you can use different boats. I love the center consoles for fishing but earlier this year I took my family out on a pontoon boat and we had a blast. Like the fishing in the Port Jeff area, Freedom Boat Club offers a variety of options."