By Tom Schlichter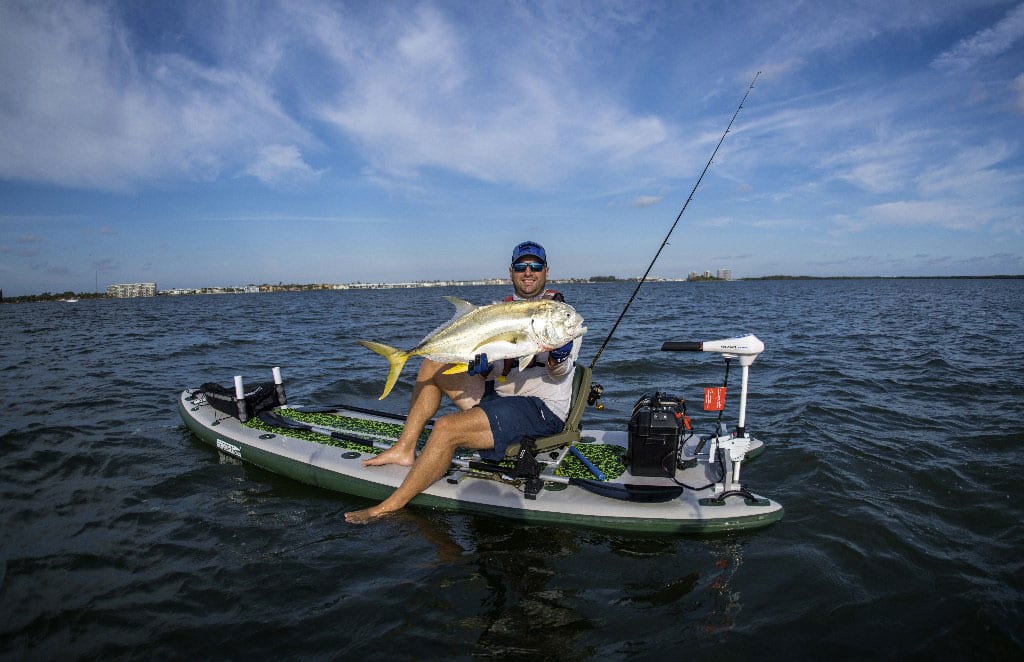 We're caught hook line and sinker on this one!
Last spring we introduced you to Sea Eagle's FishSUP™ FS126, an inflatable Stand-Up Paddleboard with which we were initially quite impressed. A year later, we're now fully convinced this super-stable, lightweight near shore fishing machine is worth the praise. We are ready to give you our full review!
"I've had one for a year now," says Coastal Angler's "Outdoor Tom" Schlichter (@outdoortomcorp) and I'm thrilled with its performance. I've fished it from Long Island, NY to the Florida Keys, in freshwater and salt water, amongst mangroves, bulrushes, phragmites and boulder fields. I really put it to the test and it's come through unscathed."
At 12'6" (l) x 40" (w) the FishSUP™ FS126 is a spacious platform that's tough enough to work hardened shorelines. Heavy duty .90 drop stitch material covers the top, bottom and sides for superior protection against punctures and a 90"x18" thick camo EVA pad adds additional buffering while providing a non-slip foot bed. An integral 36-inch ruler makes fish measurement a snap. You can pack it in your trunk, fully inflate it in less than ten minutes, and use the board's smartly positioned D-rings to tightly secure a host of standard and optional fishing accessories including a swivel seat with Scotty rod holders, battery, 34-lb thrust electric motor and forward mesh storage box with tube-style rod holders.
A Solid and Dependable Boat
"There's a couple of things about the FishSUP that I thought really stood out over the past year," says Schlichter. "First is the stability. It feels solid when you step aboard and the extra width makes it really hard to fall off, flip or roll. In fact, I didn't slide off a single time all year and I'm not one to shy away from choppy waters if there are fish around.
"Second, I was amazed at its versatility. I fished it on lakes and ponds, rivers and streams, tropical flats and open bays. I even took it out into Gulf Coast and ocean waters. No worries at all when paddling in reasonable conditions."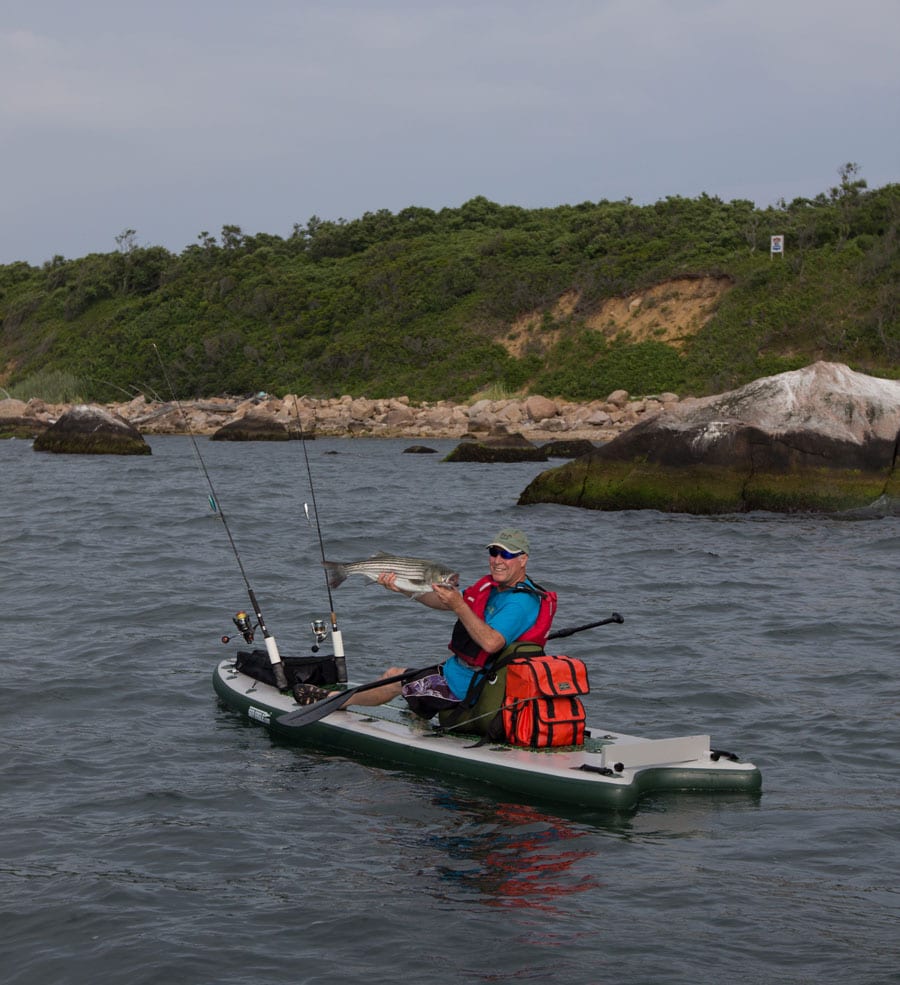 We've been impressed all around!
Schlichter was also impressed with the toughness of the FishSUP, noting he fished along jetties, in boulder fields, tight to docks and bridges, in stump fields and around thick overhanging brush. "I launched from rocky beaches, sandy beaches, wooded shorelines and even shelling beaches on Captiva Island. FL, with no punctures, rips or tears. I caught stripers, snook, barracuda, sea trout, scup, fluke, bluefish and false albacore in salt water and bass, trout, panfish plus pickerel in freshwater. After a full year of use, this board showed no signs of wear and tear that a good scrubbing couldn't cure."
There were two additional areas where Schlichter found the FishSUP™ FS126 really excelled: comfort and range. "I like that you can stand, sit or kneel while casting on this platform," he explained. "That really increases its versatility because you can move around a bit to stretch your arms and legs. You can get low to create a better angle for skipping lures way back beneath a dock or overhanging branch, or stand up to see deeper below the surface and further away when sight fishing. Even with either of the two accessory fishing seats strapped in place there's 360-degree cast-ability. As for range, you can paddle as far as you'd like if you need some exercise or add the optional electric motor to cover more water quickly and quietly."
SUP fishing has really taken off over the past few years, and Sea Eagle's FishSUP™ FS126 offers a great platform to get in on the fun. Its basic start up package comes with an SUP paddle, multi-purpose storage box with two rod holders, backpack, hand pump and repair kit for just $799. That's a great entry level price and really all you need to get your feet wet. Schlichter recommends the Deluxe package which adds a kayak paddle, DKS seat and foot pump at a total price of $879.
If you like to carry more than two rods and want extra back support and comfort while seated, the Swivel Seat Fishing Rig makes a lot of sense. It has a green swivel seat and two additional rod holders. A Pro Motor Fishing Rig, featuring a Watersnake Venom 34 electric trolling motor, is available for $1149.
"The comfort and openness of Sea Eagle's FishSUP™ FS126 was so impressive that this board seriously cut into my kayak time last summer," says Schlichter. "I expect it will see even more time on the water this year."
For more info on this and other Sea Eagle inflatable boats, kayaks and SUPs, visit www.seaeagle.com or call 1-800-748-8066.
By Tom Schlichter