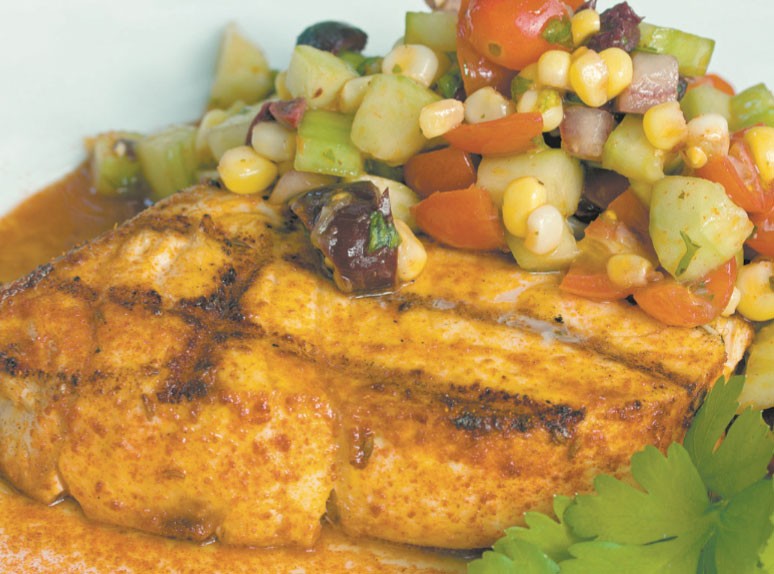 cHarissa Spiced Fish With Mediterranean Relish
Readers of Coastal Angler are no strangers to cHarissa, "the super spice that's good on everything." In fact, we covered it earlier in the year, noting that it is especially good on fish and game.
But since then, the Cutchogue, NY company has received a string of high honors. Most recently, they won a SOFI award at the New York Fancy Food Show at the Jacob Javits Center – that's the top award in the $109 billion dollar food industry! Over the past year, cHarissa has also been honored by the New York Yankees and Legends Hospitality, called the best new product of 2014 by Bon Appetit Magazine, and was named one of the top five small start-up businesses in the United States by Wells Fargo. With all that going for it, we couldn't resist highlighting it again with this easy to make, delicious and surprisingly refreshing recipe.
cHarissa is made from all natural ingredients and is 100% sugar-free, gluten-free and MSG-free – so you can serve it without shame. Ask for it at local stores, including Southold Seafood, or order it on-line at www.OutdoorTom.com.
cHarissaTM Spiced Fish With Mediterranean Relish
Time: 45 minutes
Serves: 4
Ingredients:
4 pieces thick (1/2-lb each) white or light red fillets such as mahi, striped bass, trigger fish, swordfish, cod or tilefish
1 pint grape tomatoes, quartered
2 ears corn or 1 cup frozen kernels
1 medium cucumber, seeded and chopped
1⁄2 red onion
3⁄4 cup Kalamata olives
1 lemon
1 tbsp balsamic vinegar
6 tbsp extra virgin olive oil for relish, plus additional for brushing fish
2 tsp chopped cilantro
2 tsp chopped parsley
1 tsp cHarissaTM dry-rub spice for relish, your choice, "Original" (mild) or "With A Kick!" (warmer)
4 tbsp cHarissa for fish fillets
Salt and pepper
NOTE: All chopped ingredients should be cut into 1⁄4-inch chunks.
Directions:
1. Grill corn while preparing relish, remove kernels from cob. If using frozen kernels, allow to come to room temperature.
2. Place chopped tomato and cucumber in a bowl. Sprinkle with salt to taste.
3. Add onion, olives and corn.
4. For the dressing, combine juice from 1⁄2 lemon (~2 tbsp,) balsamic vinegar, olive oil, cilantro, parsley, and 1 tbsp cHarissa. Add salt and pepper to taste (pepper not needed if using "With A Kick!")
5. Wisk together all dressing ingredients and pour over relish. Refrigerate (you can make the dressing ahead of time or even the night before.)
6. Preheat barbecue or grill pan to medium-high.
7. Pat fish dry.
8. Season fillets with cHarissa, plus additional salt and pepper if desired. Press spice into the top and bottom of each fillet and along the sides as well.
9. Brush both sides of fillet with enough olive oil to prevent fish from sticking to grill or pan.
10. Cook 5 minutes on each side, slightly longer for especially thick fillets.
11. Drizzle reaming lemon juice over fillets and top with relish using a slotted spoon. Serve hot for dinner, or chilled for a refreshing lunch.
12. Serve with: grilled corn, watermelon with mint and feta cheese, cous cous or rice, and grilled pita bread.