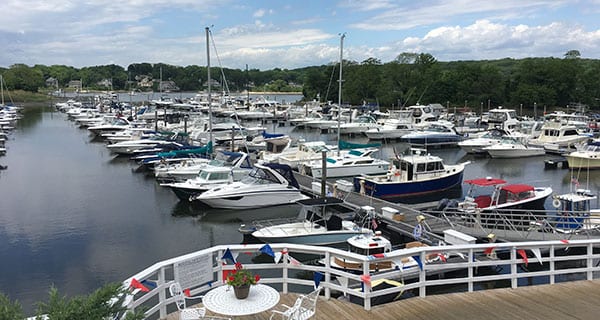 By Tom Schlichter
Jed Moloney chuckled over the phone. "Right now I'm standing over 90 feet of water off Eatons, Neck and we've got a striper on the line."
I had reached out to the bassin's sharpie to check in on the action, and to enquire about how he likes being part of the Freedom Boat Club (516-699-8420; http://freedomboatclub.com/locations/83-Northport-ny) in Northport, NY. "Love it, came the simple answer. Let me get this striper on deck and I'll fill you in on the details."
For Moloney and other members of the club, things really couldn't be better from a fishing and boating perspective. The Long Island Sound waters off of Northport and Huntington are, after all, some of the fishiest in the Tri-State region. The fish part is easy to understand: there is structure galore here. From rocky bottoms, dominant points that jut out from the shallows near shore into deeper water, submerged ledges, wrecks, mussel beds and reasonable currents, the area is a fish-holding magnet that draws not only stripers but monster blues, keeper fluke, jumbo porgies, humpbacked sea bass, bulldog blackfish, flashy false albacore, plus a host of other piscatorial delights.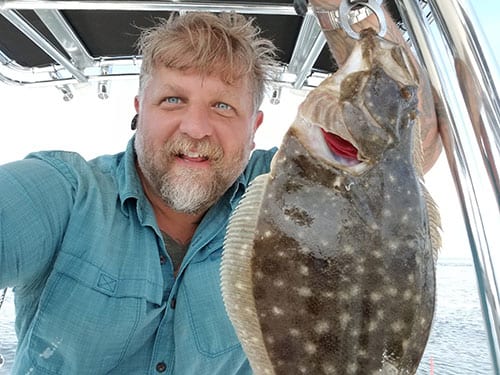 "It really is the fishing that draws me here," said Moloney after releasing his linesider, "but from a family boating perspective, there's plenty to see and do around here, too. From anchoring up in a protected cove to swim or party, to filling the freezer with tasty fillets, everything is a great match for me and my family," continued the 47-year old Commack, NY resident. "When I want to fish, I jump on a Cobia 22-foot center console. If I'm heading out to relax with the family, we pile aboard a 22' Hurricane to cruise around in comfort. We might toss out the anchor and go swimming, clamming or simply kick back and enjoy a sunset. There's a great mix of boats here; a lot of flexibility to do what you want."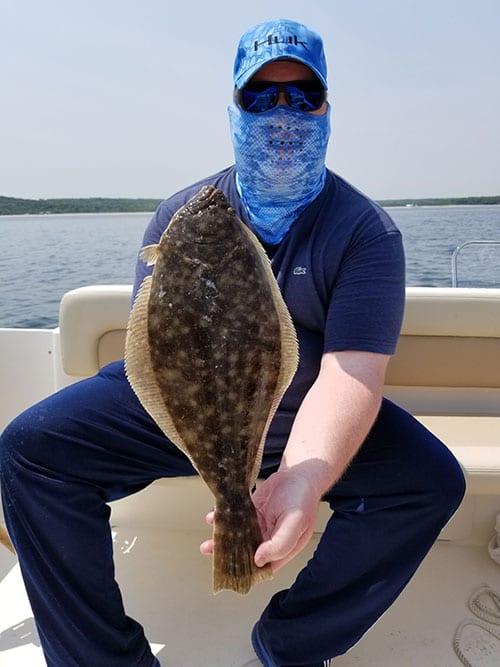 Freedom Boat Club member Pete Tarnowski, 46, of East Northport, NY, offered similar praise for both the fishing opportunities and the boat club which allows members to choose from a fleet of 14 hassle-free vessels whenever they want to head out.
"I love striper fishing around here," says Tarnowski, "but I also target fluke, porgies, sea bass, big blues, and blackfish in the fall. This area really is a fish magnet and family options for things to see and do on the water are just as good."
Like Moloney, Tarnowski favors a serious center console for fishing and something "a little more comfortable" for family fun. "If I'm taking everyone out for a day on the water, I'll go with a Hurricane, bow rider or even a pontoon boat depending on what we feel like doing. By the way, all the fishing boats have fish-finders on board."
If you aren't familiar with Freedom Boat Club, it allows members to sign-up at any location across the country and then use the vessels at any of its 160+ franchises. Between Long Island, Connecticut and Rhode Island alone there are fourteen operations including Stamford, Stratford, Branford, Westbrook, Deep River and Mystic in Connecticut, Newport, Portsmouth, and Warwick in Rhode Island, plus Freeport, Babylon, Northport, Port Jefferson and Port Washington on Long Island. That's a lot of coverage and, being that the locations are spread out, you can actually follow the best striper, fluke, false albacore and blackfishing from port to port if you so desire.
That last point is one of the things Moloney likes best about Freedom boats. "With all these locations, I can fish on the South Shore out of Freeport or Babylon, the western sound out of Port Washington, leave from Port Jeff or even head on over to Connecticut or Rhode Island if I want, so there are tons of options and I never have to trailer a boat. Owner Pete DeVilbiss is always adding new vessels to the fleet, so there's never a day you can't get on the water."
Getting back to the fishing, both Moloney and Tarnowski key on the stripers, but each will supplement those catches with whatever happens to be in season. For the bass, Moloney likes to troll Daiwa SP Minnows and Tony Maja Mojo rigs or fish with cut bunker. He'll work the Eaton's Neck Triangle area, especially around the E buoy and buoy 11B, just 20 minutes from the dock. The waters off Caumsett State Park are another good striper spot. The SP Minnow, he notes works great in bone or bunker patterns, especially in the back harbors.
Tarnowski likes the ledges around buoy 11B, also, and often moves in closer to shore to toss swim shads, Tsunami weighted sand eels or bucktails. When chunking, he favors steep drop-offs near the OB buoy. He's had bass to 33 pounds at that popular location.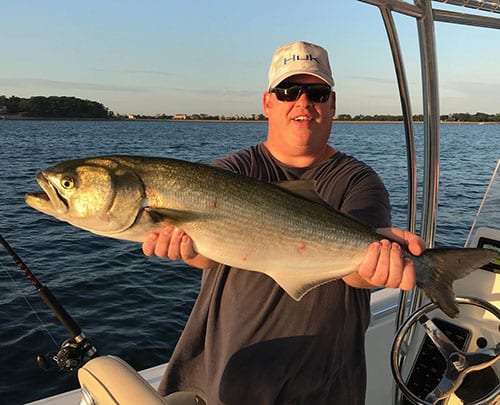 For fluke, both Freedom Boat Club members like to probe the bottom within the Eaton's Neck Triangle, although Tarnowski notes he catches more keepers "a bit further east." So far this season, he's had his best luck with 3- to 5-pounders off the bluffs near Crab Meadow Beach in 30- to 35-feet of water. Since he knows he has plenty of power and a boat that will always get back to the dock, he's not afraid to take a run to the Connecticut side where both fluke and sea bass hang around the numerous reefs.
As for hooking up with gorilla blues that may top 15 pounds, both anglers note there is spectacular action late each summer and into September right inside Northport Bay and Huntington Harbor. Smack It poppers are a good choice for getting in on the fun with these, although a live bunker can be most effective if the choppers aren't hell bent on committing suicide. The bay and harbor also hold fluke and bass, and offers fairly protected waters no matter which way the wind happens to blow.
"Overall, I couldn't be more pleased with my Freedom Boat Club membership," says Tarnowski. "For both family and fishing fun, I feel like this is the ideal location and operation. I get all the convenience of owning a boat without the pain-in-the butt chores, repairs and maintenance. I show up, step aboard, have fun and go home. No mess, no cleaning, no trailering. If I get boarded by the Coast Guard, I everything I need to have is on board. It's all good."
One other important point about being a Freedom Boat Club member, points out Moloney, is that you'll get all the instruction you need to learn how to handle, anchor, dock and drive safely.
"That personal instruction," he says, "is really valuable if you are a beginning boater – and it's all part of the package. You can even have a staff member from the club take you out for a ride to point out the best fishing spots. That will really give you head start on things if you are new to boating or fishing in the Northport area."