By Tom Schlichter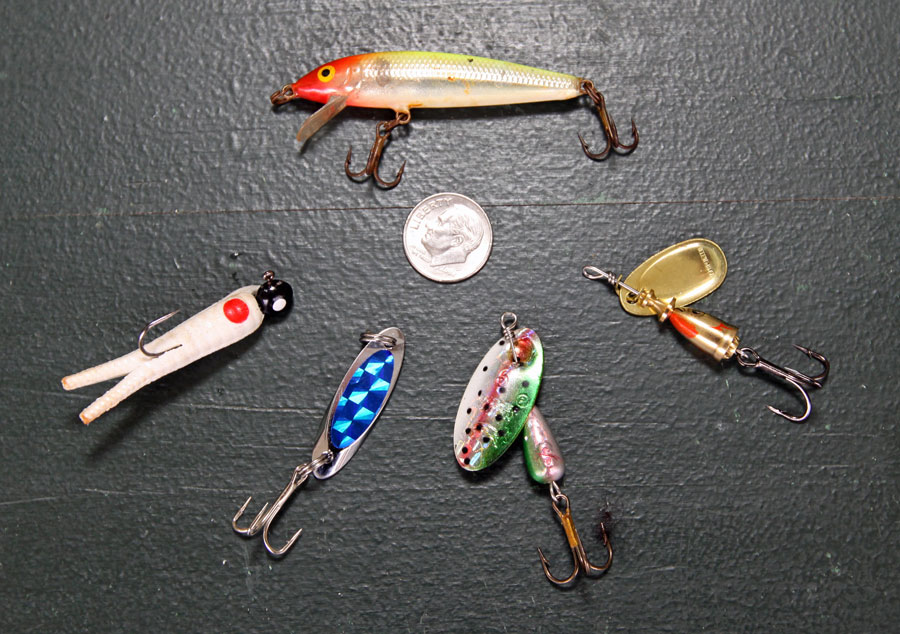 The waters of Massapequa Reservoir were crystal clear and slightly rippled as I sent a 1/8-ounce gold Panther Martin Classic spinner out on the first cast of the morning. The lure landed with a soft splat and I waited for a brief second to let it sink just a bit before starting my retrieve. Three turns of the handle and Wack! a 12-inch brown trout was straining at the end of my line.
"I love when things start off with a bang," I quipped to the angler next to me, who smiled back as he hooked into a freshly-stocked rainbow trout before he could even respond. Two more trout, both frisky, fresh stocked 'bows, would jump on my spinner in the next half hour before another engagement forced me to pack up and hit the road. I'd like to say that I had the hot hand that frosty morning, but other anglers fishing along the bank were also scoring well – especially one who was tossing a similar Panther Martin but in a smaller, 1/16-ounce size. He drilled three of the bigger browns – including a pair on back-to-back casts.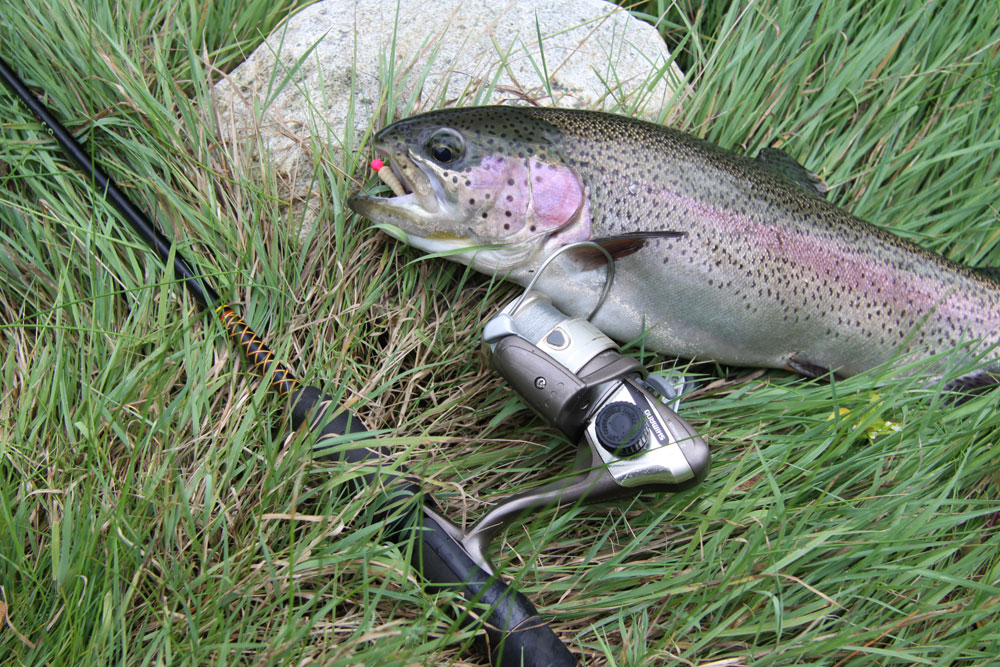 Although Long Island anglers can fish for trout on a year-round basis in most stocked rivers, streams, lakes and ponds, many still consider April 1 as an unofficial "Opening Day." Perhaps that's because by this point in the year temperatures should be tolerable enough to spend a few hours poking around your favorite sweetwater shorelines. More likely, however, it's because the New York State Department of Environmental Conservation (DEC) makes the majority of its spring trout deposits within a week or two either side of April Fool's Day.
As you can see by the accompanying chart, substantial supplemental stockings continue through April and into mid-May, followed by fall stockings in mid-October and early November. All told, over 30,000 trout will be stocked in Long Island waters this year by the DEC and New York State Parks. This includes a mix of rainbows and browns from the DEC, plus a helping of brookies that the parks department purchases and adds to the mix at special events like the I Fish NY Spring Family Fishing Festival at Belmont Lake.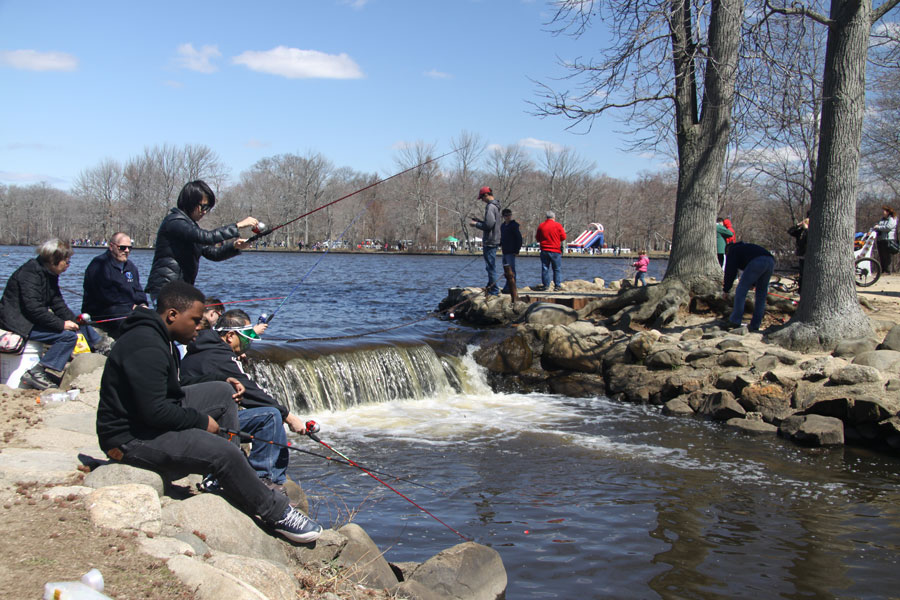 Where to go? You can choose from more than 20 stocked locations across Long Island. Among the more popular hot spots are Upper Twin Pond in Wantagh, Massapequa Reservoir, Oyster Bay Mill Pond, Argyle Lake in Babylon, West Lake in Patchogue, Upper Yaphank Lake and Harts Pond in Southaven County Park. Connetquot River State Park Preserve (631-581-1005) and Caleb Smith State Park (631-265-1054) are also very productive but both are fly-fishing only locations with fishing beats assigned on a first-come, first served basis – and a fee of $20 per angler for each 4-hour session.
While spring trout fishing can be super right out of the gate, the usual rule is that cold water temperatures chill the action just a bit during late March and early April. This means a slow and deep approach that keeps small spinners, spoons, Berkeley Power Nuggets, Trout Magnets, dough balls and live worms worked just barely above the tops of submerged weeds will probably be your best bet on initial ventures.
If you plan on working the long rod, small bead-head nymphs in neutral tones should work well. Many flyrodders favor large profile black, olive or brown Wooly Buggers and Giant Stone Fly nymphs, especially when casting within the confines of Connetquot River State Park Preserve or Caleb Smith State Park where trophy trout are always a possibility. For more consistent action, however, stay with something smaller like a size 10 or 12 Pheasant-Tailed Nymph, Prince Nymph or Elk's Hair Caddis. If these patterns fail to do the trick, get real small with a size 16 or 20 olive, black or brown Gold-Ribbed Hare's Ear Nymph.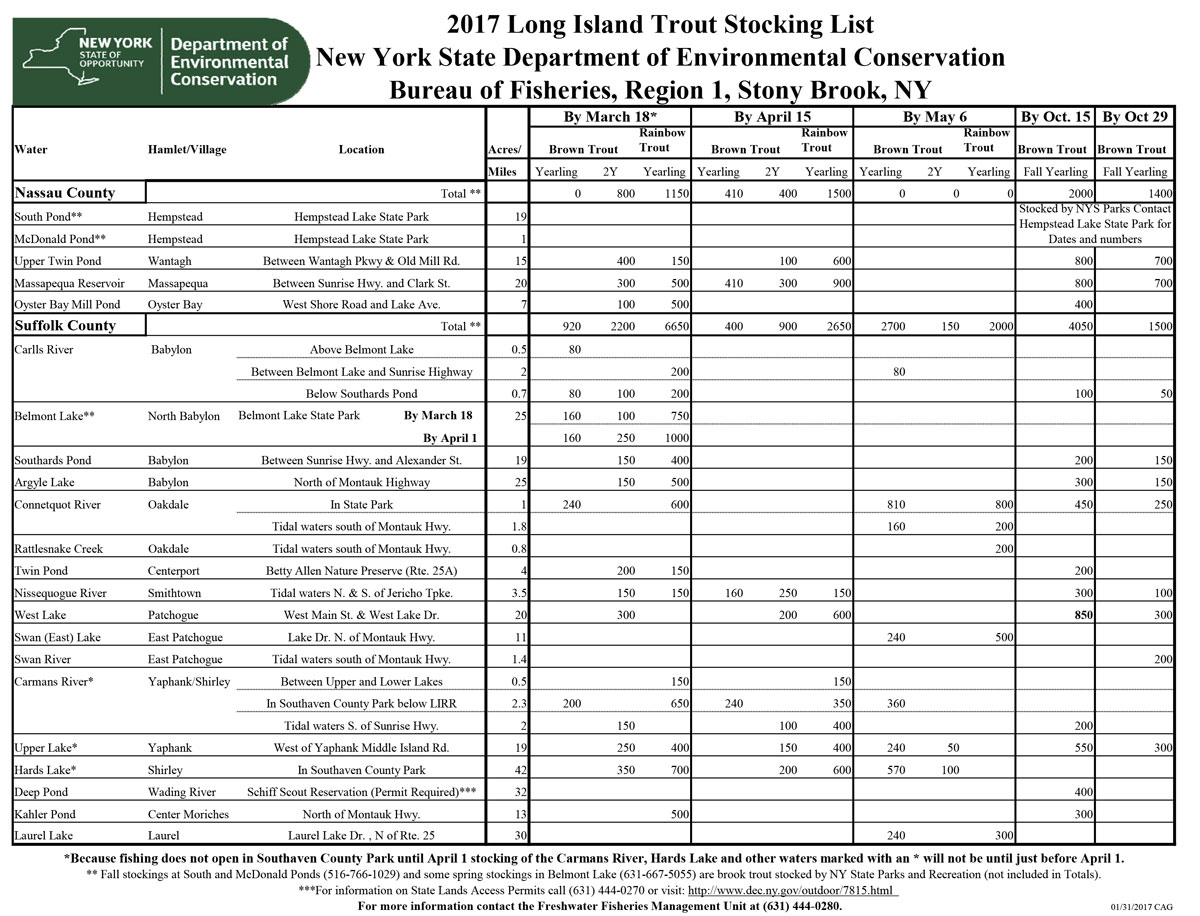 By mid-April, local waters have usually warmed up enough that small spinners, spoons, jigs and even plugs begin to score with increased consistency. Work these early or late in the day for best results when the sun shines bright, or all day long if the clouds are out. The key with any of these choices is to use lightweight 4- to 6-pound test spinning gear so you can cast miniscule lures long distances. You'll also want to retrieve any of these choices as slowly as possible without snagging weeds. Prospect on weekdays, if possible, to avoid crowds.
With both spinners and spoons, I find that gold works best for waters that contain sizeable brown trout while the rainbows favor silver. Any bright pattern, however, can be the hot ticket so it pays to carry a selection that also includes chartreuse, yellow, red/white, hot pink or blue. Popular spinners include Panther Martin Classic, Holographic and FishSeeUV selections, Mepps Aglia Bright and the Blue Fox Super Vibrex. Among the more productive small spoons are the Acme Little Cleo, Kastmaster and Sidewinder, small Eppinger Dardevles, and the Luhr Jensen Krocodile Spoon in a 1/8-ounce size.
As the season gets going, be sure to check the stocking chart for second and even third deposits of trout at your favorite fishing holes. Be aware, too, that the DEC and New York State Parks team-up to load Belmont Lake at Belmont Lake State Park in North Babylon with several thousand trout in an attempt to ensure plenty of action for the I Fish NY Spring Family Fishing Festival. This year's event will be held April 1, from 10 a.m. until 4 p.m. The DEC will provide free bait and fishing gear to those who need it (but bring your own if you can). There will be casting demonstrations plus a variety of festivities for the kids as well – and you do not need a freshwater fishing license to participate. This is one big fishing party you don't want to miss so gear-up and make plans to attend.
By Tom Schlichter