By Tom Schlichter
It doesn't take a lot of imagination to recognize how well positioned Westbrook, CT is set up for fishing. Tucked right up against the shore of eastern Long Island Sound between Megis Point to the west and Cornfield Point to the east, it's also at the confluence of the Menunketesuck River and Patchogue Rivers. Just a short run offshore will put you in the rich and productive waters surround Duck Island, and Menunketesuck Island. Head a little further offshore and you'll come across Long Sand Shoal, a six-mile stretch of sandy bottom that rises to within four feet of the surface at points while offering 40-foot depths to the inside and a drop-off of up to 125 feet along its outer edge.
Add in the Connecticut River a few miles to the east, plus tons of local locations that just shout the word "structure" and it's hard to go wrong here. I mean really: West Rock, Wheeler Rock and Stone Island Reef and East Ledge (to the west) and Great Rocks, Lobster Rock, Long Rock and Halftide Rock (to the east.) Could the names sound any better to striper, sea bass or tautog fans?
"This certainly is a fishy place," says Freedom Boat Club member, Jay Kolakoski of Bristol, CT. "I absolutely love fishing around here. There's just so much variety species and plenty of great spots to discover and learn."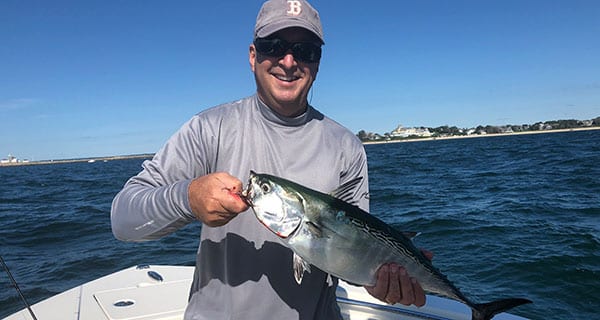 Kolakoski, who also fishes frequently out of Freedom's Mystic, CT location, spends the summer season chasing fluke, black sea bass, jumbo porgies, school stripers and blues with good success. "I'm a generalist when it comes to fishing," he explains, "so I really enjoy the variety in this part of Long Island Sound. I like that it's a relatively short ride to the Connecticut River where stripers seem to always be in good supply, and Long Sand Shoal where fluke, sea bass and scup are easy to target. It's only a half-hour ride from my home in Bristol, CT, to the Westbrook Freedom Boat Club location, and about an hour to the Mystic location. Between those two ports, I can cover plenty of water."
Being able to access the boats at multiple Freedom Boat Clubs is one of the perks members seem to enjoy most about this organization. Members can sign-up at any location across the country and then use vessels at any of Freedom's 160+ franchises. "It really is quite a bargain," says Kolakoski.
Indeed, between Long Island, Connecticut and Rhode Island alone there are fourteen operations including Stamford, Stratford, Branford, Westbrook, Deep River and Mystic in Connecticut, Newport, Portsmouth, and Warwick in Rhode Island, plus Freeport, Babylon, Northport, Port Jefferson and Port Washington on Long Island. That's a lot of coverage and, being that the locations are spread out, you can actually follow the best striper, fluke, false albacore and blackfishing from port to port from Connecticut, to Long Island, up into Rhode Island and beyond if you so desire.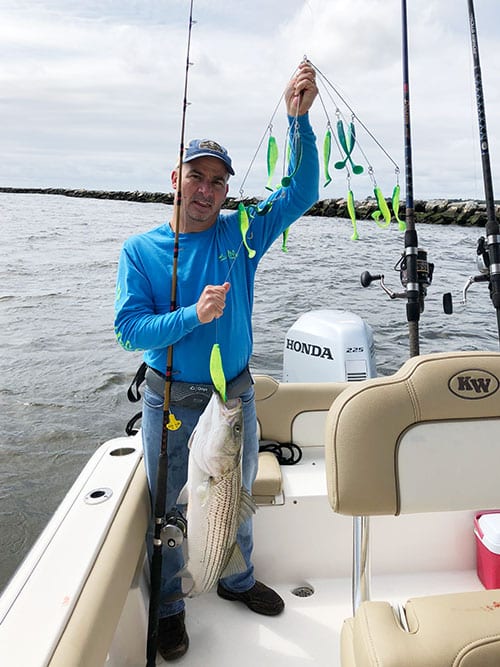 Victor Perry, another Freedom Boat Club member that enjoys fishing out of Westbrook, agrees with Kolakoski's assessment. "I'm hitting a lot of the same spots for everything from fluke and sea bass to blues, stripers and false albacore."
Perry spends a lot of time in the fall chasing Fat Alberts and stripers, particularly in the vicinity of the Connecticut River. He'll work anywhere from the mouth of the river to the I-95 Bridge for the bass, tossing topwater plugs, dragging umbrella rigs or working Sluggos. "For the albies, it's a free-for-all on the open Sound," he chuckles. "For that, I'm looking for diving birds and chasing the pods. I'll cast Deadly Dicks or Albie Snacks. Those fish are so fast and so strong, it's really exciting."
Both Perry and Kolakoski agree that the no-hassle approach to boating they get with their Freedom Boat Club membership really adds to their fishing fun.
"I get to the dock, step aboard and head out. It's as simple as that," explains Perry. "If you plan ahead a little bit, you can reserve the exact boat you want to take," adds Kolakoski. Even if you call at the last minute, there's always a suitable choice. For fishing, I really like the 23-foot Key West Center Console."
Allen Schnur is one of the newer members at Freedom Boat Club's Westbrook location. In addition to the great service and variety of boats to choose from, he likes the way he's treated at dockside there.
"The dock-hands are polite, efficient, and they offer the latest in terms of fishing reports whenever I show up," he says "For me, that last point is key since I'm just getting started with fishing again. I did it a as a kid, but the game has certainly changed. So far, I've done well with porgies right around Duck Island. Hopefully, I'll figure out the stripers and blues next year."
For fishing, Schnur also favors the Key West center console (the Westbrook location has three of these). When simply enjoying a day on the water with his wife, Debbie, however, he'll usually opt for a dual console or a pontoon boat. As for being able to use any of the Freedom Boat Club facilities across the country, Schnur has been taking full advantage of the offer.
"Last March, we used the reciprocal agreement to boat out of Marco Island and Jacksonville, Florida," he stated. "You just can't beat that freedom of choice."