by Tommy Kampa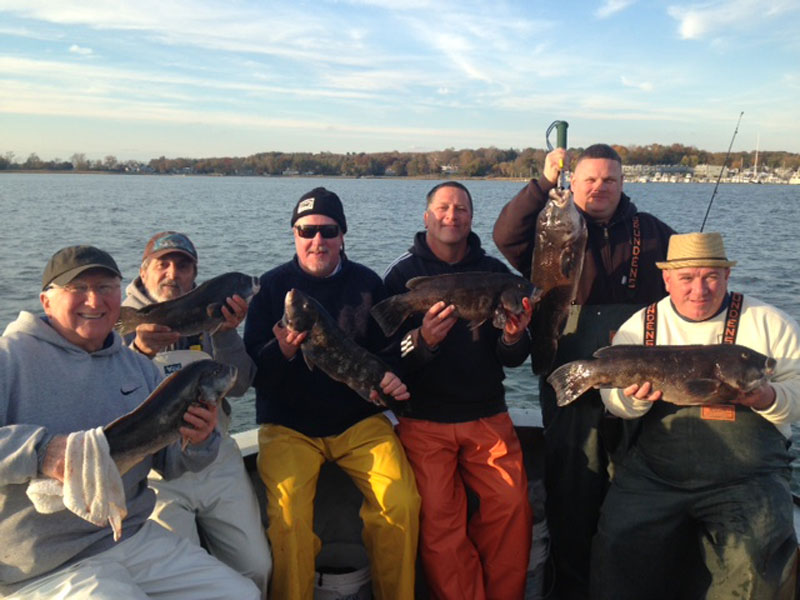 October in New York waters means the Blackfish season is ready to start! Blackfish, also called Tautog are very challenging to hook, fight hard and taste great. Blackfishing is very addictive; you can never seem to get enough bites, no matter how good the bite is. All of your tackle is tested to its limit with every fish, so you need to be prepared.
To catch Blackfish you need to be fishing over heavy rock structure or a wreck; if you miss the piece by a few feet, the bite might be nonexistent. In fact anglers on one side of the boat could be catching one fish after another, while anglers on the other side just watch and try to figure a way to get closer to the fish. It can become very frustrating, but you can't let these fish get into your head, it's all over if you do. It's important to move your bait around a little, until you find a nice hard bottom and start getting bites; then you concentrate on hooking a big "TOG"!
Bait is very important; you will need Green Crabs and Asian Crabs, if you can get Hermit Crabs or Fiddler Crabs they will work also. Green Crabs are readily available and reasonably priced at any tackle shop. Most shops will also have Asian Crabs (a crab from the Pacific North West, that was most likely carried here by a ship and loves the shallow waters of the Western Sound)., but they will be a little more expensive. Some shops will get Hermit and Fiddler Crabs at times, but your best source for these would be having a commercial lobsterman friend. You can also trap your own crabs; buy a crab trap, bait it with some oily fish, let it soak overnight next to a pier or jetty and check your traps the next day. If you want to get Asian Crabs, buy a trap with a tight mesh, if you just use a Green Crab trap all the Asian crabs will be able to escape.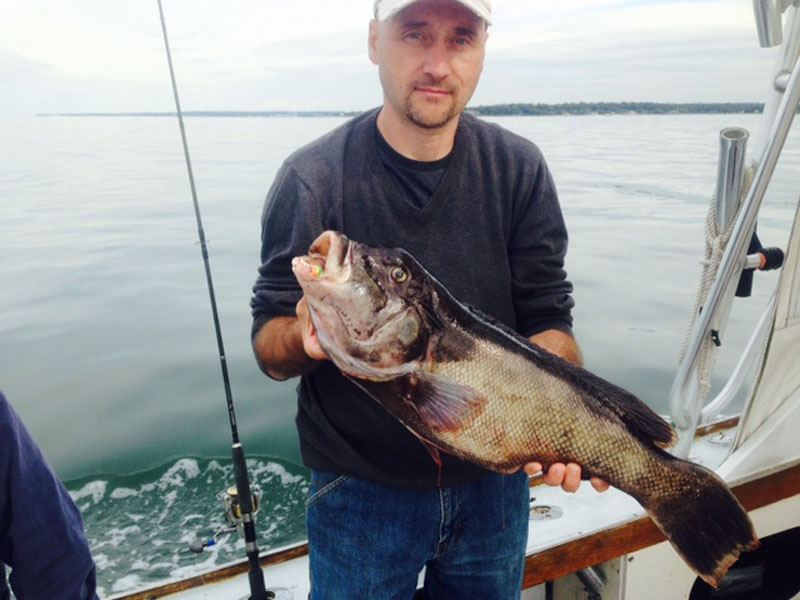 When fishing in the Western Long Island Sound for Blackfish, you can get away with much lighter tackle than you would use on the South Shore or out East. One of the most popular methods of fishing is a technique called "Jigging"; it's not jigging in the strictest sense, but it works very well in the shallow waters of this part of the sound and is a lot of fun. I use a 6 ½ feet Medium Heavy, Fast action spinning rod, paired with a Shimano Stradic 3000 reel. I use forty pound braided line, connected by a barrel swivel to three feet of fifty pound fluorocarbon, tied to a Tidal Tails Blackfish Jig. This jig was invented by John Knight of Hudson Park Bait & Tackle in New Rochelle, NY. Although there are many Blackfish jigs available on the market, I believe the Tidal Tails jig is the best. The jigs come in sizes from 1/4 up to a few ounces; I usually only use up to 1 1/2 ounces; after that I switch to conventional tackle. I fish these jigs from seven feet of water to about forty feet; if going deeper I switch to conventional tackle also. Use the lightest jig you feel comfortable with; "it's so cool to have a Big Blackfish come up to take your falling jig"!!
Ok you've anchored over your "honey hole", bait your hook with either a whole Asian crab or piece of Green Crab. Push the hook through one of the crab's leg sockets and out another making sure to leave the hook point exposed. You must crack or take off the top shell of your Asian crab, exposing some of crab's guts, the same with a Green crab, although in cutting the Green crab, some guts are exposed. Drop your jig to the bottom, bounce it a few times and hold it still waiting for the bite; if no life, bounce again and wait. If there are Blackfish around, you will soon feel them pecking at your bait, be patient, wait for the Blackfish to pick up your bait and swim with it before trying to set the hook. Watch the tip of your rod, when it starts to bend, hit the fish hard, keep your rod tip up and reel; you must not let the fish get back in their hole, it will break you off on the structure. Then it's just a slow, steady retrieve, keeping your rod tip up, if it is a big fish it would be wise to net it, although most fish can be flipped in the boat. It is almost impossible to hook a Blackfish on pecks and small bites when using a jig; BE PATIENT! Wait for your rod to setup, and then swing hard!
Trying to catch Blackfish will drive you nuts! Is the bite on the incoming tide? Only Asian Crabs today? What size jig? Swing early? Just don't let them get in your head; we are supposed to be smarter!
Captain Tommy Kampa holds a USCG 100 TON MASTER'S LICENSE; he runs a 29' Dyer custom bass boat, the MOONLIGHT LADY. We are booking Charters now for the season. Captain Tommy can be reached at [email protected] or 347 203 5087 to book a charter or express a comment or suggestion.
Check out our new website Moonlightladyfishing.com
Like us on FACEBOOK at Coastal Angler Magazine Long Island and Moonlight Lady Fishing; I'll be posting trip reports and photos daily.
Catch 'em up!!!!