Simple Solutions
Sometimes, it's the simple aspects of a favorite lure that make it the most useful. Consider the basic diamond jig, for example. There are a halfdozen brands readily available and every one will catch bluefish, stripers, false albacore, weakfish and even tuna if you choose one big enough and use it offshore.
For a simple slab coated with a bright, reflective gold or silver finish, this basic lure is amazingly productive. Most anglers are familiar with it as a means to catch stripers and blues. Simply allow it to free-fall to the bottom in an area where these predators are slicing in to sand eels, spearing, rain bait or similar small, narrow profiled baitfish, engage your reel and start cranking. For bluefish, crank fast. For stripers, reel a little slower. Either way, the catching should begin immediately if the choppers or linesiders are indeed in the area.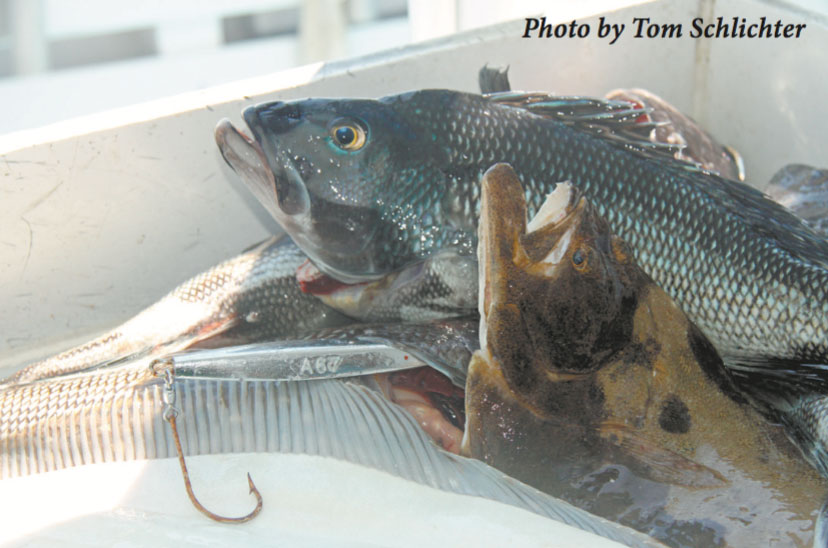 Diamond jigs are a favorite of surfcasters, too. With their slender shape and dense weight, they'll cast a mile even into the teeth of gale. Start reeling and they wiggle from side to side throwing off an irresistible flash that instantly singles them out as a prime target from early summer right through the fall. Sturdy, simple and effective, they'll cut through a rough surf and never spin out of control as your reel them back. Add a tube tail for a little extra profile or fish them with a bare hook to better match smaller baits. Amazingly, even in a soiled surf, their combination of seductive action and flash seems too much for predator species to resist.
So, those are pretty much the standard uses for diamond jigs. But did you know you can also use these simple lures to catch black sea bass?
Being virtually indestructible, the diamond jig is great choice for working around the wrecks and rough bottom where the CB's love to congregate.
Rather than drop your lure right into the nastiest snags, however, you'll do better and lose fewer jigs is you simply jig around the perimeter of structure. Just drop the jig straight down to the bottom, reel up four to six cranks, and give a little snap of the wrist to lift the lure six inches to two feet before allowing it to settle back down on a slack line. As soon as the line tightens, another snap of the wrist brings it back to life. This method works for big porgies, too.
The key here is to try to keep your jig a foot or two above the bottom or the wreck at all times. So, instead of cranking up and then free-spooling the jig back down, the reel remains engaged and the jigging motion covers only a couple feet with the rise and fall of the rod tip. As soon as you feel a tap or a smack, set the hook. If the sea bass seem picky, add a small pennant of squid, just three or four inches long, to the hook as an extra enticement.
Perhaps the most overlooked use of diamond jigs is their ability to drag fluke out of the surf. I do mean "drag" here, as that's exactly how you'll want to use these lures for summer flatties. Step into the surf along any stretch of sandy beach, cast out as far as you can, and simply crank the lure back slowly so that it drags its way across the sandy bottom. I have used this technique successfully from most of the major South Shore beaches, plus a few sandy strips along the North Shore like Sunken Meadow and Cedar Beach. To get that wiggling action just right, you'll need to crank very slowly and try to keep the lure against the bottom at all times. As with sea bass fishing, tipping the hook with a strip of squid or a Berkley Gulp! 4-inch Swimming Mullet provides an extra edge. On the North Shore an Ava 17 is my favorite choice for this approach. In the ocean surf, an Ava 27 works great in a clam surf while an Ava 47 wins out when the edge is roiled.
While diamond jigs have been around for a very long time, a new entry into the saltwater fishing realm is a beefed-up version of that favorite freshwater bass lure – the spinnerbait.
Strike King Redfish Magic Saltwater Spinnerbait (www.strikeking.com) has been around for some time now and has earned a loyal following down south where redfish, as the name suggests, are its primary target.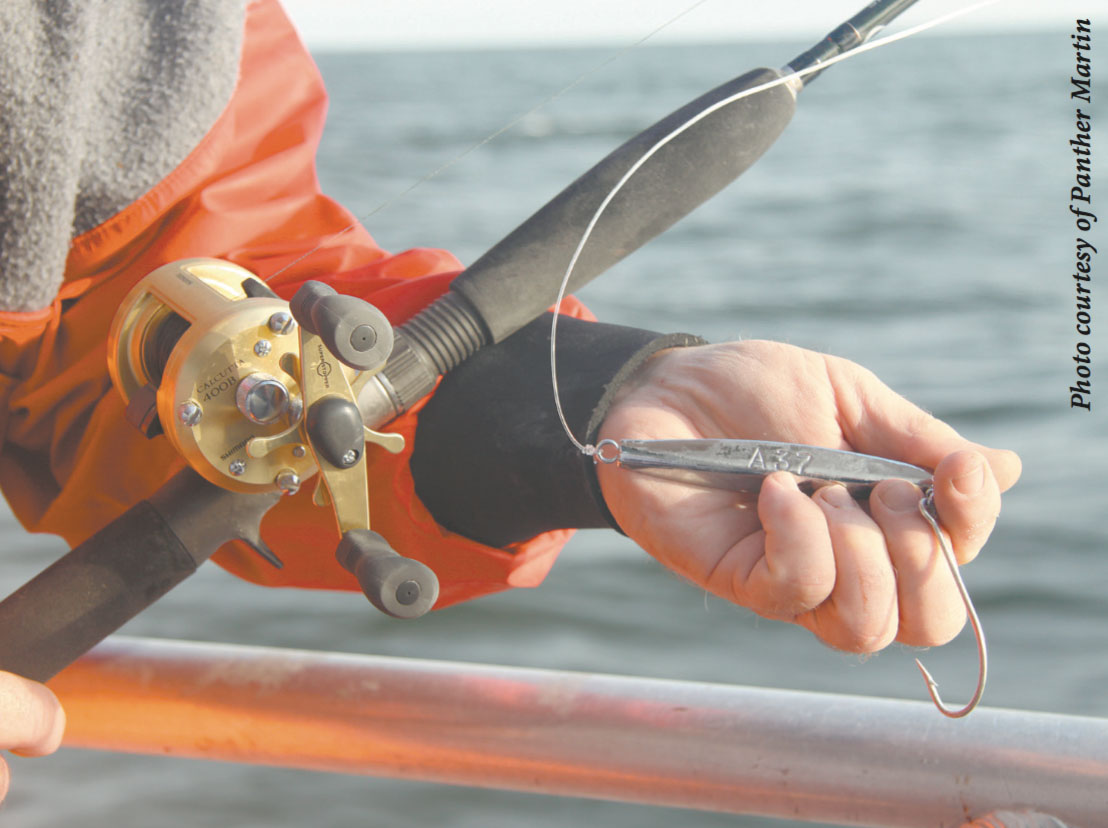 Recently, however, I had the opportunity to test out the new Sonic SizzleTail™ from Panther Martin (www.panthermartin.com) and I came away pretty impressed. In addition to its appeal with redfish, snook and sea trout, Panther Martin was hoping this new entry would also tempt our local stripers. I can attest that it does. Working a few sets of schoolies in some of Long Island's East End creek mouths over the past month, I've scored quite well. In fact, on one dropping tide, I managed over 20 bass to 24 inches before I left them biting.
One thing I noticed with these spinnerbaits is that they work especially well when retrieved quickly with the current as opposed to against it. They also perform nicely when quartering the current as long as the tide isn't pushing hard enough to keep sliding the lure off course. One of the most surprising aspects of the lure's performance is that the vast majority of the fish that tried to inhale the soft-plastic curly tail jig section ended up getting stuck as I recorded very few missed strikes.
A unique feature of this lure is that the jighead style spinner features a free-floating sonic arm with a bearing bead between the arm and spinner blade. According to the manufacturer, the unique convex/concave Panther Martin® blade spins directly on the floating sonic arm creating more vibration than other clevis spinners. The lure comes outfitted with a Mustad® 3/O Black Nickel, Opti-Angle Needle Point, Round Bend Hook and Swirl Tail Grub. It's available in both silver and gold blade styles, six tail colors and a 1/4-ounce size. I had the best luck using a gold blade and white body but scored nearly as well with the silver blade and new penny colored grub.
I haven't yet had the opportunity to test these new lures on legal-sized stripers but I'll be sure to keep you updated when that encounter finally arrives. I can tell you the Sonic SizzleTail™ did stand up to the abuse and appeared it could take plenty more. That bodes well for first shallowfeeding 20-pounder I roll it across in the coming weeks. I'll be sure to keep you updated.