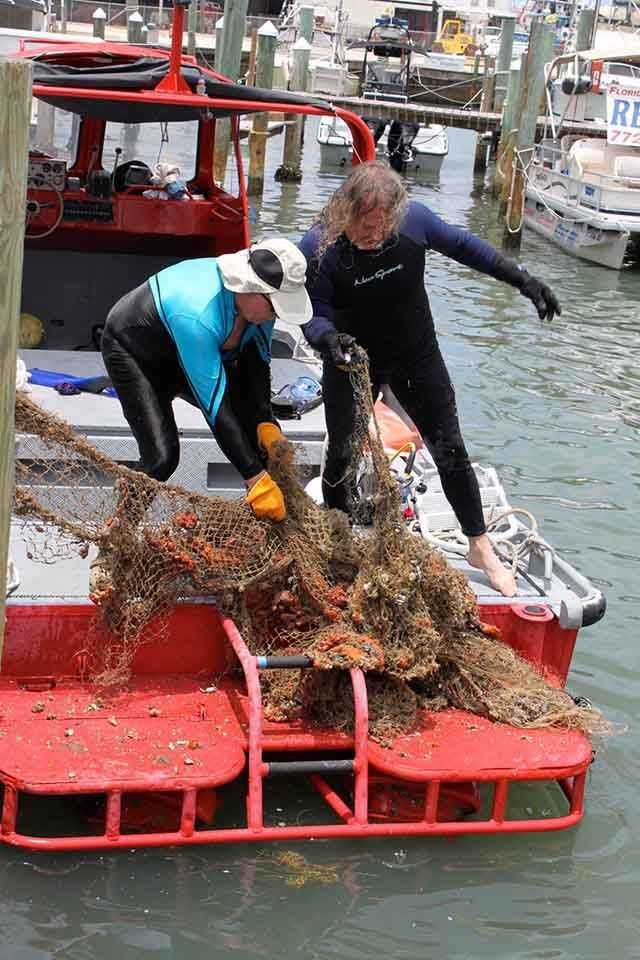 By: Capt. Donald Voss, Operation Director, Marine Cleanup Initiative Inc.
[dropcap]T[/dropcap]here are 89 bridges along the Intracoastal Waterway (ICW) where our divers have investigated and removed debris. Of those bridges, the only problems have been the two in my town of Fort Pierce. Our local marine patrol was concerned about seine and gill nets and skin diving, prohibited since 1919. But, on April 5, 2016, that all came to an end. Thanks to Representative Gayle Harrell, Representative Debbie Mayfield, Karen Sweeney, the fine people of Florida Fish and Wildlife Conservation Commission (FWC) and the St Lucie County Commission. I was forced to seek their help. Scheduled and contracted operations were halted over concerns we were removing marine assets (lobsters and fish) and/or making a fortune acting as volunteers removing debris.
In 2001, four other divers and I founded what has become Marine Cleanup Initiative Inc., although at the time, we joined Keep Indian River Beautiful and their beach cleanup with an idea brought to us by Ranger Ed Perry of the Sebastian State Park. He asked if there was any truth to the urban legion about a diver dying in the Sebastian Inlet due to fishing line.
My brief dive that day changed my life and in time, the way people began to address our waters. Talk about the 5 Gyres (www.5gyres.org) and the islands of plastics had not begun to make news. But, the first day we brought up 1800 pounds during 23 minutes of slack tide rocked the media and onlookers. The next year, 23 divers brought up 4200 pounds including a bathtub. Now, 15 years later, our volunteer data base has 600 volunteers and we have removed over 500,000 pounds of derelict fishing gear and trash.
Mayor Bob Benton was first to see the value of what we were doing. A FEMA official bought gear and dived with the Mayor and our teams in the Fort Pierce Inlet and helped bring up 2300 pounds of debris. Mayor Benton introduced me to Mayor Jacqui Thurlow-Lippisch of Sewall's Point. Marine Cleanup partnered with Loggerhead Marine Life Center and West Marine. Ed Killer took the media lead and has been a strong supporter. The Marine Industry Association began the Waterway Cleanup to address the shorelines. The City of Fort Pierce used the cleaner water to begin the Oysterfest, now five years old. Twenty-five splinter groups around this state have formed after attending and gaining training at our events. We expanded to 96 miles, four counties and four inlets.
Its' value is simple. Lost nets and abandoned traps are responsible for thousands of fish kills daily through "Ghost fishing." The impact is similar with bottles and cans. Fish hide in them and become too large to exit and die there. Nets and large pieces of debris travel in currents and become snagged around channel markers and bridges. These objects restrict the natural flow of water and actually trap silt and other particulate material. Storm actions set this silt free and it blankets sea grass fields, overwhelms fragile oyster beds and blocks out the sun with the turbidity. Removing debris allows the natural flow of water to carry the silt downstream normally and helps to improve the water clarity and quality. This in turns improves spawning by providing sea grass fields for protection of the small critters. And, sea life eating pollution can't be good for anyone.
With all the support, the selective enforcement of these archaic regulations seemed unbelievable. But, with some guidelines and support, the process set up by Representative Mayfield worked until the barge sunk in our inlet last year and the agencies tasked with protecting this port were embarrassed to have this sinking and death occur in their inlet.
The third annual Lionfish Safari, sanctioned with an issued permit by FWC Tallahassee, became the final battlefield over these archaic local rules. Our divers were ordered from the bridges and inlet and threatened with fines and arrest. The permit was scoffed at and our event disputed. This was the last straw. I spoke before the Tri-County Legislative Panel last fall and Representative Mayfield handed this project off to Representative Gayle Harrell. I met with FWC Commissioner Nick Wiley. Once I described how their permit was accepted in our town, the wheels were set in motion.
These agencies stepped up and four regulations were voided. Bridge activity will now be uniform with all other bridges. Spear fishing will only be allowed during FWC permitted and sanctioned events. Inlet cleanups will start up again this July. Bridge debris removal may begin in May 2016.
[easy-social-share]