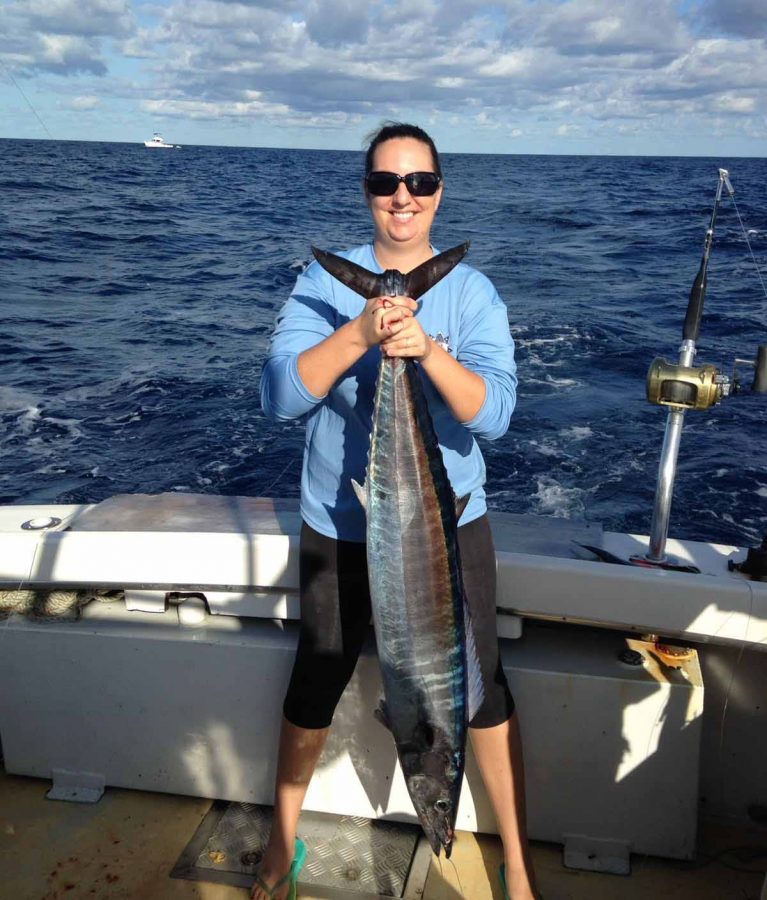 Happy New Year! It's January and the height of wahoo season here in The Bahamas! The cold fronts have arrived in Abaco, and the wahoo bite, along with an occasional mahi or blackfin tuna, will be consistent on the drop off in the 200- to 500-foot range, which will be the hot zone.
High speed trolling 12- to 1-knots with the big gear—50-weight to 80-weight reels and heavy leads around 24- to 48-ounces. Multi-colored artificial lures, Islander/Blackbarts/Bost lures will do the job. You can also slow down to save some fuel and troll 7- to 9-knots with rigged ballyhoo or split tail mullet under your favored skirt or trolling lures,  still  keeping the leads 24- to 48-ounces. You can try deploying your baits deeper in the water column by using down riggers and planers.
This time of year you must pay close attention to the forecast as weather can get sporty quickly during with winds blowing northwest which can muddy the fishing grounds. 
Bottom fishing on the reef will still produce snapper and groupers, chum bags will bring in the yellow tails and squid is great bait. Please be aware Nassau grouper season is CLOSED from December 1, 2016 to February 28, 2017. 
Vertical jigging in 100- to 200-feet of water with metal or buck tails jigs can also get you on grouper, mutton snapper and some other species.
Remember if you're in the Abaco's, give us a call for a great time! 
FORECAST BY: Capt. Travis Kelly
Gusto Charters & Guide Service
Marsh Harbour, Abaco, Bahamas
Phone: (242) 477-0261
Email: gustobahamas@gmail.com