Grand Bahama Offshore
2016 has had unusual weather patterns that has affected the fishing in the Gulf Stream off the Bahama bank, especially West End, Grand Bahama.  The water temperature has been 85.5° which will slow down the bite and change fishing strategy.  In searching for blue marlin, you need to spend more time on the slow troll with larger lures and more teasers, such as daisy chains of squids, which is my favorite in calmer seas. I always match the same color lure behind the squid chain. You must put your time in to catch a big blue in August.  Black fin tunas have been consistent and running smaller lures way back on your long and center riggers will do the trick. Green, yellow, and pink, blue and silver, and purple and black are my favorite colors for this.
Keep your eyes open for the afternoon thunderstorms and skirt around them looking for the tuna in the low pressure area.
Be safe, catch 'em up! – Capt. Billy Black, Duchess Sportfishing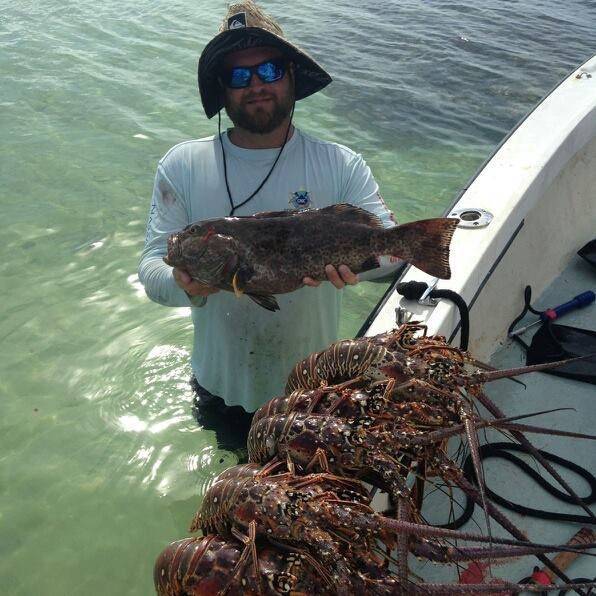 Abaco Offshore
Offshore in Abaco, during the month of August will be extremely slow because of the intense heat.
August first marks the opening of our lobster (crawfish) season so many fishermen will be going in the water rather than fishing on top of the water! You may get lucky catching an occasional mahi or billfish on the drop. Also radar fishing offshore looking for flocks of birds, trolling some cedar plugs may produce action with some blackfin tuna or yellowfin tuna. Chunking in the flocks can also work.
August is definitely the best month for deep drop fishing in the 500 to 1200 feet range. Big groupers and queen snappers are found more in the 800 to 1200 feet range. Try using lights also.
Bottom fishing is great for catching yellowtail, grouper, and mutton snapper. Grouper are attracted to colorful metal jigs this time of year. For grouper, drop your jigs between 80 to 200 feet. You'll be sure to come up with a rockfish or a grouper. Bring tons of sunblock and tons of water it's HOT! ~ Capt. Travis Kelly, Gusto Charters & Guide Service
Nassau Offshore
Although the sun is piping hot during the month of August, the fish are still biting. We have been catching some blackfin and skipjack tunas with a few mahi in the mix. With the smaller tunas around there is bound to be a billfish lurking amongst them so be prepared! The billfish are ranging from 150 to 250 pounds. On the reef the bite is also pretty good with mutton snapper and various other species to keep you and the kids busy. So whether you want to do some offshore fishing or reef fishing you won't be disappointed. ~ Capt. Teddy Pratt, Reel Deal Fishing Charters
North Eleuthera / Harbour Island Offshore
August will be an extremely exciting month for all those who enjoy spearfishing, as lobster season opens back up August 1st! These delicious crustaceans can be speared in depths of 10 to 60 feet in reefs and coral heads. They can be caught using either Hawaiian sling and spear or pole spear. The yellowfin tuna will still be around and can be caught at either Dutch Bar, Shallow Ground or James Point. They can be caught trolling, chunking or with live bait. August will also be a great month for fishing yellowtail snapper. These can be caught in depths of 50 to 100 feet of water using a chum block and squid. There will also be some mutton snapper around and these can be caught in depths of 20 to 80 feet of water with squid as bait. There should be plenty of action in the North Eleuthera area during the month of August! Tight lines. ~ Capt. Ryan Neilly, Spanish Wells Fishing
Exuma Offshore
It's been a wild, wild year for fishing. And today was no exception. This forecast was penned in mid-July and we're still catching wahoo, as have many other areas in the islands. These two 25-pounders are no exception.  But as August is upon us, and if water temps don't get too high, this could be a great month to search out some big tuna by running big feathers on blue and white and green and yellow. Cedar plugs will also be a good choice as lures to run long in your spread. There will be a chance of a big blue marlin as well, so running one or two big lures would be a good idea if you're looking for billfish. Deep dropping will also slow down, but getting a few for dinner shouldn't be a problem. Drop anywhere from 400 to 1200 feet. A 'cuda chunk will work well. ~Capt. Doug Rowe, Fish Rowe Charters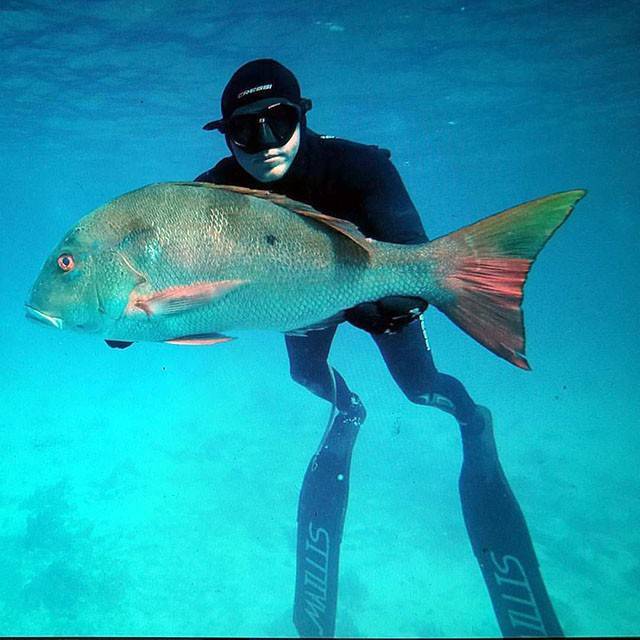 Long Island (Bahamas) Offshore
Break out the butter and garlic. August is here and the spiny lobster season is open on the 1st of the month. Many people enjoy going out for the day and spearing lobster on the patch reefs. Long Island offers great diving for all skill levels, from novice to commercial. With the commercial fishing banks being connected to the island, there is the potential to get hundreds of lobster in one day, providing you are on a Bahamian licensed and registered vessel of course. Makes for great family day, take the kids out in the shallow water, spear some lobster and bring them back to shore and grill them on the beach. The offshore fishing is very slow for pelagics but deep dropping is good year-round. Escolar tend to migrate through during this month and can be caught with a deep drop swordfish rig. Fish for them in 1800 feet to 2500 feet of water. Keep the bait 50 feet off the bottom and wait patiently. Don't be surprised when you pull up some gnarly looking deep sea fish that looks like something from a horror movie. They may look ugly, but they sure taste good. No matter if you are fishing or diving, any day on the water is better than a day on land. ~ Capt. Luke Maillis, Reel Addictive Charters