West End International boat races kick off April 21
APRIL 17, 2017 — UPDATE:  This event has been postponed to October 2017. Read details here.
Event organizers are planning for the inaugural West End International race day April 22 and 23 at West End Village, Grand Bahama.
The high-speed boat races will be held from 9:30 a.m. – 4:30 p.m. on Sat., April 22 and Sun., April 23 with a kickoff party Friday night, April 21, at the Old Bahama Bay Resort and Yacht Harbour.
Racers from all over the world will compete at the West End International, with hydroplanes, Jersey skiffs and power boats hurtling up to 170 m.p.h. speeds in the high-paced, high-energy events.
In addition to the races, the event will feature food, drinks, music, vendors, shopping and activities for the whole family.
"We're very excited to host the first ever West End International," said Betty Bethel, Bahamas Ministry of Tourism (BMOT) Director for Grand Bahama. "The event promises fun and excitement for our residents and visitors alike, and we are very excited to host them at the beautiful Old Bahama Bay and the surrounding resorts on West End."
General admission to the races is free. VIP tickets for the races are $60 and the Friday night VIP kick-off party is $75.  Tickets are on sale now at WestEndBoatRaces.com.  Information on accommodations at West End is also available on the website.
The West End International is powered by The Islands of the Bahamas, Old Bahama Bay Resort and Yacht Harbour, Island Coastal Charters and Environmental Manufacturing Solutions. 
---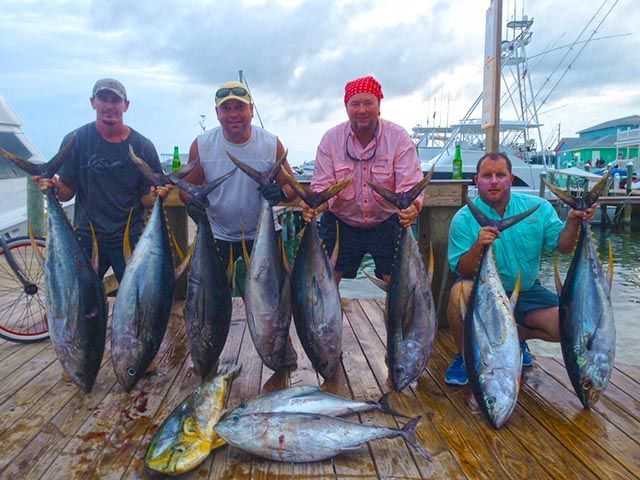 FWC Reminder on Bringing Fish Back to Florida from Bahamas
If you are considering fishing in the Bahamas and bringing fish back to the U.S. by water, here is what you need to know:
Bahamian and U.S. fishing regulations are not always the same.
When fishing in the Bahamas, follow Bahamian Sportfishing Regulations External Website
Follow the more restrictive bag and possession limit when traveling to and from the Bahamas.
Private vessel owners must visit Bahamian Customs and Immigration and have a stamped passport and valid Bahamian cruising and sportfishing permits. Visit Bahamas.gov.bs for more information.
Check with Bahamian authorities for all legal requirements.
Passengers must possess a valid government passport with current Bahamian stamps and travel dates.
Fish:
Reef fish (managed as snapper grouper in the U.S.) as well as dolphin and wahoo may be brought back from the Bahamas as fillets.
All other species must be brought back in the condition specified in U.S. federal rules (example: cobia, tuna, swordfish must be brought back in whole condition).
For fish brought back as fillets:
Skin must remain on the entire fillet
Two fillets, regardless of their size, count as one fish toward the bag limit
Follow U.S. Atlantic federal bag and vessel limits, as well as seasons
Fish brought into the U.S. cannot be sold
Travel through U.S. federal and Florida state waters must be continuous and gear must remain stowed. (Terminal gear such as hooks, leaders, sinkers, etc. must be disconnected and stowed separately from rod and reel.)
Spiny Lobster:
Bahamian rules allow you to possess whole and wrung (tailed) lobster; however, when returning to Florida, lobster must be in whole condition (head and tail intact).
Can only be transported into U.S. waters during the Florida recreational season (Aug. 6-March 31)
Spiny lobster cannot be brought back into U.S. waters during the 2-day sport season (last consecutive Wednesday and Thursday of July) because, in the Bahamas, the season is closed during that time period.
Lobster lawfully harvested by spear in The Bahamas can be returned to Florida.
Prohibited species:
Species prohibited from harvest in U.S. (queen conch, Nassau/goliath grouper, etc.) cannot be transported through U.S. federal and Florida state waters by boat.
Contact the US Fish and Wildlife Service for regulations related to transporting fish or conch by air carrier back to Florida or other locations in the U.S. (CITES documents may be required.)