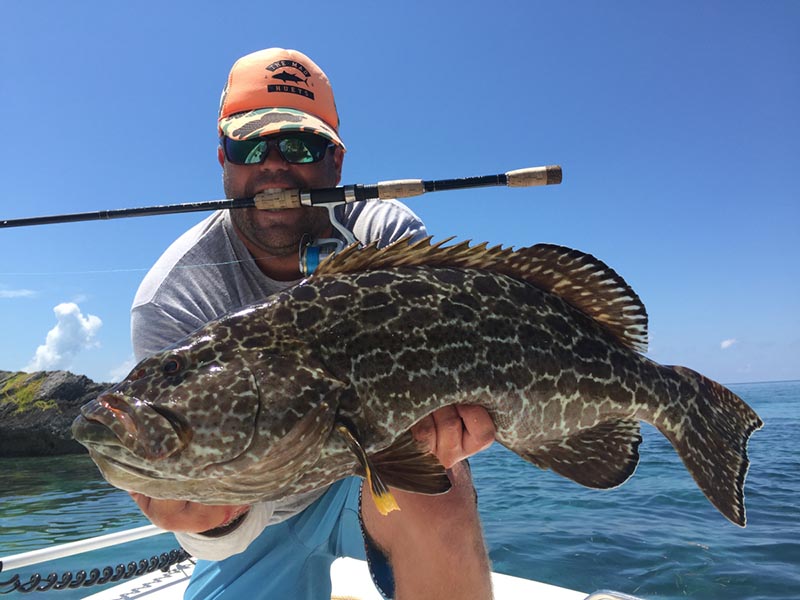 By Chase Cornell
A friend of mine, Diego Henriques, spends a month each summer on Green Turtle Cay in the Bahamas. Last summer, Diego asked me if I would follow him over in his 2014 22 Pathfinder powered by a Yamaha 150 four stroke outboard for two nights in Spanish Cay and four nights in Green Turtle Cay. My friends and I had always wanted to run a Pathfinder to the islands and I jumped at the opportunity.
Provisioning a small boat for international traveling took some planning. A major benefit to the Pathfinder is the amount of below deck storage the boat offers. I stored four cases of water and Gatorade, snacks, luggage for three guys, dive gear, inshore, reef, deep drop and offshore tackle as well as a fully equipped ditch bag, all below deck and out of the elements.
A note on the safety gear: My ACR ditch bags consists of a satellite phone, EPRIB, type one PFD's, strobes, flares, med kit, handheld VHF, food and water. If you are planning to go offshore, these items are necessities. Repacking and review of expiration dates on your safety equipment should be routine. When traveling, keep your ditch bag easily accessible or right out on the deck if seas are calm. For purposes of this trip, I kept the ditch bag on top and in front of all other gear in the center bow hatch of the boat. Load all gear and save the readiest spot for the ditch bag. Safety needs to be number one on any boat and when it comes to small boats in big water, your ability to react quickly in a sinking or capsizing scenario could be the difference between living and dying.
The big boat carried an additional 50-gallon fuel bladder for us and we left Fort Pierce with calm conditions on Sunday, June 18th. The Gulf Stream had a short period chop and we had to run close in the wake of the big boat to help break up the seas. We reached White Sands Ridge and took a break for lunch. It felt great to see the Bahama blue water under the hull of the bay boat.
We took on an additional 40 gallons of fuel out of the bladder when we were parallel with Grand Cay. I would say we ran a comfortable 120 nautical miles on one tank of fuel (with some to spare) and we were completely loaded down. The remaining 60 miles to Spanish Cay were flat calm and we cruised at 30 miles-per-hour the entire way.
It had been nearly 12 years since my last trip to Spanish, but not much really felt like it had changed. There is something really unique about the small island. If you have never been to Spanish, it feels almost prehistoric. You pull up to the marina and are immediately greeted by a swarm of large lemon sharks looking for fish scraps. You might say that lots of islands have sharks in the marina, but Spanish really takes the cake. They are vicious and hungry.
The waters around Spanish Cay are teaming with life. The reef that protects the island from the violence of the open Atlantic could best be described as an underwater Jurassic Park. Giant coral heads shoot up from 30 feet deep nearly touching the water's surface. As you ease beyond the reef, the bottom gets pulled out from underneath the ocean and you are instantly in thousands of feet of water where tuna and marlin are on offer.
My goal for this trip was to do many different styles of fishing, but also to try techniques I had never tried before in the Bahamas. Most importantly, I wanted to throw lures around the coral reefs. Having the Pathfinder equipped with the Minn Kota I-pilot really allowed us to get into shallow reef areas quietly and completely in control of the boat.
Our tackle consisted of top water chuggers and walk the dogs, shallow swimming lipped plugs and darters. For casting these types of lures, I like to use medium heavy G-Loomis Pro Blue spinning rods in the 7-foot to 8-foot length paired with 6000 and 8000 class Shimano spinning reels spooled with 30- and 50-pound braid. Our leader of choice was 60-pound fluorocarbon.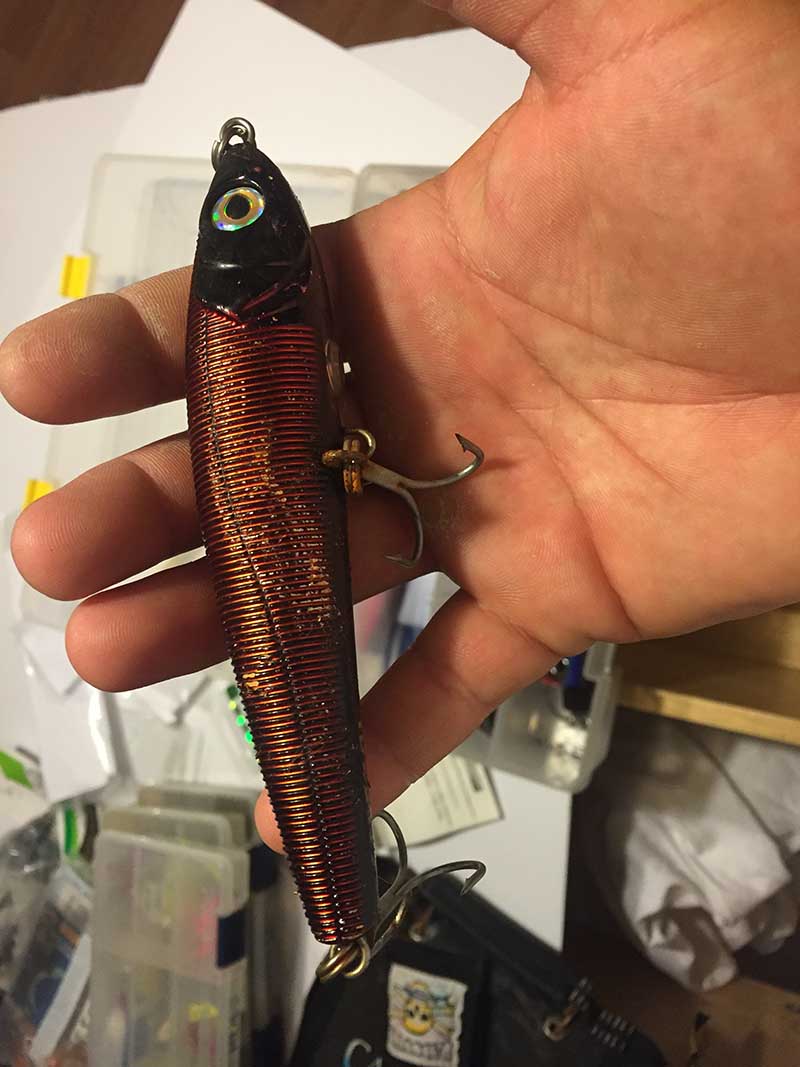 Towards the oceanside of Spanish Cay, we came across several mutton snapper that refused our offerings. We worked our way farther offshore and onto the reef. In an instant, the Yo-Zuri Sashimi on Kevin's rod fell into a hole of water and he was on. The fish swam straight to the boat and I heard Kevin yell, "Grouper!" We were floating in six feet of water and the fish was feverishly looking for a ledge to escape. I grabbed the gaff, an eight foot AFTCO with a four-inch hook (the best all-around gaff in my opinion). The fish surged for a ledge under the boat and Kevin held the spool, turning the fish for only a few seconds. I reached all the way down with the gaff and stuck the fish right in his tail. I thought I was going to get ripped over the side of the boat, but I was not about to let go of the gaff! In an instant, the fish was on the deck and we were all in complete shock.
Catching a big yellowfin grouper on a top water and spin gear was something I believed was possible, but just had never had a chance to pursue. Over the next week, we used the trolling motor around the breakers, casting plugs and catching a large variety of species that included more grouper, snapper, horse eye jacks, rainbow runners, barracuda and sharks. The amount of variety that inhabits the nearshore reefs of the Bahamas is immense and having the Pathfinder there completely opened up that fishery to us.
Along with casting plugs, we also did some deep dropping and caught yellow eye snapper out of the Pathfinder. One morning, we cast netted a live well full of pilchards and chummed up black fin tunas on the reef. We also got skinny and chased bonefish, where we had two great opportunities, but did not convert. We also chummed for yellowtail and did some free diving and spear fishing. Being able to cover some of the most untapped and enjoyable parts of the Bahamian fishery made for a trip I won't ever forget and I cannot wait to get back to the reefs to chase the grouper on artificial lures.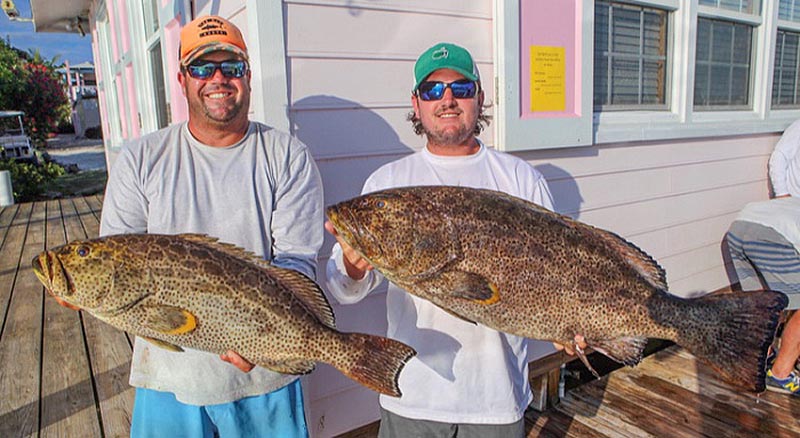 Chase lives in Vero Beach and loves to fish and write about his adventures. Read more of his fishing escapades at bitepress.wordpress.com.