By Capt. Mike Manis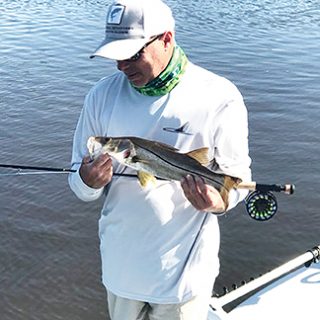 In some respects, January can offer a mixed bag of options; however, for the most part, the persistent north winds can and will dictate that we look for spots out of the wind. Because, the possibility exists that there will be a few mild and somewhat warmer days between fronts, the open harbor can be productive. This is an open invitation for those with larger boats that draft too much to get onto the flats or even smaller skiffs that are looking to change it up a bit. Spanish mackerel and bonita can be found just inside Boca Grande Pass. Also, blacktip sharks like to hang out just around the corner at Johnson Shoals. A little further inside the harbor, Cape Haze Point is always worth exploring. You just never know what you might run into: trout, pompano, and bluefish, are all possible. This is a great place to throw plugs and ½ ounce feathered jigs. Moreover, the deeper water just outside the bar that runs from Turtle Bay past Bull Bay and over to Cayo Pelau is good country to look for a spotted sea trout bite.
However, for the majority of days when the wind is obnoxious, I'll look for redfish and small snook working creek systems that adjoin small bays and coves. Out of Punta Gorda, I like the east side of Charlotte Harbor from Alligator Creek down towards Pirate Harbor. The extensive collection of small creeks, deep cuts, and mangrove shorelines provide good winter habitat. Minimal wind and the sandy mud bottom help fish stay warm and the mangrove prop roots are home to small prey species. By the way, just inside the mouth of Alligator Creek is one of the more popular trout spots during winter as is the basin inside Pirate Harbor.
Creeks along the west wall between Trout Creek and the Myakka cutoff are also worth exploring. If the winds coming out of the northwest, loading at the El Jobean ramp can make for a tolerable run. From the same ramp, the Myakka Cutoff and Tippecanoe bay provide good habitat. To match the prey species, small baits are best and it's not a bad idea to lighten up on the leader and tippet material. For example, I'll stick with a nine-foot leader but rig ten-pound tippet and throw flies no bigger than #1 or 1/0.
Until next month, good tides.
Captain Michael Manis is a U.S.G.C. Licensed captain and has been teaching the sport of fly and light tackle angling since 2002. He lives in Punta Gorda, Florida and can be reached at www.puntagordaflycharters.com